Abstract

Wealthy nations continue to demonstrate their unwavering support to improving conditions and the general well-being of poor countries in spite of the recent economic crises. However, as developmental aid relatively shrinks, both Aid donors and recipient countries have shown keen interest in methodologies used in evaluating developmental assistance programs. Evaluation of aid programs is seen as a complex task mainly because of the several non-aid factors that tend to affect overall outcomes. Adding to the complexity are the subjective sets of criteria used in Aid evaluations programs. This paper proposes a two stage framework of fuzzy TOPSIS and sensitivity analysis to demonstrate how aid-recipient countries can be evaluated to deepen transparency, fairness, value for money and sustainability of such aid programs. Using the Organisation for Economic Co-operation and Development (OECD) set of subjective criteria for evaluating aid programs; a numerical example pre-defined by linguistic terms parameterized by triangular fuzzy numbers is provided to evaluate aid programs. Fuzzy PROMETHEE is used in the first stage to evaluate and rank aid-recipients followed by a comparative analysis with Fuzzy VIKOR and Fuzzy TOPSIS to ascertain an accurateness of the method used. A sensitivity analysis is further added that anticipates possible influences from lobbyists and examines the effect of that bias in expert ratings on the evaluation process. The result shows a framework that can be employed in evaluating aid effectiveness of recipient-countries.
Keywords
Developmental aid programs

Fuzzy set theory

Organization for Economic Cooperation and Development (OECD)

Fuzzy PROMETHEE

Fuzzy VIKOR

Fuzzy TOPAIA

Fuzzy MCDM

Evaluation

Sensitivity analysis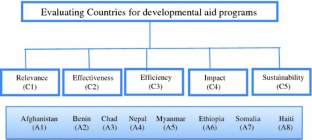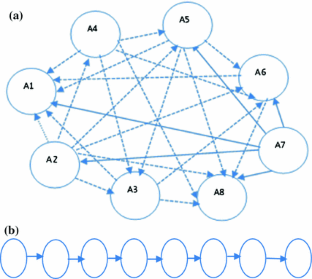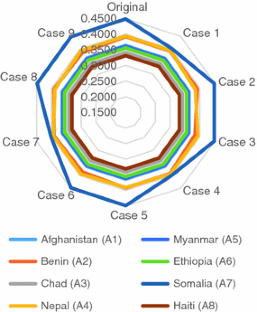 References
OECD International Development Statistics. OECD Press, France (2014)

Kharas, K.: Measuring Aid Effectiveness Effectively: A Quality of Official Development Assistance Index. Brookings Institution Press, Washington (2011). Available at: http://www.brookings.edu/research/opinions/2011/07/26-aid-effectiveness-kharas. Accessed 10 December 2014

Howes, S.: A framework for understanding aid effectiveness determinants, strategies and tradeoffs. Asia Pac. Policy Stud. 1(1), 58–72 (2014)

Dalgaard, C.J., Hansen, H.: Evaluating Aid Effectiveness in the Aggregate: A Critical Assessment of the Evidence. University Library of Munich, Germany (2010)

Deaton, A.: Instruments, randomization, and learning about development. J. Econ. Lit. 424–455 (2010)

Arndt, C., Jones, S., Tarp, F.: Aid, growth, and development: have we come full circle? J. Glob. Dev. 1(2) (2010)

Doucouliagos, H., Paldam, M.: The aid effectiveness literature: the sad results of 40 years of research. J. Econ. Surv. 23(3), 433–461 (2009)

Minoiu, C., Reddy, S.G.: Development aid and economic growth: a positive long-run relation. Q. Rev. Econ. Financ. 50(1), 27–39 (2010)

Morrison, K.M.: As the World Bank turns: determinants of IDA lending in the cold war and after. Bus. Pol. 13(2) (2011)

Claessens, S., Cassimon, D., Van Campenhout, B.: Evidence on changes in aid allocation criteria. World Bank Econ. Rev. 23(2), 185–208 (2009)

Zadeh, A.: Fuzzy sets. Inf. Control 8(3), 338–353 (1965)

Afful-Dadzie, E., Nabareseh, S., Afful-Dadzie, A., Oplatková, Z.K.: A fuzzy TOPSIS framework for selecting fragile states for support facility. Quality and Quantity, pp. 1–21 (2014). doi:10.1007/s11135-014-0062-3

Krohling, R.A., Campanharo, V.C.: Fuzzy TOPSIS for group decision making: a case study for accidents with oil spill in the sea. Expert Syst. Appl. 38(4), 4190–4197 (2011)

Vincke, J.P., Brans, Ph: A preference ranking organization method. The PROMETHEE method for MCDM. Manag. Sci. 31(6), 647–656 (1985)

Ying-Hsiu, C., Tien-Chin, W., Chao-Yen, W.: Strategic decisions using the fuzzy PROMETHEE for IS outsourcing. Expert Syst. Appl. 38(10), 13216–13222 (2011)

Amaral, T.M., Ana, P.C.C.: Improving decision-making and management of hospital resources: An application of the PROMETHEE II method in an Emergency Department. Oper. Res. Health Care 3(1), 1–6 (2014)

Elevli, B.: Logistics freight center locations decision by using Fuzzy-PROMETHEE. Transport 29(4), 412–418 (2014)

Yi, P., Kou, G., Li, J.: A fuzzy promethee approach for mining customer reviews in chinese. Arab. J. Sci. Eng. 39(6), 5245–5252 (2014)

Shadman, R.M., Rahimi, S., Beglou, M.J.: PROMETHEE II and fuzzy AHP: an enhanced GIS-based landslide susceptibility mapping. Nat. Hazards 73(1), 77–95 (2014)

Xiaojuan, T., Liu, X., Wang, L.: An improved PROMETHEE II method based on Axiomatic Fuzzy Sets. Neural Comput. Appl. 25(7–8), 1675–1683 (2014)

Ting-Yu, C.: A PROMETHEE-based outranking method for multiple criteria decision analysis with interval type-2 fuzzy sets. Soft Comput. 18(5), 923–940 (2014)

Sonia, H., Halouani, N..: Hesitant-fuzzy-promethee method. In: 2013 5th International Conference on Modeling, Simulation and Applied Optimization (ICMSAO), pp. 1–6. IEEE, New York (2013)

Wei-xiang, L., Li, B.: An extension of the Promethee II method based on generalized fuzzy numbers. Expert Syst. Appl. 37(7), 5314–5319 (2010)

Afful-Dadzie, A., Afful-Dadzie, E., Nabareseh, S., Oplatková, Z.K.: Tracking progress of African Peer Review Mechanism (APRM) using fuzzy comprehensive evaluation method. Kybernetes 43(8), 1193–1208 (2014)

Yoon, K.P., Hwang, C.L.: Multiple Attribute Decision Making: An Introduction, vol. 104. Sage Publications, New York (1995)

Afful-Dadzie, E., Nabareseh, S., Oplatková, Z. K., Klímek, P.: Model for assessing quality of online health information: a fuzzy VIKOR based method. J. Multi-Criteria Decis. Anal. (2015)
Acknowledgments

This work was supported by GACR P103/15/06700S, NPU I No. MSMT-7778/2014, CEBIA-Tech No. CZ.1.05/2.1.00/03.0089. It was also supported by Internal Grant Agency of TBU under the project Nos. IGA/FAI/2015/054, IGA/FaME/2016/019 and IGA/FaME/2015/023.
Copyright information

© 2016 Springer International Publishing Switzerland
About this chapter
Cite this chapter
Afful-Dadzie, E., Nabareseh, S., Oplatková, Z.K., Klimek, P. (2016). Using Fuzzy PROMETHEE to Select Countries for Developmental Aid. In: Bi, Y., Kapoor, S., Bhatia, R. (eds) Intelligent Systems and Applications. Studies in Computational Intelligence, vol 650. Springer, Cham. https://doi.org/10.1007/978-3-319-33386-1_6
DOI: https://doi.org/10.1007/978-3-319-33386-1_6

Published:

Publisher Name: Springer, Cham

Print ISBN: 978-3-319-33384-7

Online ISBN: 978-3-319-33386-1

eBook Packages: EngineeringEngineering (R0)