Abstract

Business process modeling is aimed at the design and documentation of business processes. Business process models are used to analyze processes, to reduce their complexity, to evaluate their performance and finally to assist business process improvement. In this light, a number of modeling architectures, methods and tools have been developed in order to assist scientists and practitioners to model and manage business processes. In addition, supply chain management importance is increasingly being recognized as it integrates and synchronizes business processes across the extended supply chains.

This paper deals with the application of a specific business process modeling architecture in order to design supply chain processes in the case of a SME manufacturing company. The modeling architecture has been developed in the context of the "Odysseus" research project, which deals with the management of demand variability in modern supply chains. The architecture covers different supply chain views such as processes and activities, organization, information systems, risk management and decision making. These views are covered by the modeling architecture using nine selected and interconnected ARIS methods. The architecture is applied in a Greek SME company producing electrical equipment. The production process of the equipment consists of in-house as well as sub-contracted phases performed by Greek and European manufacturers. The coordination of the related supply chain processes is performed by the company under discussion. Due to the extended degree of collaboration, the need for accurate planning, coordination and controlling in the supply chain is highly increased, making business process modeling an ideal enabling approach.
Keywords
Business processes modeling

Architecture

ARIS methods

Case study

Manufacturing company

Subcontractors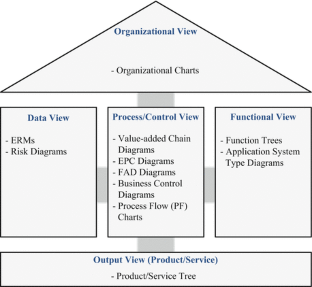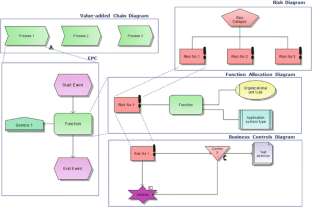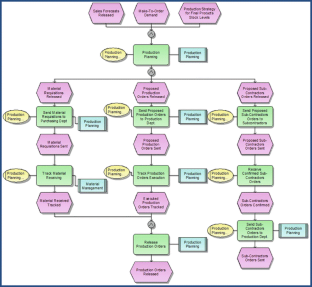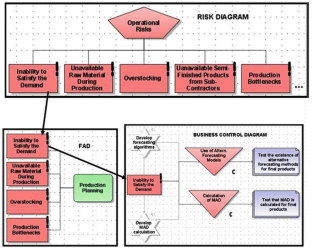 References
Bandara W, Gable G, Rosemann M (2005) Factors and measures of business process modelling: model building through a multiple case study. Eur J Inf Syst 14(4):347–360

Capgemini (2004) Business process modeling defined. URL: http://www.cdc.gov/std/program/bpmm/overview.pdf. Last Retrieved 25 Sept 2015

Christopher ML (1992) Logistics and supply chain management. Pitman Publishing, London

Ciborra CU (1997) De profundis? Deconstructing the concept of strategic alignment. Scand J Inf Syst 9(1):67–82

Com Cloud Study (2015) Discuss six sigma, BPM life cycle and total quality management. https://sites.google.com/site/comcloudhelper/home/ipcc/business-process-management-it/discuss-sixsigma-bpm-life-cycle-and-total-quality-management-tqm. Retrieved 20 Dec 2015

Cooper M, Ellram L (1993) Characteristics of supply chain management and the implication for purchasing and logistics strategy. Int J Logist Manag 4(2):13–24

Curtis B, Kellner K, Over J (1992) Process modeling. Commun ACM 35(9):75–90

Davenport T (2005) The coming commoditization of processes. Harv Bus Rev 83(6):100–108

Davis R (2001) The event-driven process chain, business process modeling with ARIS: a practical guide. Springer Science & Business Media, London, pp 111–139

Davis R (2008) ARIS, design platform, advanced process modeling and administration. Springer Science & Business Media, London

Emiris DM, Koulouriotis DE, Matsatsinis NF (2001) Modeling of business processes and functions of an industrial unit for ERP system application. Oper Res: An Int J 1(2):181–195

Gayialis S, Ponis S, Tatsiopoulos I, Panayiotou N, Stamatiou D-R (2013) A knowledge-based reference model to support demand management in contemporary supply chains. 14th European conference on knowledge management, Kaunas University of Technology, pp 236–244

Gayialis SP, Ponis ST, Panayiotou NA, Tatsiopoulos IP (2015) Managing Demand in supply chain: the business process modeling approach. 4th international symposium and 26th national conference on operational research, Chania, Greece, pp 73–79

Giaglis G (2001) A taxonomy of business process modeling and information systems modeling techniques. Int J Flex Manuf Syst 13(2):209–228

Grundy JC, Apperley MD, Hosking JG, Mugridge WB (1998) A decentralized architecture for software process modeling and enactment. IEEE Internet Comput 5:53–62

INFORMS.org (2015) What is operations research? URL: https://www.informs.org/About-INFORMS/What-is-Operations-Research. Last Retrieved 25 Sept 2015

Jiménez M, Piattini M, Vizcaíno A (2009) Challenges and improvements in distributed software development: a systematic review. Adv Softw Eng (3). doi:10.1155/2009/710971

La Londe BJ, Masters J (1994) Emerging logistics strategies: blueprints for the next century. Int J Phys Distrib Logist Manag 24(7):35–47

Lambert K, Douglas M, James R, Ellram L (1998) Fundamentals of logistics management. Chapter 14. Irwin/McGraw-Hill, Boston, MA

Lampathaki F, Koussouris S, Psarras J (2013) Business process modeling, business process reengineering. Decision Support Systems Laboratory NTUA. URL: http://academics.epu.ntua.gr/LinkClick.aspx?fileticket=nNPcBN7bjX0%3D&tabid=930&mid=2218. Last Retrieved 25 Nov 2015

Lancaster University, Management School (2013) What is operational research? URL: http://www.lancaster.ac.uk/lums/study/masters/programmes/msc-operational-research-management-science/what-is-operational-research/. Last Retrieved 25 Sept 2015

Mentzer J, DeWitt W, Keebler J, Min S, Nix N, Smith C, Zacharia Z (2001) Defining supply chain management. J Bus Logist 22(2):1–25

Morrison ED, Ghose AK, Dam HK, Hinge KG, Hoesch-Klohe K (2011) Service-oriented computing of the series lecture notes in computer science strategic alignment of business processes. ICSOC 2011 Workshops 221: 9–21

Panayiotou NA, Tatsiopoulos IP (2013) Supporting the design of a management accounting system of a company operating in the gas industry with business process modeling. In: Advances in production management systems, competitive manufacturing for innovative products and services. Springer, Berlin, pp 686–692

Panayiotou NA, Gayialis SP, Evangelopoulos NP, Katimertzoglou PK (2015) A business process modeling-enabled requirements engineering framework for ERP implementation. Bus Process Manag J 21(3):628–664

Ponis S, Gayialis S, Tatsiopoulos I, Panayiotou N, Stamatiou D, Ntalla A (2015) An application of AHP in the development process of a supply chain reference model focusing on demand vari ability. Oper Res Int J 15(3):337–357

Porter ME (1985) The competitive advantage: creating and sustaining superior performance. Free Press, New York. Republished 1998

Recker J, Rosemann M, Indulska M, Green P (2009) Business process modeling—a comparative analysis. J Assoc Inf Syst 10(4):335–363

Roser S, Bauer B (2005) A categorization of collaborative business process modeling techniques. Seventh IEEE International Conference on E-Commerce Technology Workshops, pp 43–51

Scheer A (2000) ARIS—business process modeling, 3rd edn. Springer, Berlin

Taha H (2007) Operations research: an introduction, 8th edn. Pearson Prentice Hall, Upper Saddle River, NJ

Telecken TL, Valdeni de Lima J, Montgomery Barroso F (2004) Process modeling architectures with namespace and XML technology, CLEI- Conferencia latinoamericana de informatica, 2004, Arequipa, Peru, pp 54–65

Xu H, Li Z, Bo-sheng Z (2005) Enterprise process modeling methodology and environment supporting project management. J Shanghai Univ 9(6):493–500

Yin R (2003) Case study research: design and methods. Sage Publications, London

Zachman J (1987) A framework for information systems architecture. IBM Syst J 26(3):276–292
Acknowledgments

The research efforts described in this paper are part of the research project "A Holistic Approach for Managing Variability in Contemporary Global Supply Chain Networks" in research action: "Thales—Support of the interdisciplinary and/or inter-institutional research and innovation" which is implemented under the Operational Programme: Education and Lifelong Learning, NSRF 2007–2013 and is co-funded by European Union (European Social Fund) and Greek Government.
Copyright information

© 2017 Springer International Publishing Switzerland
About this paper
Cite this paper
Panayiotou, N.A., Stavrou, V.P., Gayialis, S.P. (2017). The Application of a Business Process Modeling Architecture in the Supply Chain of a Manufacturing Company: A Case Study. In: Grigoroudis, E., Doumpos, M. (eds) Operational Research in Business and Economics. Springer Proceedings in Business and Economics. Springer, Cham. https://doi.org/10.1007/978-3-319-33003-7_1