Abstract

With a conversational interface, people can speak to their smartphones and other smart devices in a natural way in order to obtain information, access Web services, issue commands, and engage in general chat. This chapter presents some examples of conversational interfaces and reviews technological advances that have made conversational interfaces possible. Following this, there is an overview of the technologies that make up a conversational interface.
Keywords
Virtual personal assistant

Voice search

Smart watch

Social robot

Internet of Things

Wearables

Semantic Web

Artificial intelligence (AI)

Machine learning

Enterprise assistants

Chatbot
Good morning, Theodore. You have a meeting in five minutes. Do you want to try getting out of bed?

Samantha in the movie Her: Official Trailer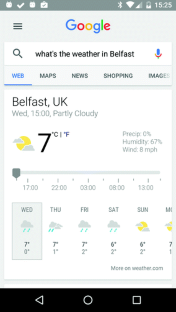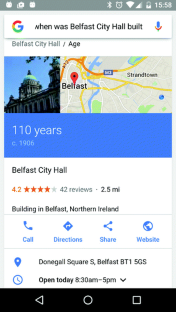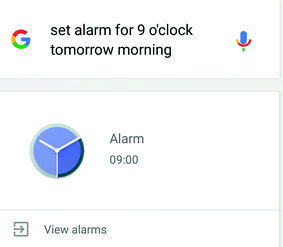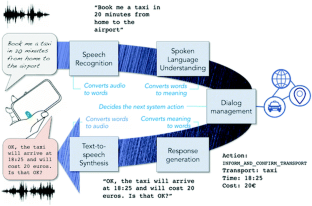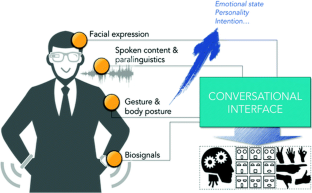 Notes
1.

2.

3.

4.

5.

6.

7.

8.

9.

10.

11.

12.

13.

14.

15.

16.

17.

18.

19.

20.

21.

22.

23.
References
Berners-Lee T, Hendler J, Lassila O (2001) The semantic web. Sci Am 284:34–43. doi:10.1038/scientificamerican0501-34

Black AW, Eskenazi M (2009) The spoken dialog challenge. In: Proceedings of the 10th annual meeting of the special interest group in discourse and dialog (SIGDIAL 2009), Queen Mary University of London, September 2009, pp 337–340. doi:10.3115/1708376.1708426

Bouzid A, Ma W (2013) Don't make me tap: a common sense approach to voice usability. ISBN 1-492195-1-7

Meisel W (2013) The personal-assistant model: unifying the technology experience. In: Neustein A, Markowitz JA (eds) Mobile speech and advanced natural language solutions. Springer, New York, pp 35–45. doi:10.1007/978-1-4614-6018-3_3

Moore RK (2013) Spoken language processing: where do we go from here? In: Trappl R (ed) Your virtual butler: the making of. Springer, Berlin, pp 119–133. doi:10.1007/978-3-642-37346-6_10

Pieraccini R (2012) The voice in the machine: building computers that understand speech. MIT Press, Cambridge

Stork D (ed) (1998) HAL's legacy: 2001's computer as dream and reality. MIT press, Cambridge

Trappl R (ed) (2013) Your virtual butler: the making of. Springer, Berlin. doi:10.1007/978-3-642-37346-6
Copyright information

© 2016 Springer International Publishing Switzerland
About this chapter
Cite this chapter
McTear, M., Callejas, Z., Griol, D. (2016). The Dawn of the Conversational Interface. In: The Conversational Interface. Springer, Cham. https://doi.org/10.1007/978-3-319-32967-3_2
DOI: https://doi.org/10.1007/978-3-319-32967-3_2

Published:

Publisher Name: Springer, Cham

Print ISBN: 978-3-319-32965-9

Online ISBN: 978-3-319-32967-3

eBook Packages: EngineeringEngineering (R0)