Abstract

The vision of the Digital Twin itself refers to a comprehensive physical and functional description of a component, product or system, which includes more or less all information which could be useful in all—the current and subsequent—lifecycle phases. In this chapter we focus on the simulation aspects of the Digital Twin. Today, modelling and simulation is a standard process in system development, e.g. to support design tasks or to validate system properties. During operation and for service first simulation-based solutions are realized for optimized operations and failure prediction. In this sense, simulation merges the physical and virtual world in all life cycle phases. Current practice already enables the users (designer, SW/HW developers, test engineers, operators, maintenance personnel, etc) to master the complexity of mechatronic systems.
Keywords
Digital Model

Mechatronic System

Product Lifecycle Management

Product Data Management

Life Cycle Phase
These keywords were added by machine and not by the authors. This process is experimental and the keywords may be updated as the learning algorithm improves.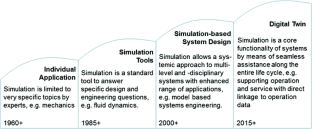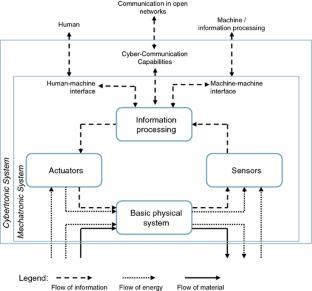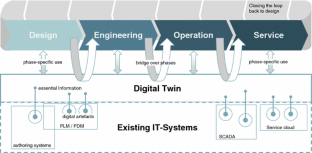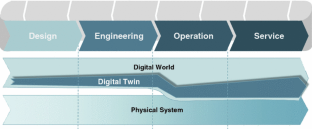 Notes
1.

Verein Deutscher Ingenieure (Association of German Engineers).

2.

Clarification of terminology—The authors are aware, and readers should be aware, of differing views and use of terms like elements, systems, products and components.

3.

This corresponds also to 'system of systems' perspectives.

4.

Many terms are used to express this trend, e.g. Cyber-physical Systems, Internet of Things, Web of Systems, Industrial Internet.

5.

The term cyber-physical is more popular, but brings a different understanding of how the physical basis system is associated.

6.

"Model-based systems engineering (MBSE) is the formalized application of modelling to support system requirements, design, analysis, verification and validation activities beginning in the conceptual design phase and continuing throughout development and later life cycle phases" [9]. So a core idea of MBSE is to use digital models to capture interactions of single subsystems and components at a system level. The system behaviour is tested against these models throughout the product development process.

7.

Product lifecycle management (PLM), Product data management (PDM), Supervisory Control and Data Acquisition (SCADA).
References
VDI-Richtlinie 2206 (2004) Entwicklungsmethodik für mechatronische Systeme

BMBF Project mecPro2 (2013). www.mecpro.de. Accessed 2 Nov 2015

Rosen R, von Wichert G, Lo G, Bettenhausen K (2015) About the importance of autonomy and digital twins for the future of manufacturing. In: 15th IFAC symposium on information control problems in manufacturing, Ottawa, 11–13 May 2015

Shafto M, Conroy M, Doyle R, Glaessgen E, Kemp C, LeMoigne J, Wang L (2010) NASA technology roadmap: DRAFT modeling, simulation, information technology & processing roadmap technology area 11, Nov 2010

Airbus Industries (2015) Innovation. www.airbus.com/innovation/proven-concepts/in-design/iron-bird/. Accessed 2 Nov 2015

Shafto M, Conroy M, Doyle R, Glaessgen E, Kemp C, LeMoigne J, Wang L (2012) NASA technology roadmap: modeling, simulation, information technology & processing roadmap technology area 11, Apr 2012

Air Force Research Laboratory (2011) Condition-based maintenance plus structural integrity (CBM + SI) & the airframe digital twin. 88ABW-2011-1428

US Air Force (2013) Global horizons: United States air force global science and technology vision AF/ST TR 13-0, July 2013

INCOSE (2007) Model based systems engineering. www.mbse.gfse.de. Accessed 2 Nov 2015

Modelisar Association (2014) Functional mock-up interface. www.fmi-standard.org. Accessed 2 Nov 2015

OMG, OMG SysML v 1.3 (2015). www.omg.org/spec/SysML/1.3/. Accessed 2 Nov 2015

Carter M, Huang J, Sashank Ganti J (2014) JT file format reference version 10.0, Siemens PLM Software

Deckers J (2014) Dem Defekt einen Schritt voraus: Drehmoment-Schwingungsüberwachung vermeidet Getriebeschäden, bevor sie entstehen, VDI-Fachtagung Schwingungsüberwachung
Copyright information

© 2016 Springer International Publishing Switzerland
About this chapter
Cite this chapter
Boschert, S., Rosen, R. (2016). Digital Twin—The Simulation Aspect. In: Hehenberger, P., Bradley, D. (eds) Mechatronic Futures. Springer, Cham. https://doi.org/10.1007/978-3-319-32156-1_5
DOI: https://doi.org/10.1007/978-3-319-32156-1_5

Published:

Publisher Name: Springer, Cham

Print ISBN: 978-3-319-32154-7

Online ISBN: 978-3-319-32156-1

eBook Packages: EngineeringEngineering (R0)