Abstract

Electricity production from nuclear power does not emit greenhouse gases like carbon dioxide into the air. However, it generates radioactive wastes in solid, liquid, and gaseous forms that can contaminate the environment and create a hazard for people's health if not properly controlled and managed. Therefore, radioactive wastes must be handled in a safe way to protect people and the environment. Various types of radioactive waste exist and proper disposal depends on the properties of the waste. This chapter focuses on nuclear waste generation, handling, storage and disposal. It first gives the classification of nuclear wastes according to their radioactive content and half-life, making comparisons with other hazardous waste and waste from other sources of electricity generation. Then, it illustrates the typical composition of nuclear spent fuel, the time evolution of its radioactivity, and the safe methods for its final disposal. Finally, it describes the studies in progress for significantly reducing the volume and radiotoxicity of nuclear wastes and for shortening the very long time for which they must be stored safely.
Keywords
Nuclear Power Plant

Radioactive Waste

Fission Product

Fuel Cycle

Spend Fuel
These keywords were added by machine and not by the authors. This process is experimental and the keywords may be updated as the learning algorithm improves.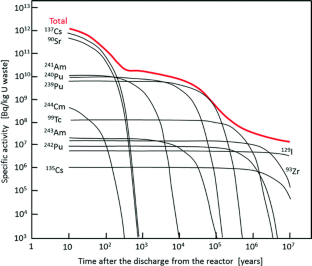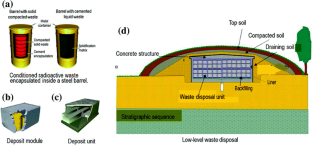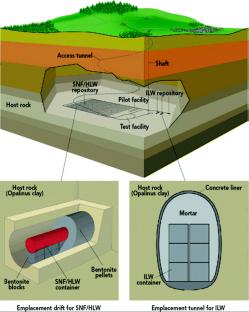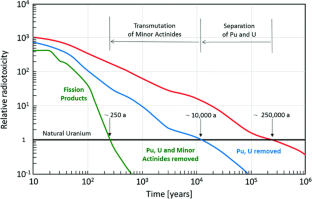 Notes
1.

Hazardous waste is a waste with properties that make it potentially dangerous or harmful to human health or the environment. The universe of hazardous wastes is large and diverse: they can be liquids, solids, or contained gases, and can be the by-products of manufacturing processes, discarded used materials, or discarded unused commercial products, such as cleaning fluids (solvents) or pesticides. In regulatory terms, a hazardous waste is a waste that exhibits one of the following four characteristics—ignitability, corrosivity, reactivity, or toxicity.
References
IAEA Safety standards series No. GSG-1, Classification of Radioactive Waste, General Safety Guide, 2009

Radioactive waste in perspective, © OECD 2010, NEA No. 6350

http://www.world-nuclear.org/info/Nuclear-Fuel-Cycle/Nuclear-Wastes/Appendices/Radioactive-Waste-Management-Appendix-1–Treatment-and-Conditioning-of-Nuclear-Wastes/

Advanced Nuclear Fuel Cycles and Radioactive Waste Management, OECD-NEA No. 5990, 2006

European Commission, Radioactive Waste Management in the European Union (1998)

W. Moomaw, P. Burgherr, G. Heath, M. Lenzen, J. Nyboer, A. Verbruggen, Renewable energy sources and climate change mitigation, Special Report of the Intergovernmental Panel On Climate Change (IPCC), 2001, p. 19, and Annex II: Methodology p. 190. ISBN 978-92-9169-131-9. Online: https://www.ipcc.ch/pdf/special-reports/srren/SRREN_FD_SPM_final.pdf

The principles of radioactive waste management, Safety Series No. 111-F, IAEA 1995

P. Agostini et al., Nucleare da fissione, stato e prospettive, Ed. S. Monti. ENEA 2008, ISBN 88-8286-189-9

NEA-6885 Nuclear energy today, ISBN 978-92-64-99204-7, OECD 2012

A.P. Mesnhik, Scientific American, October 2005. http://www.world-nuclear.org/info/Nuclear-Fuel-Cycle/Power-Reactors/Nuclear-Power-Reactors/

H. Nifenecker, O. Meplan, S. David, Accelerator Driven Subcritical Reactors, Institute of Physics, Series in Fundamental and Applied Nuclear Physics (2003). ISBN 978-07-5030-743-7

A. Kochetkov et al., Current progress and future plans of the FREYA Project, in Proceedings of the Second International Workshop on Technology and Components of Accelerator-driven Systems, Nantes, France 21–23 May 2013

H.A. Abderrahim, MYRRHA a flexible and fast spectrum irradiation facility, in Proceedings of the 11th International Topical Meeting on Nuclear Applications of Accelerators (AccApp 2013), Bruges, Belgium, 5–8 August 2013

H.A. Abderrahim, Future advanced nuclear systems and the role of MYRRHA as a waste transmutation R&D facility. in Proceedings of the International Conference of Fast Reactors and related fuel cycles. Safe technology and sustainable scenarios, vol. 1, ed. by S. Monti (IAEA, 2015, Paris, France) 4–7 March 2013, p. 69, STI/PUB/1665. ISBN 978–92–0–104114–2

Generation-IV International Forum, https://www.gen-4.org/
Copyright information

© 2016 Springer International Publishing Switzerland
About this chapter
Cite this chapter
De Sanctis, E., Monti, S., Ripani, M. (2016). Management of Radioactive Waste. In: Energy from Nuclear Fission. Undergraduate Lecture Notes in Physics. Springer, Cham. https://doi.org/10.1007/978-3-319-30651-3_6