Abstract
Hereditary hemochromatosis is considered the most common genetic disorder identified in Caucasians. Inherited in an autosomal recessive fashion, patients homozygous for C282Y and occasionally those who are compound heterozygotes (C282Y/H63D) are at risk for developing iron overload. Patients with progressive iron overload may develop nonspecific symptoms including fatigue, and can eventually develop arthropathy, hypogonadism, and complications of chronic liver disease, diabetes, and heart failure.
With early diagnosis and treatment, patients can expect to have a normal life span. This underscores the importance of identifying patients with the disease and initiating treatment as early as possible. To identify these patients, those with abnormal iron or liver function tests—as well as those with any signs or symptoms of hemochromatosis—should be evaluated with serum iron studies and, if abnormal (either an elevated ferritin or a transferrin saturation of ≥45 %), with HFE mutation analysis. When a first degree family member has the diagnosis, HFE mutation analysis and serum iron studies should be done simultaneously.
If a patient is diagnosed with hemochromatosis and has an elevated ferritin, therapeutic phlebotomy should be initiated. Those with advanced disease may require screening for hepatocellular carcinoma and may require management of complications of chronic liver disease.
Keywords
Hemochromatosis

HFE

C282Y

H63D

Iron

Iron overload

Cirrhosis

Phlebotomy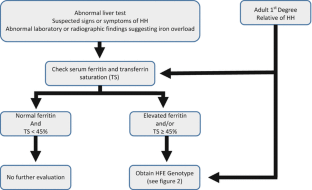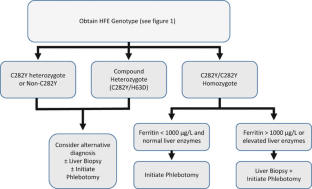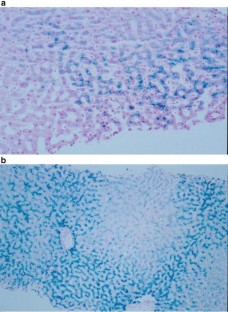 References
Sarigianni M, Liakos A, Vlachaki E, Paschos P, Athanasiadou E, Montori VM, et al. Accuracy of magnetic resonance imaging in diagnosis of liver iron overload: a systemic review and meta-analysis. Clin Gastroenterol Hepatol. 2015;13(1):55–63.

Bacon BR. Measurement of hepatic iron concentration. Clin Gastroenterol Hepatol. 2014; 13(1):64–65.

Feder JN, Gnirke A, Thomas W, Tsuchihashi Z, Ruddy DA, Basava A, et al. A novel MHC class I-like gene is mutated in patients with hereditary haemochromatosis. Nat Genet. 1996;13(4):399–408.

European Association for the Study of the Liver. EASL clinical practice guidelines for HFE hemochromatosis. J Hepatol. 2010;53(1):3–22.

Bacon BR, Adams PC, Kowdley KV, Powell LW, Tavill AS. Diagnosis and management of hemochromatosis: 2011 practice guideline by the American Association for the Study of Liver Diseases. Hepatology. 2011;54(1):328–43.

Adams PC, Barton JC. Haemochromatosis. Lancet. 2007;370(9602):1855–60.

Pietrangelo A. Hereditary hemochromatosis: a new look at an old disease. N Engl J Med. 2004;350(23):2383–97.

Niederau C, Fischer R, Purschel A, Stremmel W, Haussinger D, Strohmeyer G. Long-term survival in patients with hereditary hemochromatosis. Gastroenterology. 1996;110(4):1107–19.

Adams PC, Reboussin DM, Barton JC, McLaren CE, Eckfeldt JH, McLaren GD, et al. Hemochromatosis and iron-overload screening in a racially diverse population. N Engl J Med. 2005;352(17):1769–78.

Phatak PD, Bonkovsky HL, Kowdley KV. Hereditary hemochromatosis: time for targeted screening. Ann Intern Med. 2008;149(4):270–2.

Allen KJ, Gurrin LC, Constantine CC, Osborne NJ, Delatycki MB, Nicoll AJ, et al. Iron-overload-related disease in HFE hereditary hemochromatosis. N Engl J Med. 2008;358(3):221–30.

Beutler E, Felitti VJ, Koziol JA, Ho NJ, Gelbart T. Penetrance of 845 G → A (C282Y) HFE hereditary hemochromatosis mutation in the USA. Lancet. 2002;359(9302):211–8.

Adams P, Brissot P, Powell LW. EASL international consensus conference on haemochromatosis. J Hepatol. 2000;33(3):485–504.

Fleming RE, Britton RS, Waheed A, Sly WS, Bacon BR. Pathogenesis of hereditary hemochromatosis. Clin Liver Dis. 2004;8(4):755–73.

Nemeth E, Ganz T. The role of hepcidin in iron metabolism. Acta Haematol. 2009;122(2–3):78–86.

Nemeth E, Tuttle MS, Powelson J, Vaughn MB, Donovan A, Ward DM, et al. Hepcidin regulates cellular efflux by binding to ferroportin and inducing its internalization. Science. 2004;306(5704):2090–3.

Fleming RE, Britton RS. Iron imports. VI. HFE and regulation of intestinal iron absorption. Am J Physiol Gastrointest Liver Physiol. 2006;290(4):G590–4.

Waheed A, Parkkila S, Saarnio J, Fleming RE, Zhou XY, Tomatsu S, et al. Association of HFE protein with transferrin receptor in crypt enterocytes of human duodenum. Proc Natl Acad Sci U S A. 1999;96(4):1579–84.

Goswami T, Andrews NC. Hereditary hemochromatosis protein, HFE, interaction with transferrin receptor 2 suggests a molecular mechanism for mammalian iron sensing. J Biol Chem. 2006;281(39):28494–8.

Ganz T. Iron homeostasis: fitting the puzzle pieces together. Cell Metab. 2008;7(4):288–90.

Fleming RE, Bacon BR. Orchestration of iron homeostasis. N Engl J Med. 2005;352(17):1741–4.

Bacon BR, Tavill AS, Brittenham GM, Park CH, Recknagel RO. Hepatic lipid peroxidation in vivo in rats with chronic iron overload. J Clin Invest. 1983;71(3):429–39.

Bacon BR, Britton RS. The pathology of hepatic iron overload: a free radical-mediated process? Hepatology. 1990;11(1):127–37.

Philippe MA, Ruddell RG, Ramm GA. Role of iron in hepatic fibrosis: one piece in the puzzle. World J Gastroenterol. 2007;13(35):4746–54.

Edwards CQ, Cartwright GE, Skolnick MH, Amos DB. Homozygosity for hemochromatosis: clinical manifestations. Ann Intern Med. 1980;93(4):519–25.

Milder MS, Cook JD, Stray S, Finch CA. Idiopathic hemochromatosis, an interim report. Medicine (Baltimore). 1980;59(1):34–49.

Niederau C, Fischer R, Sonnenberg A, Stremmel W, Trampisch HJ, Strohmeyer G. Survival and causes of death in cirrhotic and in noncirrhotic patients with primary hemochromatosis. N Engl J Med. 1985;313(20):1256–62.

Adams PC, Kertesz AE, Valberg LS. Clinical presentation of hemochromatosis: a changing scene. Am J Med. 1991;90(4):445–9.

Bacon BR, Sadiq SA. Hereditary hemochromatosis: presentation and diagnosis in the 1990s. Am J Gastroenterol. 1997;92(5):784–9.

Bassett ML, Halliday JW, Ferris RA, Powell LW. Diagnosis of hemochromatosis in young subjects: predictive accuracy of biochemical screening tests. Gastroenterology. 1984;87(3):628–33.

Morrison ED, Brandhagen DJ, Phatak PD, Barton JC, Krawitt EL, El-Seraq HB, et al. Serum ferritin level predicts advanced hepatic fibrosis among U.S. patients with phenotypic hemochromatosis. Ann Intern Med. 2003;138(8):627–33.

Powell LW, Dixon JL, Ramm GA, Purdie DM, Lincoln DJ, Anderson GJ, et al. Screening for hemochromatosis in asymptomatic subjects with or without a family history. Arch Intern Med. 2006;166(3):294–301.

Bacon BR, Olynyk JK, Brunt EM, Britton RS, Wolff RK. HFE genotype in patients with hemochromatosis and other liver diseases. Ann Intern Med. 1999;130(12):953–62.

Fletcher LM, Dixon JL, Purdie DM, Powell LW, Crawford DH. Excess alcohol greatly increases the prevalence of cirrhosis in hereditary hemochromatosis. Gastroenterology. 2002;122(2):281–9.

Brunt EM. Pathology of hepatic iron overload. Semin Liver Dis. 2005;25(4):392–401.

Lynch SR, Cook JD. Interaction of vitamin C and iron. Ann N Y Acad Sci. 1980;355:32–44.

Brittenham GM, Klein HG, Kushner JP, Ajioka RS. Preserving the national blood supply. Hematol Am Soc Hematol Educ Program. 2001;1:422–32.

Bruix J, Sherman M. Management of hepatocellular carcinoma. Hepatology. 2005;42(5):1208–36.

Ashrafian H. Hepcidin: the missing link between hemochromatosis and infections. Infect Immun. 2003;71(12):6693–700.

Poulos JE, Bacon BR. Liver transplantation for hereditary hemochromatosis. Dig Dis. 1996;14(5):316–22.

Farrell FJ, Nguyen M, Woodley S, Imperial JC, Garcia-Kennedy R, Man K, et al. Outcome of liver transplantation in patients with hemochromatosis. Hepatology. 1994;20(2):404–10.

Yu L, Ioannou GN. Survival of liver transplant recipients with hemochromatosis in the United States. Gastroenterology. 2007;133(2):489–95.

Gochee PA, Powell LW, Cullen DJ, Du Sart D, Rossi E, Olynyk JK. A population-based study of the biochemical and clinical expression of the H63D hemochromatosis mutation. Gastroenterology. 2002;122(3):646–51.
Copyright information
© 2017 Springer International Publishing Switzerland
About this chapter
Cite this chapter
Stotts, M.J., Bacon, B.R. (2017). Metabolic and Genetic Liver Diseases: Hemochromatosis. In: Saeian, K., Shaker, R. (eds) Liver Disorders. Springer, Cham. https://doi.org/10.1007/978-3-319-30103-7_20
DOI: https://doi.org/10.1007/978-3-319-30103-7_20

Published:

Publisher Name: Springer, Cham

Print ISBN: 978-3-319-30101-3

Online ISBN: 978-3-319-30103-7

eBook Packages: MedicineMedicine (R0)