Abstract
This chapter assesses the evolution of drug policy in Peru; It takes into account past and current initiatives to reform the repressive drug policy in the country. Also, it discusses how several key determinants—such as foreign pressures, the rise of subversive groups, and the type of economic model implemented—have influenced the evolution of drug policy in Peru. Its development is systematized into phases that consider the influence and effects of these different determinants. The chapter argues that drug policy has become increasingly repressive in Peru, and concludes that the Peruvian state has been unable to implement innovative and non-repressive initiatives on drug policy because of its institutional weakness, foreign pressures from the United States, and security concerns due to the growth of subversive groups.
Keywords
Organize Crime

Free Trade Agreement

Drug Policy

Drug Trafficker

International Capital Market
These keywords were added by machine and not by the authors. This process is experimental and the keywords may be updated as the learning algorithm improves.
Notes
1.

Richard Nixon's administration declared a "War on Drugs" in 1971. In 1986, President Ronald Reagan officially declared that drugs constituted a threat to national security (Ramírez and Youngers 2011).

2.

For instance, estimations indicate that there were only 16,000 ha of coca in 1963 (Parra y Guerra 2014).

3.

The number of hectares dedicated to cultivate coca grew from 56,000 in 1982 to 196,000 in 1993 (Cotler 1999). Approximately, 81 % of these areas were located in specific areas of the Peruvian jungle: in the Department of Huánuco, in the Department of San Martín, and in the Huallaga Valley (Ossio et al. 1989). This expansion, translated into increases in the production of coca and its derivatives, coincided with both an increase in the price of coca (de Rementería 1995) and an increasing migration to the production areas to take advantage of greater income (Alvarez 1999).

4.

5.

CORAH was the Proyecto Especial de Control y Reducción del Cultivo de la Coca en el Alto Huallaga (Special Project for the Control and Reduction of Coca Crops in the Upper Huallaga). This program is under the jurisdiction of Ministerio del Interior (Ministry of the Interior) and executes the eradication of coca crops throughout the Peruvian territory.

6.

Fujimori's government has been repeatedly categorized as "semi-democratic," "semi-authoritarian" or "competitive authoritarian." For instance, during this period, the executive manipulated election results, organized a "self-coup," and then took control of congress through a solid majority; the pro-Fujimori congress expelled three members of the Constitutional Tribunal in 1997 after their attempt to block an unconstitutional third presidential term, and took control over some privately owned television stations through legal stratagems and bribery (Levitsky and Way 2002).

7.

The ATPA was approved on December 4th, 1991. The ATPA became effective on August, 1993.

8.

This decreasing trend clearly changed in 1998, when the War on Drugs intensified in Colombia. Appendix 1 shows how the prices of a kilogram of coca leaves evolved over time in Peru.

9.

See Supreme Decree 158-90-PCM.

10.

Once the Fujimori's government ended, the involvement of civilians in the military fights against Sendero Luminoso was declared illegal (van Dun 2012).

11.

DEVIDA is currently in charge of designing and implementing policies to control the production and trafficking of illicit drugs. This institution also cooperates with the UNODC to identify the development of coca crops in the Peruvian territory. CORAH, instead, focuses on executing the eradication of coca crops.

12.

For instance, consult: http://goo.gl/325Dm9. In addition, the Peruvian government removed Gen. Carlos Morán as the chief of the Anti-Drug Directorate of the National Police or DIRANDRO (Koven and McClintock 2015).

13.

Another episode occurred in 2007. Alan García's Minister of Agriculture promised both stopping the forced eradication of coca crops and abrogating the Peruvian signature of the 1961 Single Convention on Narcotic Drugs. The Minister soon after had to resign (Ramírez and Youngers 2011).
References
Abusada, R., Taboada, S., & Chávez, J. (2004). Impactos Sectoriales y Regionales de la Ley de Preferencias Arancelarias y Erradicación de Drogas (ATPDEA) [Sectoral impacts and regional of the tariff preferences and drug eradication act]. Lima: Proyecto Crecer.

Alvarez, E. (1999). Efectos Económicos del Sector Ilícito de Drogas en el Perú [Effects of illicit drugs in the Peru on the economic sector]. In J. Crabtree, & J. Thomas (Eds.), El Perú de Fujimori, 1990–1998 [Fujimori's Peru, 1990–1998] (pp. 181–216). Lima: Universidad del Pacífico.

Andreas, P., & Youngers, C. (1989). U.S. drug policy and the Andean cocaine industry. World Policy Journal, 6(3), 529–562.

Arce, M. (2002). Violencia Política y Aprobación Presidencial en el Perú [Political violence and presidential approval in the Peru]. Debates en Sociología, 27, 175–187.

Ayling, J. (2005). Conscription in the war on drugs: Recent reforms to the U.S. drug certification process. The International Journal of Drug Policy, 16(6), 376–383.

Balbi, C., & Palmer, D. S. (2001). Political earthquake. LASA Forum, 31(Winter), 7–11.

Beaver, A. (2010). Getting a fix on cocaine sentencing policy: Reforming the sentencing scheme of the Anti-Drug Abuse Act of 1986. Fordham Law Review, 78, 2531–2575.

Bewley-Taylor, D., & Jelsma, M. (2011). Cincuenta Años de la Convención Única de 1961 sobre Estupefacientes: Una Relectura Crítica [Fifty years of the Single Convention on Narcotic Drugs of 1961: A critical re-reading]. Serie Reforma Legislativa en Materia de Drogas, 12, 1–20.

Blumstein, A., & Beck, A. J. (1999). Population growth in U.S. prisons, 1980–1996. In M. Tonry, & J. Petersilia (Eds.), Crime and justice (Vol. 26, pp. 17–62). Chicago, IL: University of Chicago Press.

Bouët, A., Mevel, S., & Thomas, M. (2008). The effects of alternative free trade agreements on Peru (IFPRI Discussion Paper No. 824). Washington, DC: International Food Policy Research Institute.

Cameron, M. (2006). Endogenous regime breakdown: The Vladivideo and the fall of Peru's Fujimori. In J. Carrión (Ed.), The Fujimori legacy: The rise of electoral authoritarianism in Peru (pp. 268–293). University Park, PA: Penn State Press.

Caplow, T., & Simon, J. (1999). Understanding prison policy and population trends. Crime and Justice, 26, 63–120.

Carrión, J. (2000, March 16–18). La Campaña Electoral y la Opinión Pública en el Perú Actual [The Electoral campaign and the Public Opinion in the current Peru]. Paper presented at the twenty-second congress of the Latin American Studies Association, Miami, FL.

Comisión Nacional para el Desarrollo y Vida sin Drogas. (2012). Estrategia Nacional de Lucha Contra las Drogas 2012–2016 [National strategy for fight against drugs 2012–2016]. Lima: Presidencia del Consejo de Ministros.

Conaghan, C. (2005). Fujimori's Peru: Deception in the public sphere. Pittsburgh, PA: Pittsburgh University Press.

Consideran que Designación de Soberón es Doble Discurso del Gobierno [They believe that Soberon designation is double discourse of the Government]. (2011, September 1). RPP Noticias. Retrieved from: http://goo.gl/325Dm9

Cotler, J. (1999). Drogas y Política en Perú. La Conexión Norteamericana [Drugs and politics in Peru: The American connection]. Lima: Instituto de Estudios Peruanos.

de Rementería, I. (1995). La Elección de las Drogas [The choice of drugs]. Lima: Fundación Friedrich Ebert.

Durán, J. (2007). Algunas Consideraciones Sobre Posibles Efectos de la no Renovación del ATPDEA por Parte del Congreso de los Estados Unidos. Documento de Proyecto 131, Comisión Económica para América Latina y el Caribe [Some considerations about possible effects of the non-renewal of the ATPDEA for part of the Congress of the United States. Project document 131]. Santiago, Chile: Economic Commission for Latin America and the Caribbean].

Durand, U. (2011). Coca, contention and identity: Peru and Bolivia compared. In J. Crabtree (Ed.), Fractured politics: Peruvian democracy past and present (pp. 105–128). London: Institute for the Study of the Americas.

Eckstein, S. (2001). Where have all the movements gone? Latin American social movements at the new millennium. In S. Eckstein (Ed.), Power and popular protest: Latin American social movements (pp. 351–406). Berkeley: University of California Press.

Falco, M. (1994). The making of a drug-free America. New York, NY: Times Book.

Galeano, E. (2010). Las Venas Abiertas de América Latina [The open veins of Latin America]. Madrid: Siglo XXI de España Editores.

Gamarra, E. (2004). La Democracia y las Drogas en América Latina y el Caribe [Democracy and drugs in Latin America and the Caribbean]. Buenos Aires: PNUD.

Garat, G. Uruguay: A way to regulate the cannabis market. In this volume.

García, J., & Antesana, J. (2010). Estudio Comparativo de la Lucha Antidroga en Perú y Colombia: La Situación de la Coca y la Cocaína [Comparative of the anti-drug fight in Peru and Colombia study: the situation of the Coca and cocaine]. Document 10. Lima: Pontificia Universidad Católica del Perú.

Gomes Pinto, V. (2005). Guerra en los Andes [War in the Andes]. Quito: Ediciones Abya-Yala.

Gootenberg, P. (2008). Andean cocaine: The making of a global drug. Chapel Hill: The University of North Carolina Press.

Gurr, T. (1970). Why men rebel. Princeton, NJ: Princeton University Press.

Hasselroth, A. (2004). Struggles of security in US foreign drug policy towards Andean countries. Peace Studies Journal, 5, 1–29.

Inciardi, J. (1986). War on drugs: Heroin, cocaine, crime, and public policy. Palo Alto, CA: Mayfield.

Kay, H. B. (1999). Violent opportunities: The rise and fall of "King Coca" and shining path. Journal of Interamerican Studies and World Affairs, 41(3), 97–127.

Koc-Menard, S. (2007). Fragmented sovereignty: Why Sendero Luminoso consolidated in some regions of Peru but not in others. Studies in Conflict & Terrorism, 30(2), 173–206.

Koven, B., & McClintock, C. (2015). Counternarcotics cooperation and the Shining Path in Peru: A new direction for Peru's drug policy in 2014–2015? Paper presented at the 2015 meeting of the Latin American Studies Association.

Latinobarometer Database.(1995). Retrieved from http://www.latinobarometro.org/lat.jsp

Levitsky, S., & Way, L. (2002). The rise of competitive authoritarianism. Journal of Democracy, 13(2), 51–65.

Marsteintredet, L. (2009). Variation of executive instability in presidential regimes: Three types of presidential interruption in Latin America. Paper presented at the 2009 meeting of the American Political Science Association, Toronto, Canada.

McClintock, C., & Vallas, F. (2003). The United States and Peru: Cooperation at a cost. New York, NY: Routledge.

McClintock, C. 2016. The United States and Peru in the Twenty-first Century: Cooperation Amid Global Interdependence. In J. Domínguez, & R. Fernandez de Castro (Eds.), Contemporary US-Latin American relations: Cooperation or conflict in the twenty-first century? (2nd ed.). New York, NY: Routledge. (First edition published in 2010).

Monteagudo, J., Rojas, L., Stabilito, A., & Watanuki, M. (2004). The new challenges of the regional trade agenda for the Andean countries. Presented at the seventh annual Conference on Global Economic Analysis. Retrieved from https://www.gtap.agecon.purdue.edu/resources/download/1853.pdf

Nadelman, E. (1990). Global prohibition regimes: The evolution of norms in international society. International Organization, 44(4), 479–526.

National Institute of Statistics and Informatics Database. Retrieved from http://www.inei.gob.pe/

Navarrete-Frías, C., & Thoumi, F. (2005). Drogas Ilegales y Derechos Humanos de Campesinos y Comunidades Indígenas: el Caso del Perú [Illegal drugs and human rights of peasants and indigenous communities: The case of Peru]. Políticas Sociales Collection, 15. Paris: Organización de las Naciones Unidas para la Educación, la Ciencia y la Cultura.

Ossio, J., Ortiz Rescamare, A., Cabieses, F., Núñez del Prado, O., Paz Flores, P., Hinostroza, L., & Dávila, P. (1989). Coca…tradicion, rito, identidad [Coca… tradition, ritual, identity]. México: Instituto Indigenista Interamericano.

Pardo, B. (2014). Cannabis policy reforms in the Americas: A comparative analysis of Colorado, Washington, and Uruguay. International Journal of Drug Policy, 25(4), 727–735.

Parra y Guerra, E. M. (2014). Desarrollo Alternativo en el Perú: Treinta Años de Aciertos y Desaciertos [Alternative development in the Peru: Thirty years of successes and failures]. Perspectivas Rurales, 23. Retrieved from http://www.revistas.una.ac.cr/index.php/perspectivasrurales/article/view/5599/5517

Pearson, G. (2001). Further chemical control regimes: Narcotic drugs and psychotropic substances. CBW Conventions Bulletin, 51(March), 2–11. Retrieved from http://www.sussex.ac.uk/Units/spru/hsp/documents/cbwcb51.pdf

Penitentiary National Institute. (2013). Informe Estadístico Penitenciario [Prison statistical report]. Lima: Ministerio de Justicia y Derechos Humanos.

Pérez-Correa, C., & Ponce, A. (2015). Garantizando la integridad física de las personas privadas de libertad: Derechos de los internos y sobrepoblación carcelaria [Ensuring the physical integrity of persons deprived of their liberty: Rights of inmates and prison overpopulation]. In C. Pérez-Correa (Ed.), La Justicia Penal Mexicana: Una Evaluación Empírica de las Instituciones del Sistema Penal Federal [Mexican criminal justice: An evaluation empirical of the institutions of the criminal Federal system]. Mexico City: CIDE Editorial.

Ponce, A. (2006). Openness and foreign direct investment: The role of free trade agreements in Latin America (MRPA Paper No 4187). University Library of Munich. Retrieved from http://mpra.ub.uni-muenchen.de/4187/.

Ponce, A. (2016). Cárteles de droga, violencia y competitividad electoral a nivel local: Evidencia del Caso Mexicano [Posters of drugs, violence and electoral competitiveness at the local level: Evidence of the Mexican case. Latin American Research Review.

Ramírez, S., & Youngers, C. (2011). La Política de Drogas en los Andes. Buscando Alternativas Humanas y Eficaces [The politics of drugs in the Andes. Looking for humane and effective alternatives]. Lima: IDEA Internacional.

Rojas, F. (2002). La Economía de la Coca [The economy of coca] [Working document 06]. La Paz: Instituto de Investigaciones Socio-Económicas, Universidad Católica Boliviana.

Room, R. (2013). Legalizing a market for cannabis for pleasure: Colorado, Washington, Uruguay and beyond. Addiction, 109(3), 345–351.

Soberón, R. (2010). Legislación en Materia de Drogas y Situación Carcelaria en el Perú [Reform of drug laws in Latin America] [Working document]. Washington, DC: WOLA. Retrieved from http://www.wola.org/sites/default/files/downloadable/Drug%20Policy/2011/6-3/sistemas%20sobrecargados%20-%20completo%20peru.pdf

Storrs, L. (2005). Drug certification/designation procedures for illicit narcotics producing and transit countries. Congressional Research Service Report. Retrieved from http://congressionalresearch.com/RL32038/document.php?study=Drug+Certification%2FDesignation+Procedures+for+Illicit+Narcotics+Producing+and+Transit+Countries

Switzer, R. (2007). Sendero Luminoso and Peruvian counterinsurgency. Master's thesis, Louisiana State University, Baton Rouge.

Taylor, L. (2001). Alberto Fujimori's peripeteia: From "re-reelección" to regime collapse. European Review of Latin American and Caribbean Studies, 70, 3–24.

Thoumi, F. (2002). El Imperio de la Droga: Narcotráfico, Economía y Sociedad en los Andes [The Empire of the drug: Drug trafficking, economy and society in the Andes]. Bogotá: IEPRI y Editorial Planeta.

United States, Department of State. (2001). 2000 patterns of global terrorism report. Retrieved from http://www.state.gov/j/ct/rls/crt/2000/

United Nations Office on Drugs and Crime (UNODC). (Several years). Perú: Monitoreo de cultivos de hoja de coca.

van Dun, M. (2012). The drugs industry and peasant self-defence in a Peruvian cocaine enclave. International Journal of Drug Policy, 23(6), 442–448.

van Dun, M. (2014). "It's never a sure deal": Drug trafficking, violence, and coping strategies in a Peruvian cocaine enclave (2003–2007). Journal of Drug Issues, 44(2), 180–196.

Walker, W. (1992). International collaboration in historical perspective. In P. Smith (Ed.), Drug policy in the Americas (pp. 265–281). Boulder, CO: Westview Press.

Weyland, K. (2006). The rise and decline of Fujimori's neopopulist leadership. In J. Carrión (Ed.), The Fujimori legacy: The rise of electoral authoritarianism in Peru (pp. 13–38). University Park, PA: Penn State Press.

World Bank Database. (2015). Economy and Growth. Retrieved from http://data.worldbank.org/topic/economy-and-growth

World Trade Organization (WHO). (2007). Trade policy review Peru. Report by the Secretariat. Geneva: Author.

Youngers, C. (2007). Drogas, Narcoterrorismo y Relaciones entre Estados Unidos y América Latina [Drugs, narcoterrorism and relations between the United States and Latin America]. In Á. Camacho Guizado (Ed.), Narcotráfico: Europa, EEUU, América Latina [Drug trafficking: Europe, USA and Latin America]. Barcelona: Universidad de Barcelona.

Youngers, C., & Rosin, E. (2005). The U.S. "War on Drugs": Its impact in Latin America and the Caribbean. In C. Youngers & E. Rosin (Eds.), Drugs and democracy in Latin America: The impact of U.S. policy (pp. 1–12). Lynne Rienner: Boulder, CO.
Appendix 1: Prices of Coca Leaves in Peru (US$/kg)
Appendix 1: Prices of Coca Leaves in Peru (US$/kg)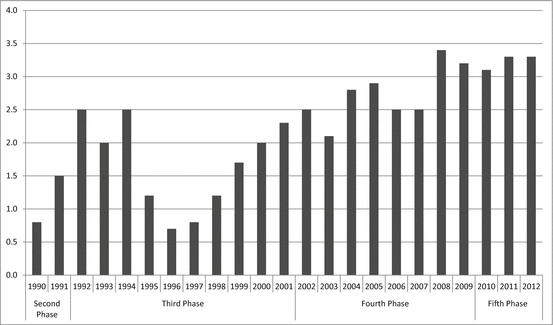 Copyright information
© 2016 Springer International Publishing Switzerland
About this chapter
Cite this chapter
Ponce, A.F. (2016). From Freedom to Repression and Violence: The Evolution of Drug Policy in Peru. In: Labate, B., Cavnar, C., Rodrigues, T. (eds) Drug Policies and the Politics of Drugs in the Americas. Springer, Cham. https://doi.org/10.1007/978-3-319-29082-9_8