Abstract
One of the most damaging foliar diseases on perennial ryegrass is crown rust, caused by Puccinia coronata f. sp. lolli. Crown rust causes severe losses to yield and quality of forage and results in decreased palatability and digestibility for ruminants. Crown rust was scored in 1800 individually spaced plants in two replicates on a scale of 1 (no infection) to 9 (severely infected) at three time points (June, August & September 2014) in a block design experiment. These 1800 individuals represent 30 populations with different population structures: ten synthetic varieties, eight full-sib breeding families, eight half-sib breeding families and four Irish ecotypes. The disease progression was observed in all populations, with highest pressure of crown rust seen in September and lowest disease pressure observed in June. Significant differences (p < 0.001) were recorded among populations, among time points and for the population x time point interaction. The Irish ecotypes were more susceptible to crown rust compared to the other populations. Crown rust phenotypic data will be used to conduct association analysis on these populations to identify significant marker trait associations.
Keywords
Perennial ryegrass

Crown rust

Disease assessment

Association mapping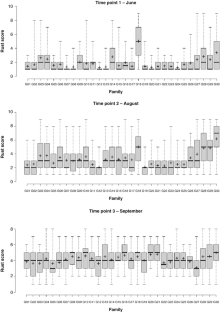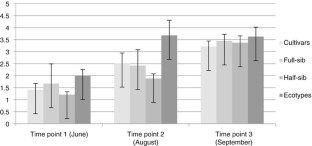 References
Carson., M. (2008) Oat crown rust. Retrieved from http://www.ars.usda.gov/Main/docs.htm?docid=9919

Central Statistics Office. (2012). Census of Agriculture 2010 – Final Results. Dublin: The Stationery Office

Cummins, GB. (1971). The rust fungi of cereals, grasses and bamboos. Springer-Verlag, Berlin, Heidelberg, New York.

Dracatos, PM., Cogan, NOI., Sawbridge, TI., Gendall, AR., Smith, KF., Spangenberg, GC and Forster, JW. (2009). Molecular characterisation and genetic mapping of candidate genes for qualitative disease resistance in perennial ryegrass (Lolium perenne L.). BMC Plant Biology 9, pp. 62.

Dracatos, PM., Cogan, NOI., Keane, PJ., Smith, KF and Forster, JW. (2010). Biology and Genetics of Crown Rust Disease in Ryegrasses. Crop Science 50, pp.1605–1624.

Elshire, RJ., Glaubitz, JC., Sun, Q., Poland, JA., Kawamoto, K., Buckler, ES and Mitchell, SE. (2011). A Robust, Simple Genotyping-by-Sequencing (GBS) Approach for High Diversity Species. PLoS ONE 6: e19379.

Faris, JD., Li, WL., Liu, DJ., Chen, PD and Gill, BS. (1999). Candidate gene analysis of quantitative disease resistance in wheat. Theoretical and Applied Genetics 98, pp. 219–225.

Fischer, G., Prielera, S., Velthuizena, HV., Berndes, G., Faaijc, A., Londo, M and Wit, MD. (2009). Biofuel production potentials in Europe: Sustainable use of cultivated land and pastures, Part II: Land use scenarios, Biomass and Bioenergy doi:10.1016/j.biombioe.2009.07.009

Hannaway, D., Fransen, S., Cropper, J., Teel, M., Chaney, M., Griggs, T., Halse, R., Hart, J., Cheeke, P., Hansen, D., Klinger, R and Lane, W. (1999). Lolium perenne. In: A Pacific Northwest Extension Publication, Vol. PNW 502. Oregon State University, Washington State University, University of Idaho.

Jones, ES., Mahoney, NL., Hayward, MD., Armstead, IP., Jones, JG., Humphreys, MO., King, IP., Kishida, T., Yamada, T., Balfourier, F., Charmet, G and Forster, JW. (2002). An enhanced molecular marker based genetic map of perennial ryegrass (Lolium perenne) reveals comparative relationships with other Poaceae genomes. Genome 45, pp. 282–295.

Lancashire, JA and Latch, GCM. (1966). Some effects of crown rust (Puccinia coronata Corda) on the growth of two ryegrass varieties in New Zealand. New Zealand Journal of Agricultural Research 9, pp. 628–640.

Muylle, H., Baert, J., Van Bockstaele, E., Pertijs, J and Roldan-Ruiz, I. (2005). Four QTLs determine crown rust (Puccinia coronata f. sp. lolii) resistance in a perennial ryegrass (Lolium perenne) population. Heredity 95, pp. 348–357.

O'Rourke, CJ. (1976). Diseases of grasses and forage legumes in Ireland. The Agricultural Institute, Dublin 4.

Smit, HJ., Tas, BM., Taweel, HZ., Tamminga, S and Elgersma, A. (2005). Effects of perennial ryegrass (Lolium perenne L.) cultivars on herbage production, nutritional quality and herbage intake of grazing dairy cows. Grass and Forage Science. 60, pp. 297–309.
Acknowledgments
This work is funded by a Teagasc Walsh PhD fellowship to SK, Teagasc core funding and the Irish Department of Agriculture, Food and The Marine Research Stimulus Fund 11/S/109. We acknowledge the support of the entire Teagasc forage breeding team and Teagasc farm staff.
Copyright information
© 2016 Springer International Publishing Switzerland
About this paper
Cite this paper
Arojju, S.K., Milbourne, D., Conaghan, P., Hodkinson, T.R., Barth, S. (2016). Extent of Crown Rust Infection in a Perennial Ryegrass (Lolium perenne L.) Association Mapping Population. In: Roldán-Ruiz, I., Baert, J., Reheul, D. (eds) Breeding in a World of Scarcity. Springer, Cham. https://doi.org/10.1007/978-3-319-28932-8_7