Abstract
Young people have an affinity for technological devices. Several reviews of more than 70 studies over the past 15 years have shown consistent links between young people's use of technology and sleep. This has led the scientific and general communities to deduce that using technology before bed worsens sleep. However, the majority of studies performed have been correlational in nature, making causal inferences difficult. This chapter focuses on two important questions of "how" and "how much" technology use affects sleep. The former question details primarily experimental studies that have tested potential mechanisms, including technology use inducing physiological arousal, displacing bedtime, or screenlight disturbing sleep and circadian rhythms. While the latter question appears straightforward, new meta-analytic results suggest it is not. Furthermore, new studies are identifying important moderators for the link between technology use and sleep. Finally, we consider the reverse relationship – the possibility of technology use increasing in response to difficulty sleeping. Our chapter concludes with a research agenda that does not necessarily point the finger at technology use as the reason why so many young people are sleeping too late and too little.
Keywords
Technology use

Sleep

Adolescents

Arousal

Screenlight

Displacement

Bedtimes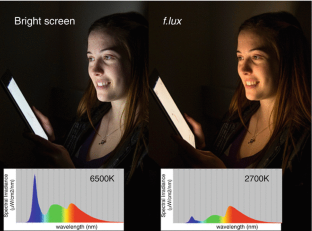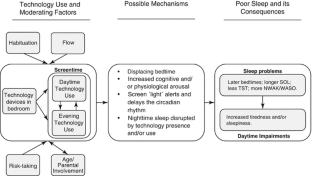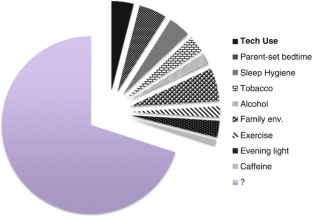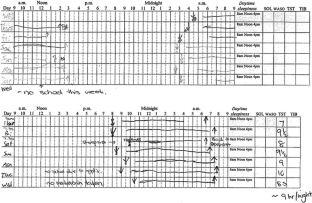 Notes
1.

By current data we mean that we wish to not provide an exhaustive review of studies in this area as this has already been performed; rather, we wish to focus on new studies that have provided new insights in this area.

2.

Given the year of data collection, we presume the researchers referred to printed books as opposed to e-books.
References
Isaacson W. Steve jobs. London: Little Brown; 2011.

Slatalla M. Computing; parents' dilemma: a child's own PC? The New York Times, 1998. Retrieved from: http://www.nytimes.com/1998/02/26/technology/computing-parents-dilemma-a-child-s-own-pc.html on 23 Aug 2015.

Adams SK, Kisler TS. Sleep quality as a mediator between technology-related sleep quality, depression and anxiety. Cyberpsychol Behav Soc Netw. 2013;16:25–30.

Munezawa T, Kaneita Y, Osaki Y, Kanda H, Minowa M, Suzuki K, Higuchi S, Mori J, Yamamoto OT. The association between use of mobile phones after lights out and sleep disturbances among Japanese adolescents: a nationwide cross-sectional survey. Sleep. 2011;34:1013–20.

National Sleep Foundation. Sleep in America poll, communications technology in the bedroom: summary of findings. Washington, DC: National Sleep Foundation; 2011. p. 2011.

Van den Bulck J. Adolescent use of mobile phones for calling and for sending text messages after lights out: results from a prospective cohort study with a one-year follow-up. Sleep. 2007;30:1220–3.

Hughes N. Apple spent record $1.7B on research & development last quarter, $6B in fiscal 2014. Appleinsider, 2014.Retrieved from: appleinsider.com/articles/14/10/28/apple-spent-record-17b-on-research-development-last-quarter-6b-in-fiscal-2014 on 23 Aug 2015.

Casey M, Hackett R. The 10 biggest R&D spenders worldwide. Fortune, 2014. Retrieved from: http://fortune.com/2014/11/17/top-10-research-development/on 23 Aug 2015.

Van den Bulck J. The effects of media on sleep. Adolesc Med State Art Rev. 2010;21:418–29.

Cain N, Gradisar M. Electronic media use and sleep in school-aged children and adolescents: a review. Sleep Med. 2010;11:735–42.

Gradisar M, Short MA. Sleep hygiene and environment: the role of technology. In: Wolfson AR, Montgomery-Downs HE, editors. The Oxford handbook of infant, child, and adolescent sleep and behavior. Oxford: Oxford University Press; 2013. p. 113.

Hale L, Guan S. Screen time and sleep among school-aged children and adolescents: a systematic review of the literature. Sleep Med Rev. 2015;21:50–8. http://dx.doi.org/10.1016/j.smrv.2014.07.007.

Van den Bulck J. Television viewing, computer game playing, and internet use and self-reported time in bed and time out of bed in secondary-school children. Sleep. 2004;27:101–4.

Higuchi S, Motohashi Y, Liu Y, Maeda A. Effects of playing a computer game using a bright display on presleep physiological variables, sleep latency, slow wave sleep and REM sleep. J Sleep Res. 2005;14:267–73.

Weaver E, Gradisar M, Dohnt H, Lovato N, Douglas P. The effect of presleep video-game playing on adolescent sleep. J Clin Sleep Med. 2010;6:184–9.

Freeman RR, Sattler HL. Physiological and psychological factors in sleep-onset insomnia. J Abnorm Psychol. 1982;91:380–9.

Loughran SP, Wood AW, Barton JM, Croft RJ, Thompson B, Stough C. The effect of electromagnetic fields emitted by mobile phones on human sleep. Neuroreport. 2005;16:1973–6.

Wood AW, Loughran SP, Stough C. Does evening exposure to mobile phone radiation affect subsequent melatonin production? Int J Radition Biol. 2006;82:69–76.

Ivarsson M, Anderson M, Akerstedt T, Lindblad F. Playing a violent television game affects heart rate variability. Acta Paediatr. 2009;98:166–72.

Ivarsson M, Anderson M, Akerstedt T, Lindblad F. The effect of violent and nonviolent video games on heart rate variability, sleep, and emotions in adolescents with different violent gaming habits. Psychosom Med. 2013;75:390–6.

King DL, Gradisar M, Drummond A, Lovato N, Wessel J, Micic G, Douglas P, Delfabbro P. The impact of prolonged violent video-gaming on adolescent sleep: an experimental study. J Sleep Res. 2013;22:137–43.

Cajochen C, Frey S, Anders D, Spati J, Bues M, Pross A, Mager R, Wirz-Justice A, Stefani O. Evening exposure to a light-emitting diodes (LED)-backlit computer screen affects circadian physiology and cognitive performance. J Appl Physiol. 2011;110:1432–8.

Wood B, Rea MS, Plitnick B, Figuerio MG. Light level and duration of exposure determine the impact of self-luminous tablets on melatonin suppression. Appl Ergon. 2013;44:237–40.

Heath M, Sutherland C, Bartel K, Gradisar M, Williamson P, Lovato N, Micic G. Does one hour of bright or short-wavelength filtered tablet screenlight have a meaningful effect on adolescents' pre-bedtime alertness, sleep and daytime functioning? Chronobiol Int. 2014;31:496–505.

Van der Lely S, Frey S, Garbazza C, Wirz-Justice A, Jenni OG, Steiner R, Wolf S, Cajochen C, Bromundt V, Schmidt C. Blue blocker glasses as a countermeasure for alerting effects of evening light-emitting diode screen exposure in male teenagers. J Adolesc Health. 2015;56:113–9.

Gamble AL, D'Rozario AL, Bartlett DJ, Williams S, Bin YS, Grunstein RR, Marshall NS. Adolescent sleep patterns and night-time technology use: results of the Australian Broadcasting Corporation's big sleep survey. PLoS ONE. 2014;9, e111700.

Chang A-M, Aeschbach D, Duffy JF, Czeisler CA. Evening use of light-emitting eReaders negatively affects sleep, circadian timing, and next-morning alertness. PNAS. 2015;112:1232–7.

Reynolds CM, Gradisar M, Kar K, Perry A, Wolfe J, Short MA. Adolescents who perceive fewer consequences of risk-taking choose to switch off games later at night. Acta Paediatr. 2015;104:e222–7.

Smith LJ, Gradisar M, Short MA, King DJ. Intrinsic and extrinsic predictors between video gaming behavior and adolescent bedtimes. Sleep Med. In press.

Cumming G. Understanding the new statistics: effect sizes, confidence intervals, and meta-analysis. New York: Routledge; 2012.

Bartel KA, Gradisar M, Williamson P. Protective and risk factors for adolescent sleep: a meta-analytical review. Sleep Med Rev. 2015;21:72–85.

Eggermont S, van den Bulck J. Nodding off or switching off? The use of popular media as a sleep aid in secondary-school children. J Paediatr Child Health. 2006;42:428–33.

Tavernier R, Willoughby T. Sleep problems: predictor or outcome of media use among emerging adults. J Sleep Res. 2014. doi:10.1111/jsr.12132.

Morin CM. Insomnia: psychological assessment and management. New York: Guilford Press; 1993.

Gradisar M, Wolfson AR, Harvey AG, Hale L, Rosenberg R, Czeisler CA. The sleep and technology use of Americans: findings from the National Sleep Foundation's 2011 Sleep in America poll. J Clin Sleep Med. 2013;9:1291–9.

Short M, Gradisar M, Gill J, Camfferman D. Identifying adolescent sleep problems. PLoS ONE. 2013;8, e75301.

Danielsson NS, Harvey AG, MacDonald S, Jansson-Frojmark M, Linton SJ. Sleep disturbance and depressive symptoms in adolescence: the role of catastrophic worry. J Youth Adolesc. 2013;42:1223–33.

Hiller RM, Lovato N, Gradisar M, Oliver M, Slater A. Trying to fall asleep whilst catastrophising: what sleep-disordered adolescents think and feel. Sleep Med. 2014;15:96–103.

Stokes, K. Wired-up children need more sleep. The Advertiser, 2012. Retrieved from: http://www.adelaidenow.com.au/news/wired-up-children-need-more-sleep/story-fn3o6nna-1226343124338 on 23 Aug 2015.
Copyright information
© 2017 Springer International Publishing Switzerland
About this chapter
Cite this chapter
Bartel, K., Gradisar, M. (2017). New Directions in the Link Between Technology Use and Sleep in Young People. In: Nevšímalová, S., Bruni, O. (eds) Sleep Disorders in Children. Springer, Cham. https://doi.org/10.1007/978-3-319-28640-2_4
DOI: https://doi.org/10.1007/978-3-319-28640-2_4

Published:

Publisher Name: Springer, Cham

Print ISBN: 978-3-319-28638-9

Online ISBN: 978-3-319-28640-2

eBook Packages: MedicineMedicine (R0)