Abstract
Spinal cord injury (SCI) has become one of the most leading concerns in the past decade. Preclinical and research studies are now ongoing trying to understand the molecular mechanisms and develop treatment strategies for this neurodegenerative condition. In the last decade, researchers have deciphered few of the leading players that play a major role in worsening the condition. But till date none of these have been applied to the clinical treatment of patients with SCI. Here in this chapter I discuss about one of the dietary requirements that could ameliorate the condition of these patients.
Keywords
Spinal cord injury

DHA

Neurodegeneration

Neurotrauma

Treatment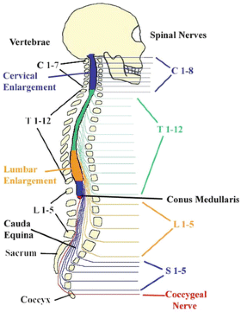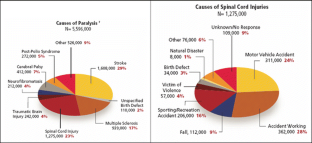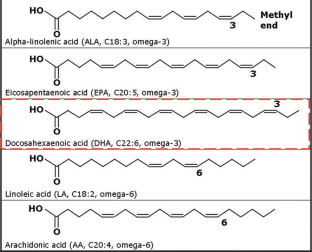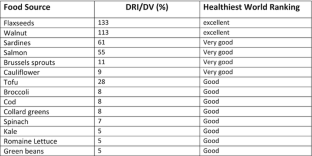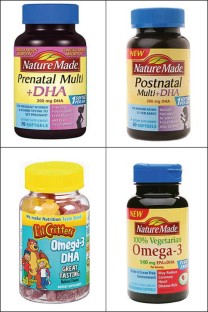 References
Bazan NG. Cell survival matters: docosahexaenoic acid signaling, neuroprotection and photoreceptors. Trends Neurosci. 2006;29(5):263–71.

Cheriyan T, Ryan DJ, et al. Spinal cord injury models: a review. Spinal Cord. 2014;52(8):588–95.

Dubreuil CI, Winton MJ, McKerracher L. Rho activation patterns after spinal cord injury and the role of activated Rho in apoptosis in the central nervous system. J Cell Biol. 2003;162(2):233–43.

Ephraim Y, Annette B, et al. Docosahexaenoic acid abundance in the brain: a biodevice to combat oxidative stress. Nutr Neurosci. 2002;5(3):149–57.

Figueroa JD, Cordero K, Baldeosingh K. Docosahexaenoic acid pretreatment confers protection and functional improvements after acute spinal cord injury in adult rats. J Neurotrauma. 2012;29(3):551–66.

Figueroa JD, Cordero K, et al. Dietary omega-3 polyunsaturated fatty acids improve the neurolipidome and restore the DHA status while promoting functional recovery after experimental spinal cord injury. J Neurotrauma. 2013;30(10):853–68.

Furutani A, Ikeda Y, et al. Fish oil accelerates diet-induced entrainment of the mouse peripheral clock via GPR120. PLoS One. 2015;10(7):e0132472.

Hall JCE, Priestley JV, et al. Docosahexaenoic acid, but not eicosapentaenoic acid, reduces the early inflammatory response following compression spinal cord injury in the rat. J Neurochem. 2012;121(5):738–50.

Horrocks LA, Yeo YK. Health benefits of docosahexaenoic acid (DHA). Pharmacol Res. 1999;40(3):211–25.

Huang WL, King VR, et al. A combination of intravenous and dietary docosahexaenoic acid significantly improves outcome after spinal cord injury. Brain. 2007;130(Pt 11):3004–19.

Joseph MS, Ying Z, et al. Effects of diet and/or exercise in enhancing spinal cord sensorimotor learning. PLoS One. 2012;7(7):e41288.

King VR, Huang WL, et al. Omega-3 fatty acids improve recovery, whereas omega-6 fatty acids worsen outcome, after spinal cord injury in the adult rat. J Neurosci. 2006;26(17):4672–80.

Langston TH, Donald B, et al. Dietary therapy to promote neuroprotection in chronic spinal cord injury. J Neurosurg Spine. 2012;17(2):134–40.

Lim S, Lee E, Lee E, Kim S, Cha JH, Choi H, Park W, Choi HK, Ko SH, Kim SH. Docosahexaenoic acid sensitizes colon cancer cells to sulindac sulfide-induced apoptosis. Oncol Rep. 2012;27:2023–30.

Lim S-N, Gladman SJ, et al. Transgenic mice with high endogenous omega-3 fatty acids are protected from spinal cord injury. Neurobiol Dis. 2013;51:104–12.

López-Vales RN, Redensek A, et al. Fenretinide promotes functional recovery and tissue protection after spinal cord contusion injury in mice. J Neurosci. 2010;30(9):3220–6.

McAdoo DJ, Hughes MG, Nie L, Shah B, Clifton C, Fullwood S, Hulsebosch CE. The effect of glutamate receptor blockers on glutamate release following spinal cord injury. Lack of evidence for an ongoing feedback cascade of damage->glutamate release->damage->glutamate release-> etc. Brain Res. 2005;1038(1):92–9.

McDonald JW, Liu X-Z, et al. Transplanted embryonic stem cells survive, differentiate and promote recovery in injured rat spinal cord. Nat Med. 1999;5(12):1410–2.

Mu X, Azbill RD, Springer JE. Riluzole and methylprednisolone combined treatment improves functional recovery in traumatic spinal cord injury. J Neurotrauma. 2000;17(9):773–80.

Mukherjee PK, Marcheselli VL, et al. Neuroprotectin D1: a docosahexaenoic acid-derived docosatriene protects human retinal pigment epithelial cells from oxidative stress. Proc Natl Acad Sci U S A. 2004;101(22):8491–6.

Nakamura M, Okano H. Cell transplantation therapies for spinal cord injury focusing on induced pluripotent stem cells. Cell Res. 2013;23(1):70–80.

Salem Jr N, Litman B, et al. Mechanisms of action of docosahexaenoic acid in the nervous system. Lipids. 2001;36(9):945–59.

Satkunendrarajah K, Fehlings MG. Do omega-3 polyunsaturated fatty acids ameliorate spinal cord injury?: Commentary on: Lim et al., Improved outcome after spinal cord compression injury in mice treated with docosahexaeonic acid. Exp. Neurol. Jan; 239:13–27. Exp Neurol. 2013;249:104–10.

Schwartz G, Fehlings MG. Evaluation of the neuroprotective effects of sodium channel blockers after spinal cord injury: improved behavioral and neuroanatomical recovery with riluzole. J Neurosurg. 2001;94(2):245–56.

Tator CH, Benzel EC, editors. Contemporary management of spinal cord injury: from impact to rehabilitation. 2nd ed. Rolling Meadows, IL: American Association of Neurological Surgeons; 2000.

Vreugdenhil M, Bruehl C, Voskuyl RA, Kang JX, Leaf A, Wadman WJ. Polyunsaturated fatty acids modulate sodium and calcium currents in CA1 neurons. Proc Natl Acad Sci U S A. 1996;93(22):12559–63.

Ward RE, Huang W, et al. Docosahexaenoic acid prevents white matter damage after spinal cord injury. J Neurotrauma. 2010;27(10):1769–80.

Wells JEA, Hurlbert RJ, et al. Neuroprotection by minocycline facilitates significant recovery from spinal cord injury in mice. Brain. 2003;126(Pt 7):1628–37.

Zhao Y, Calon F, et al. Docosahexaenoic acid-derived neuroprotectin D1 induces neuronal survival via secretase- and PPARγ-mediated mechanisms in Alzheimer's disease models. PLoS One. 2011;6(1):e15816.

Zhu Z, Tan Z, et al. Docosahexaenoic acid alters Gsα ± localization in lipid raft and potentiates adenylate cyclase. Nutrition. 2015;31(7):1025–30.
Compliance with Ethics Requirements
The author declares that he/she has no conflicts of interest.
Copyright information
© 2016 Springer International Publishing Switzerland
About this chapter
Cite this chapter
Samaddar, S. (2016). Effect of Docosahexaenoic Acid (DHA) on Spinal Cord Injury. In: Essa, M., Akbar, M., Guillemin, G. (eds) The Benefits of Natural Products for Neurodegenerative Diseases. Advances in Neurobiology, vol 12. Springer, Cham. https://doi.org/10.1007/978-3-319-28383-8_2