Abstract
This chapter provides a description of the historical and political development of the current mass education system in East Africa. It goes on to provide a comparative analysis of the structure of the school education system in the East African countries, Kenya, Rwanda, Tanzania and Uganda. Finally, on the basis of the historical and comparative analysis of the education system the chapter raises questions for harmonization of the education system in the partner states in the East African Community.
Keywords
Education System

Secondary Education

Partner State

Level Secondary Education

East African Country
These keywords were added by machine and not by the authors. This process is experimental and the keywords may be updated as the learning algorithm improves.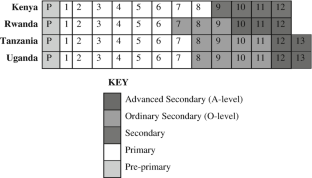 Notes
1.

While the issues covered in this volume are largely relevant to all the five partner states in the EAC, the in-depth focus does not cover Burundi.

2.

Zanzibar is semi-autonomous with some aspects of education coming under the control of the Revolutionary Government. In a transition to compulsory secondary education for all, most students who fail the Primary School Leaving Examination are required to repeat the final year of primary school and retake the examination. Those who then fail leave school, whilst all who pass are required to proceed to the first two years of secondary school. After two years of secondary school there is another examination, those who pass are required to stay for two more years, those who fail then leave (see http://www.moez.go.tz/index.php?cq=syst&sys=3 retrieved on 26th February 2015).
References
Arunsi, N. O. (1971). The library and adult education in Tanzania: A survey. In A.-B. Wallenius (Ed.), Libraries in East Africa (pp. 83–124). Uppsala: Scandinavia Institute of African Studies.

Brock-Utne, B. (2006). Whose education for all? The recolonization of the African mind. San Diego, CA: Africana Books.

East African Community (2012). Regional report: Harmonisation of the East African education systems and training curricula. Retrieved January 24, 2015 from http://www.eac.int/education/index.php?option=com_content&id=73&Itemid=145.

East African Community (2014). East African Community facts and figures—2014. Retrieved January 23, 2015 from http://www.eac.int/statistics/index.php?option=com_docman&Itemid=153.

Galabawa, C. J. (1990). Implementing educational policies in Tanzania. Washington, D.C.: World Bank.

Gottneid, A. J. (Ed.). (1976). Church and education in Tanzania. Nairobi: East African Publishing.

Jimenez, E., & Lockheed, M. (1995). Public and private secondary education in developing countries: A comparative study. Washington, DC: The World Bank.

Lawuo, Z. (1975). The implementation of British colonial education: Policy in Tanganyika, 1919–1939. Dar es Salaam: University of Dar es Salaam Press.

Masudi, A. (1995). The role of donors and non-governmental organizations in primary education. Papers in Education and Development,16, 105–116.

Mbiti, J. S. (1970). African religions and philosophy. London: Heinemann.

Merriam, E. O. (2007). Learning in adulthood: A comprehensive guide. San Francisco, CA: Jossey-Bass.

Moumouni, A. (1968). Education in Africa. New York: Praeger.

Omari, I. M., & Mosha, H. J. (1987). The quality of primary education in Tanzania. Nairobi: Man Graphics Limited.

UNDP (2014). UN human development report, 2014. Retrieved September 6, 2014 from http://hdr.undp.org/sites/default/files/hdr14-report-en-1.pdf.

UNECA/UNESCO (1961). Final report: Conference of African states on the development of education in Africa. Addis Ababa: UNESCO Publishing.

Wasonga, T. A. (2012). Perspectives on K-12 learning and teacher preparation in East Africa. In O. N. Ukpokodu & P. Ukpokodu (Eds.), Contemporary voices from the margin: African educators on African and American education (pp. 129–148). Charlotte, NC: Information Age Publishing.

World Bank. (2011). A regional exploration of pathways towards harmonization of math and science curriculum in the East Africa Community: Discussion paper. Washington, D.C.: World Bank.

World Bank (2014). Countries' reports. Retrieved September 6, 2014 from http://www.worldbank.org/en/country.
Rights and permissions
Open Access This book was originally published with exclusive rights reserved by the Publisher in 2016 and was licensed as an open access publication in November 2020 under the terms of the Creative Commons Attribution-NonCommercial-NoDerivatives 4.0 International License (http://creativecommons.org/licenses/by-nc-nd/4.0/), which permits any noncommercial use, sharing, distribution and reproduction in any medium or format, as long as you give appropriate credit to the original author(s) and the source, provide a link to the Creative Commons licence and indicate if you modified the licensed material. You do not have permission under this licence to share adapted material derived from this book or parts of it.
The images or other third party material in this book may be included in the book's Creative Commons license, unless indicated otherwise in a credit line to the material or in the Correction Note appended to the book. For details on rights and licenses please read the Correction https://doi.org/10.1007/978-3-319-27258-0_7. If material is not included in the book's Creative Commons license and your intended use is not permitted by statutory regulation or exceeds the permitted use, you will need to obtain permission directly from the copyright holder.
About this chapter
Cite this chapter
Mohamed, M., Halai, A., Karuku, S. (2016). Issues for Quality Enhancement and Harmonization of Education in East Africa. In: Halai, A., Tennant, G. (eds) Mathematics Education in East Africa. SpringerBriefs in Education. Springer, Cham. https://doi.org/10.1007/978-3-319-27258-0_1
DOI: https://doi.org/10.1007/978-3-319-27258-0_1

Published:

Publisher Name: Springer, Cham

Print ISBN: 978-3-319-27257-3

Online ISBN: 978-3-319-27258-0

eBook Packages: EducationEducation (R0)