Abstract

At date, there is no standardized definition of what a smart city is, in spite many apply to propose a definition that fit with their offer, subsuming the whole of the city in one of its functions (smart grid, smart mobility…). Considering the smart cities as an ecosystem, that is to say a city that has systemic autopoeitic properties that are more than the sum of its parts, we develop an approach of modeling the smartness of the city. To understand how the city may behave as a sustainable ecosystem, we need a framework to design the interactions of the city subsystems. First we define a smart city as an ecosystem that is more than the sum of its parts, where sustainability is maintained through the interactions of urban functions. Second, we present a methodology to sustain the development over time of this ecosystem: Urban Lifecycle Management. Third, we define the tasks to be carried out by an integrator of the functions that constitute the smart city, we assume public administration has to play this role. Fourth, we present what should be a smart government for the smart city and the new capabilities to be developed.
Keywords
Smart Grid

Smart City

Urban Ecosystem

Product Lifecycle Management

City Dweller
These keywords were added by machine and not by the authors. This process is experimental and the keywords may be updated as the learning algorithm improves.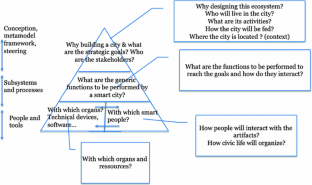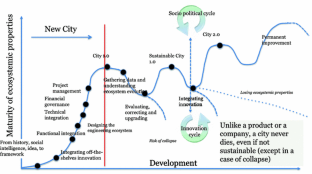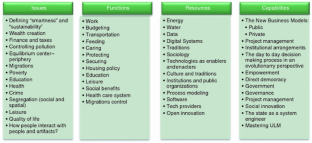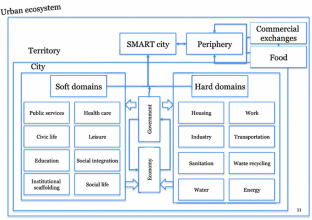 Notes
1.

We may give as an example the city of Quimper at the heart of the granitic massif of Brittany (France) who choses to import its granite from China.
References
Alexander, C.: A pattern Language, Town, Buildings, Constructions, with Sarah Ishikawa et Murray Silverstein. Oxford University Press, Oxford (1977)

Ashby, W.R.: Principles of the self-organizing system. In: von Foerster H., Zopf G. (eds.) Principles of Self-Organization, pp. 193–229. Pergamon, Oxford, Cambridge (1962)

Aydalot, P. (ed.): Milieux Innovateurs en Europe. GREMI, Paris (1986)

Caron, F.: La dynamique de l'innovation. Albin Michel, Paris (2012)

Dedijer, S.: Au-delà de l'informatique, l'intelligence sociale. Stock, Paris (1984)

Freeman, C.: The national system of innovation in historical perspective. Camb. J. Econ. 19(1), (1995a)

Godfrey, P.: Architecting complex systems in new domains and problems: making sense of complexity and managing the unintended consequences. In: Complex System and Design Management, Proceedings (2012)

Hardin, G.: The tragedy of the commons. Sci. New Ser. 162(3859), 1243–1248 (1968)

Howard, E.: Garden Cities of Tomorrow, 2nd edn. S. Sonnenschein & Co, London (1902)

Jacobs, J.: Cities and the Wealth of Nations. Random House, New-York (1985)

Kirsanova, N.Y., Lenkovets, O.M.: Solving monocities problem as a basis to improve the quality of life in Russia. Life Sci. J. 11(6), (2014)

Krob, D.: Eléments d'architecture des systèmes complexes. In: Appriou, A. (ed.), Gestion de la complexité et de l'information dans les grands systèmes critiques, pp. 179–207. CNRS Editions (2009)

Lizaroiu, G.C., Roscia, M.: Definition methodology for the smart cities model. Energy 47, 326–332 (2012)

Neirotti, P., De Marco, A., Corinna Cagliano, A., Mangano, G., Scorrano, F.: Current trends in smart city initiatives: some stylised facts. Cities 38, 25–36 (2014)

Ostrom, E.: Governing the Commons; the Evolution of Institutions for Collective Action. Cambridge University Press, NY (1991)

Ostrom, E.: Beyond markets and states: polycentric governance of complex economic systems. Am. Econ. Rev. 1–33 (2010)

Reinert, S.A., Serra, A. (ed.): A Short Treatise on the Wealth and Poverty of Nations (1613). Anthem Press, London (2011)

Rochet, C.: Le bien commun comme main invisible: le legs de Machiavel à la gestion publique. Rev. Int. des Sci. Admin. 74(3), (2008)

Rochet, C.: Qu'est-ce qu'une bonne décision publique? Editions universitaires européennes (2011)

Schwartz, H.: States Versus Markets: The Emergence of a Global Economy, 3rd edn. Palgrave, London (2010)

Simon, H.A.: The Sciences of the Artificial, 3rd edn. MIT Press, New York (1969)

Tainter, J.: The Collapse of Complex Societies. Cambridge University Press, Cambridge (1990)

Von Hippel, E.: Lead users: a source of novel product concepts. Manage. Sci. 32(7), 791–806 (1986)

West, G., Bettencourt, L.M. A., Lobo, J., Helbing, D., Kühnert, C.: Growth, Innovation, Scaling, and the Pace of Life in Cities. Indiana University, Bloomington (2007)
Copyright information

© 2016 Springer International Publishing Switzerland
About this paper
Cite this paper
Rochet, C. (2016). Urban Lifecycle Management: System Architecture Applied to the Conception and Monitoring of Smart Cities. In: Auvray, G., Bocquet, JC., Bonjour, E., Krob, D. (eds) Complex Systems Design & Management. Springer, Cham. https://doi.org/10.1007/978-3-319-26109-6_19
DOI: https://doi.org/10.1007/978-3-319-26109-6_19

Published:

Publisher Name: Springer, Cham

Print ISBN: 978-3-319-26107-2

Online ISBN: 978-3-319-26109-6

eBook Packages: EngineeringEngineering (R0)