Abstract
Wound healing is required to effectively stabilise and repair injury (Sen et al. Wound Repair Regen 17:763–771, 2009; Enoch and Leaper. Surgery 23:37–42, 2005). In an optimal system, the process of wound healing occurs in an orderly and controlled series of phases: homeostasis, inflammation, proliferation and remodelling (Singer and Clark. N Engl J Med 341:738–746, 1999; Eming et al. J Invest Dermatol 127:514–525, 2007). However, complications including infection and inappropriate activation of the immune system can impair this process and result in delayed healing and the development of chronic wounds. Such complications impact significantly on health-care resources, and in 2010, the cost of treating and caring for wounds in the United States alone was estimated at $25 billion (Enoch and Leaper. Surgery 23:37–42, 2005). It is therefore important to determine factors that influence the wound healing process to optimise and facilitate appropriate healing.
Keywords
Wound healing

l

-Arginine

Arginase

Nitric oxide

Inducible nitric oxide synthase

Urea cycle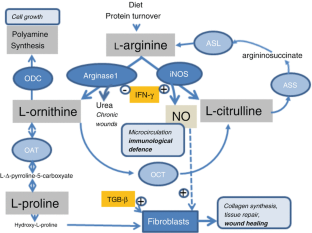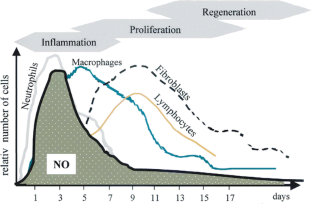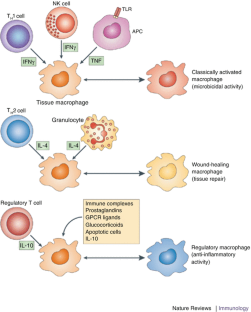 References
Sen C, Gordillo G, Roy S, et al. Human skin wounds: a major and snowballing threat to public health and economy. Wound Repair Regen. 2009;17:763–71.

Enoch S, Leaper D. Basic science of wound healing. Surgery. 2005;23:37–42.

Singer A, Clark R. Cutaneous wound healing. N Engl J Med. 1999;341:738–46.

Eming SA, Krieg T, Davidson JM. inflammation in wound repair: molecular and cellular mechanisms. J Invest Dermatol. 2007;127:514–25.

Robinson W. Use of urea to stimulate healing in chronic purulent wounds. Am J Surg. 1936;33:192–7.

Albina J, Mills C, Henry W, Caldwell M. Temporal expression of different pathways of l-arginine metabolism in healing wounds. J Immunol. 1990;144:3877–80.

Seifter E, Rettura G, Barbul A, Levenson SM. l-Arginine: an essential amino acid for injured rats. Surgery. 1978;84:224–30.

Wu G, Morris SM. l-Arginine metabolism: nitric oxide and beyond. Biochem J. 1998;336:1–17.

Appleton J. l-Arginine: clinical potential of a semi-essential amino acid. Altern Med Rev. 2002;7:512–22.

Witte M, Thornton F, Tantry U, Barbul A. l-Arginine supplementation enhances diabetic wound healing: involvement of nitric oxide synthase and arginase pathways. Metabolism. 2002;51:1269–73.

Shi H, Efron D, Most D, et al. Supplemental dietary l-arginine enhances wound healing in normal but not inducible nitric oxide synthase knockout mice. Surgery. 2000;128:374–8.

Tong BC, Barbul A. Cellular and physiological effects of l-arginine. Mini Rev Med Chem. 2004;4:823–32.

Popovic PJ, Zeh HJ, Ochoa JB. l-Arginine and immunity. J Nutr. 2007;137:S1681–6.

Shi H, Wang S, Zhang G, Zhang Y, Barbul A. Supplemental l-arginine enhances wound following trauma/hemorrhagic shock. Wound Repair Regen. 2007;15:66–70.

Stechmiller JK, Childress B, Cowan L. l-Arginine supplementation and wound healing. Nutr Clin Pract. 2005;20:52–61.

Witte M, Barbul A. Role of nitric oxide in wound repair. Am J Surg. 2002;183:404–12.

Park JE, Abrams MJ, Efron PA, Barbul A. Excessive nitric oxide impairs wound collagen accumulation. J Surg Res. 2013;183:487–92.

Rizk M, Witte M, Barbul A. Nitric oxide and wound healing. World J Surg. 2004;28:301–6.

Kapoor M, Appleton I. Wound healing: abnormalities and future therapeutic targets. Curr Anaesth Crit Care. 2005;16:88–93.

Luo J, Chen A. Nitric oxide: a newly discovered function on wound healing. Acta Pharmacol Sin. 2005;26:259–64.

Amadeu TP, Seabra AB, de Oliveira MG, Monte-Alto-Costa A. Nitric oxide donor improves wound healing if applied on inflammatory and proliferative phase. J Surg Res. 2008;149:84–93.

Shearer J, Richards J, Mills C, Caldwell M. Differential regulation of macrophage l-arginine metabolism: a proposed role in wound healing. Am Physiol Soc. 1997;272:181–90.

Curran J, Winter D, Bouchier-Hayes D. Biological fate and clinical implications of l-arginine metabolism in tissue healing. Wound Repair Regen. 2006;14:376–86.

Campbell L, Saville CR, Murray PJ, et al. Local arginase 1 activity is required for cutaneous wound healing. J Invest Dermatol. 2013;133:2461–70.

Ponrasu T, Jamuna S, Mathew A, et al. Efficacy of L-proline administration on the early responses during cutaneous wound healing in rats. Amino Acids. 2013;45:179–89.

Li J, Chen J, Kirsner R. Pathophysiology of acute wound healing. Clin Dermatol. 2007;25:9–18.

Beldon P. Basic science of wound healing. Surgery. 2010;28:409–12.

Werner S, Grose R. Regulation of wound healing by growth factors and cytokines. Physiol Rev. 2003;83:835–70.

Baum C, Arpey C. Normal cutaneous wound healing: clinical correlation with cellular and molecular events. Dermatol Surg. 2005;31:674–86.

Park JE, Barbul A. Understanding the role of immune regulation in wound healing. Am J Surg. 2004;187:11S–6.

Stoecklein VM, Osuka A, Lederer JA. Trauma equals danger—damage control by the immune system. J Leukoc Biol. 2012;92:539–51.

Kirk S, Hurson M, Regan M, Holt D, Wasserkrug H, Barbul A. l-Arginine stimulates wound healing and immune function in elderly human beings. Surgery. 1993;114:155–60.

Mosser DM, Zhang X. Activation of murine macrophages. Curr Protoc Immunol. 2008; Chapter 14.2.

Gordon S, Martinez FO. Alternative activation of macrophages: mechanism and functions. Immunity. 2010;32:593–604.

Lee R, Efron D, Tantry U, Barbul A. Nitric Oxide in the healing wound: a time course study. J Surg Res. 2001;101:104–8.

Cobbold C, Sherratt L. Mathematical modeling of nitric oxide activity in wound healing can explain keloid and hypertrophic scarring. J Theor Biol. 2000;204:257–88.

Young A, McNaught C. The physiology of wound healing. Surgery. 2011;29:475–9.

Dhar I, Dhar A, Wu L, Desai K. l-Arginine attenuates methylglyoxal- and high glucose-induced endothelial dysfunction and oxidative stress by endothelial nitric-oxide synthase-independent mechanism. J Pharmacol Exp Ther. 2012;342:196–204.

Prabhakar SS, Zeballos GA, Montova-Zavala M, Leonard C. Urea inhibits inducible nitric oxide synthase in macrophage cell line. Am J Physiol. 1997;273:1882–8.

Boucher JL, Custot J, Vadon S, et al. N omega-hydroxyl-l-arginine, an intermediate in the l-arginine to nitric oxide pathway, is a strong inhibitor of liver and macrophage arginase. Biochem Biophys Res Commun. 1994;203:1614–21.

Heffernan D, Dudley B, McNeil PL, Howdieshell TR. Local l-arginine supplementation results in sustained wound nitric oxide production and reductions in vascular endothelial growth factor expression and granulation tissue formation. J Surg Res. 2006;133:46–54.

Bohl K, Leibovich J, Belem P, et al. Effects of nitric oxide releasing poly(vinyl alcohol) hydrogel dressings on dermal wound healing in diabetic mice. Wound Repair Regen. 2002;10:286–94.

Luk P, Sinha S, Lord R. Upregulation of inducible nitric oxide synthase (iNOS) expression in faster-healing chronic leg ulcers. J Wound Care. 2005;14:373–81.

Kim S, Huri D, Snyder S. Inducible nitric oxide synthase binds, S-nitrosylates, and activates cyclooxygenase-2. Science. 2005;23:1966–70.

Wilgus TA, Bergdall VK, Tober KL, et al. The impact of cyclooxygenase-2 mediated inflammation on scarless fetal wound healing. Am J Pathol. 2004;165:753–61.

Igarashi K, Kashiwagi K. Polyamines: mysterious modulators of cellular functions. Biochem Biophys Res Commun. 2000;271:559–64.

Shi H, Fishel R, Efron D, et al. Effect of supplemental ornithine on wound healing. J Surg Res. 2002;106:299–302.

Frias Soriano L, Lage Vazquez MA, Maristany CP, et al. The effectiveness of oral nutritional supplementation in the healing of pressure ulcers. J Wound Care. 2004;13:319–22.

Heyman H, Van de Looverbosch DE, Meijer EP, Schols JM. Benefits of an oral nutritional supplement on pressure ulcer healing in long-term care residents. J Wound Care. 2008;17:476–88.

Witte MB, Barbul A. General principles of wound healing. Surg Clin North Am. 1997;77:509.
Copyright information
© 2017 Springer International Publishing Switzerland
About this chapter
Cite this chapter
Gould, A.N., Candy, G.P. (2017). The Role of l-Arginine in Wound Healing. In: Patel, V., Preedy, V., Rajendram, R. (eds) L-Arginine in Clinical Nutrition. Nutrition and Health. Humana Press, Cham. https://doi.org/10.1007/978-3-319-26009-9_45
DOI: https://doi.org/10.1007/978-3-319-26009-9_45

Published:

Publisher Name: Humana Press, Cham

Print ISBN: 978-3-319-26007-5

Online ISBN: 978-3-319-26009-9

eBook Packages: MedicineMedicine (R0)