Innovations for Food and Nutrition Security: Impacts and Trends
Abstract
Achieving food and nutrition security (FNS) is a priority in developing countries. One of the key routes to achieve a resilient global food system and improved FNS requires a reorientation of relevant policies. Among them, policies associated with the creation, adoption and adaptation of technologies, knowledge and innovations and with their related institutional adjustments are key factors to counter the complex and evolving challenges of the global food system. In line with this notion, the objectives of this chapter are severalfold. First, we discuss the main features of innovations for FNS. Second, we describe the impact of innovations on FNS using the examples of new platform and traditional technology. Third, this chapter elaborates on the views of a variety of stakeholders concerning the impacts of technological and institutional innovations, as well as the future priorities of FNS innovation.
Keywords
Food and nutrition security 
Food system 
Resilience 
Innovations 
Policies 
Introduction
According the UN Secretary-General Ban Ki-moon, food and nutrition security (FNS) are the foundations of a decent life. 1 The UN Universal Declaration of Human Rights stated that "everyone has the rights to a standard of living adequate for the health and well-being of himself and his family, including food" and mandated food as a human right. One of the key routes to achieve a resilient global food system and improved FNS requires a reorientation of relevant policies. Among them, policies associated with the creation, adoption and adap tation (a process called diffusion) of technologies, knowledge and innovations and with their related institutional adjustments (Juma and Yee-Cheong 2005) are key factors for countering the complex and evolving challenges of the global food system.
FNS worldwide is currently in an alarming state, despite global progress towards the achievement of Millennium Development Goal number 1. The steep rise in food prices in 2007–2008 and the volatility of food prices in the following period have negatively impacted the poor in particular, and some studies have shown an important reduction in calorie intake and an increase in poverty rates in general (Webb 2010). It is recognized that the overall impact of the high food prices on w elfare depends on the status of the target groups or the time horizon of the analysis (e.g., net food buyers versus sellers, short term versus long term impacts) (Swinnen 2011). Notwithstanding, the episode of high and volatile food prices of 2007–2008 has definitely slowed down progress in terms of decreased malnutrition (von Braun and Tadesse 2012) and hampered achievements in the fight against food insecurity. Further, many countries (mostly of low middle income) are currently experiencing a triple burden of under- or malnutrition: undernourishment, overnourishment and hidden hunger. Undernourishment, or hunger, is effectively the insufficient intake of energy and proteins, which has been directly linked to diseases and premature death, as well as poor physical development. The UNICEF framework of undernutrition (Black et al. 2008) laid out how the lack of household access to and use of nutritious foods, health care, water and sanitation services are among the major drivers of undernutrition. Overnourishment is the excessive intake of dietary energy, resulting in overweight, obesity and chronic diseases, as well as with increasing risks of non communicable diseases (NCD). Overnourishment is driven by many factors, including the globalization of trade, finance, change of information and cultures, change of lifestyles and physical activity patterns, and demographic shifts – in particular, urbanization (Hawkes et al. 2005; Popkin et al. 2012). The third burden, hidden hunger, is a situation when people suffer from micronutrient deficiency. The major driver of micronutrient deficiencies is lack of access to and consumption of nutrient dense foods such as fruit and vegetables. In the low and middle income countries, people are mostly suffering from iron, zinc, vitamin A, iodine and folate deficiency (Muthayya et al. 2013). Iron deficiency is one of the leading causes of maternal mortality. Particularly for children, the triple burden of malnutrition has devastating effects on later life, including physical and cognitive development. Under- and overnourishment cannot coexist in the same individual, but can be observed in the same household. Micronutrient deficiency can coexist with under- or overnourishment in an individual and in a household.
The chapter primarily aims to discuss the main features of innovations for FNS, as well as present their impact pathways. A consultation with several stakeholders of the food (innovation) system about the impacts of innovations on FNS, now and in the future, illustrates the plurality of views about the necessity to invest in different types of innovations for FNS, thus helping to identify priorities for action in the field of FNS and innovation. This consultation suggests that, although technological innovation is important for increasing agricultural production, institutional factors such as farmers' collective action should be well supported in directing future science policy for agriculture and FNS. Understanding the impacts of innovations on FNS and the priorities for innovation in the future requires better knowledge on the current state of FNS, which is discussed in the next section.
Current FNS Situation
FAO reported last year that, in the period of 2011–2013, around one in eight people in the world were estimated to be suffering from chronic hunger, a situation where people do not have enough food to perform an active life (FAO et al.
2013
). Even though this figure was sligh tly improved compared to the previous period, substantial efforts are needed to meet the Sustainable Development Goal No. 2 of ending hunger by 2013. The efforts should account for regional differences, although globally, Sub-Saharan Africa and South Asia still rank highest as the homes of malnourishment (Fig. 
3.1
2
). As we can see from Fig. 
3.1
, Sub-Saharan Africa and South Asia have the highest prevalence of stunting among children under-five, both at 38 %. The consequences of stunting for later life are enormous. Victora et al. (
2008
) pointed out that stunted children were associated with low human capital and higher risk of adult diseases. Apart from stunting, underweight is also more prevalent in South Asia and Sub-Saharan Africa than in other parts of the world, at a rate of 33 % and 21 %, respectively. The consequences of underweight are also severe. Empirical studies show that being underweight in childhood was positively associated with low adult body-mass index, intellectual performance and work capacity (Martorell
1999
; Victora et al.
2008
). For wasting, it is also evident that the situation in South Asia is alarming. In that region, around one in six children is suffering from wasting. Wasting indicates current or acute malnutrition and children suffering from wasting have a higher morta lity risk.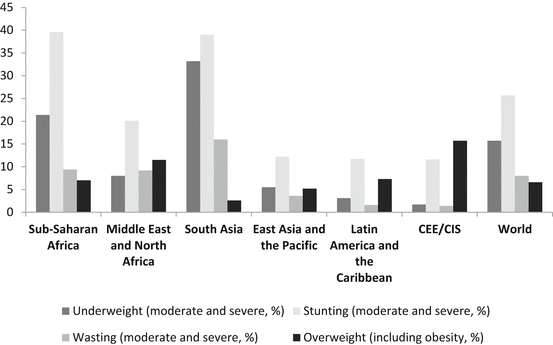 Recent studies revealed that many developing countries have e xperienced a multiple burden of malnutrition where undernutrition (mainly stunting) and overnutrition (overweight and obesity) coexist in the same population or household (Hawkes et al.
2005
; FAO
2006
). UNICEF reported that 7 % of children under-five were overweight in 2012, and this number represents a 43 % increase from 1990. Overnutrition is becoming an alarming signal in developing countries, as obesity and diet-related chronic diseases are increasing in developing countries (Shetty
2012
). Optimizing the window of opportunities for preventing undernutrition and overnutrition from pre-pregnancy to the first 1000 days of life is stro ngly needed. Gómez et al. (
2013
) add another burden, the so-called micronutrient malnutrition or 'hidden hunger', which owes its name to the fact that the symptoms of the problems are not always visible. Hidden hunger is a condition in which people suffer from a chronic deficiency of micronutrients or essential vitamins and minerals. Currently, it is estimated that two billion people suffer from chronic deficiency of micronutrients. India, Afghanistan and many countries of Sub-Saharan Africa have an alarming situation of micronutrient deficiency where iron, vitamin A, and deficiency are highly prevalent in school children (Muthayya et al.
2013
). Table 
3.1
presents the countries most affected by multiple micronutrient deficiencies, several of them being high on the list of countries with high prevalence of under- and overnutrition. Micronutrient deficien cy has huge consequences for later life. A study by Lozoff et al. (
2013
) shows that a chronic iron deficiency is associated with lower level of educational attainment (not completing secondary school and not pursuing further education/training). Chronic iron deficiency is also associated with poorer emotional health and more negative emotions in later life. Muthayya et al. (
2013
) estimated that micronutrient deficiencies contribute to 1.5–12 % of the total Disability Adjusted Life Years (DALY).
Table 3.1
Top 20 countries affected by hidden hunger
Rank

Country

Hidden hunger index score

Deficiency prevalence (%)

Zinc

Iron

Vitamin A

1

Niger

52.0

47.0

41.8

67.0

2

Kenya

51.7

35.8

34.5

84.4

3

Benin

51.3

44.7

39.1

70.7

4

Central African Republic

51.0

43.0

42.1

68.2

5

Mozambique

51.0

47.0

37.4

68.8

6

Sierra Leone

50.0

37.4

37.9

74.8

7

Malawi

49.7

53.2

36.6

59.2

8

India

48.3

47.9

34.7

62.0

9

Burkina Faso

48.3

44.5

45.8

54.3

10

Ghana

47.7

28.6

39.0

75.8

11

São Tomé and Príncipe

47.7

29.3

18.4

95.6

12

Afghanistan

47.7

59.3

19.0

64.5

13

Democratic Republic of the Congo

47.7

45.8

35.7

95.6

14

Mali

46.0

38.5

40.7

58.6

15

Liberia

45.3

39.4

43.4

52.9

16

Côte d'Ivoire

44.0

40.1

34.5

57.3

17

Gambia

43.7

27.6

39.7

64.0

18

Chad

43.3

44.8

35.6

50.1

19

Madagascar

43.0

52.8

34.2

42.1

20

Zambia

42.0

45.8

26.5

54.1
Despite those above challenges the world is facing nowadays, we should be hopeful about the future. Innovations and FNS-related policies are among the potential ways to address those problems. The rest of the chapter discusses the trend and impact of innovations in reducing malnutrition and enhancing FNS.
The Main Features of Technological and Institutional Innovations for FNS
It is argued that both 'hardware' and 'software' are needed for s ocieties to develop and ultimately to prosper (Woodhill 2010). According to Woodhill (2010), 'hardware' refers to technological innovations while 'software' represents institutional innovation and arrangements. Along with this notion, this chapter classifies innovations for FNS into two main types: technological and institutional innovations. The features of technological innovations are closely related to the sources of technology. Following Conway and Waage (2010), the sources of technology are categorized as conventional, traditional, intermediate and new platforms for technology.
"Conventional technologies" are produced by industrialized countrie s through the application of modern knowhow in physics, chemistry, and biology. They are available in regional or global markets as a packaged form. The conventional technologies were normally developed in the form of agricultural inputs, such as fertilizer, high yielding varieties and irrigation tools, globally known as the tools of the Green Revolution. The original aim of conventional technological innovations is to diffuse knowledge to farmers to increase agricultural production through the transfer of knowledge embedded in the products (Dockes et al. 2011).
Traditional technologies are defined as technologies which ha ve been developed by the local communities to m eet their local needs. This type of innovation is derived from the traditional practices, generally shaped over a period of time by communities in developing countries and proven to be effective as complements to conventional technologies. Several traditional technologies, particularly agricultural systems, have been promoted and recognized globally. As a traditional technology is invented and adopted by local people, this technology is also referred to as indigenous technical knowledge (Conway and Waage 2010). In the farming system, a traditional technology is characterized by a low use of inputs, reflecting the (lack of) opportunities available to smallholder farmers (Meyer 2010). A (controversial) example of farming practice rooted in age-old agricultural practices is the system of rice intensification (SRI). SRI has been widely adopted globally in the last decade beyond its country of origin, Madagascar (Uphoff and Kassam 2008).
Intermediate technologies are a mix between conventional a nd traditional technologies (Conway and Waage 2010). The application of such technologies is supported by an institutional change so that they can provide a full range of benefits to small farmers. As examples, Polak et al. (2003) listed three types of affordable small-plot irrigation systems which developed from the mix of conventional and traditional technologies, including the treadle pump, low cost drip irrigation, and the low cost sprinkler system. These low-cost irrigation technologies enable poor farmers to have access to water and, at the same time, to reduce production costs. The treadle pump is one of the successful intermediate technologies, developed in Bangladesh during the 1980s (Namara et al. 2010). The objective of the treadle pump development was threefold: a high and sustainable agricultural output, low cost technology, and simplicity of production, installation and use. In support, a variety of mass marketing actions were implemented in the 1980s by an international non-profit organization, International Development Enterprises (IDE) (Hierli and Polak 2000; Namara et al. 2010). Currently, the treadle pump has been adopted across Africa and Asia (Kay and Brabben 2000).
The new platform technologies applied in fostering FNS include information and communication technologies (ICT) for the agricultural sector, biotechnology, and nanotechnology. ICT have been widely applied for enhancing better market access, as well as empowering local farmer organizations. Many risks and uncertainties normally faced by smallholder farmers before, during and after production can be overcome via mobile phone information, accordingly boosting their production. The mobile phone services are on several fronts, ranging from providing market and price information to knowledge sharing, insuring crop production to monitoring children's nutrition status. In the application of biotechnology, biofortification is among the most cost-effective ways of improving nutritional outcomes.
Institutional innovations involve social and political pr ocesses in which the actors of innovation contribute to a larger action by combining inherited practices, technologies and institutions to address their interest (Hargrave and van De Ven 2006). Institutions are defined as the rules of society or organizations that support the people or members by helping them form and deal with their expectations about each other so that they achieve common objectives (Ruttan and Hayami 1984; World Bank 2002). As mentioned earlier, innovation is a process involving various institutional arrangements and inter-agent coordination. In the FNS-related areas, more specifically in the agricultural sector, institutional innovations have emerged in the form of the coordination of actions and interests of farmers, markets, and policymakers. As mentioned above, the downsides of the Green Revolution are mainly due to the related social policies, not to the technologies themselves. Therefore, institutional innovation plays a substantial role in accompanying technological innovation and making it beneficial for the people.
One of the innovative institutions related to FNS are the Farmer Field Schools (FFS) (Braun et al. 2006). Originated in Indonesia, FFS have long been recognized as an initiative to address the challenge of pest management and the heterogeneous ecological aspects of farming activities. Nevertheless, FFS have also been implemented in other fields, such as resource management (Nepal), adoption of agricultural technologies (Kenya), and diffusion of knowledge (Mexico). Despite the small budgets needed to sustain the FFS, a great number of international and nationa l NGOs have been involved thoroughly in FFS since the early 1990s. A good practice in FFS is the involvement of FFS alumni in Indonesia and the Philippines as full-time FFS facilitators. Apart from pest management and farming practices, the FFS alumni were also trained with new skills, such as computer and entrepreneurial development (Braun et al. 2006; Braun and Duveskog 2008).
IFAD (2007) outlines the importance of institutio nal innovations in facilitating access to natural resources and local governance, access to productive assets and markets, access to information and knowledge, and increasing political capital. The World Development Report 2008 on Agriculture for Develop ment (World Bank 2008) documents several focus areas of institutional innovations, including new mechanisms to increase land tenure security for smallholder farmers, financial and services access, risk mitigation and management, as well as efficient input markets.
The Impacts of Innovations
This chapter features two types of technology, including new platform and traditional technology, as well as institutional innovations and their contribution to the enhancement of FNS. The new platform technology is now the focus of policies, as this type of technology has profound long-term implications, particularly in the context of FNS. The spikes in food and energy prices in 2007–2008 have triggered the increase in input costs which negatively affected the supply responses from the producer side. Thus, the introduction of the new platform technologies in the agricultural sector plays a role for both producers and consumers. In the more globalized market, the new platform technologies benefit producers and consumers in their involvement in the supply chain through better access to market information. With the challenge of climate variability, new platform technologies offer small-holder farmers tools for decision-making, including on what and when to grow. In addition, traditional technology often contributes to improving agricultural technology. Low income farmers have limited access to modern technology, thus traditional technologies benefit them most, as they are most accessible and affordable. This chapter also provides an overview as to how the institutional innovations through community-based innovation impact FNS.
Analyzing the impacts of innovations on FNS cannot be separated from the FNS dimensions: availability, accessibility, utilization and stability. Following Masset et al. (2012) and Webb (2013), the impact of innovation and agricultural interventions are channeled through multiple pathways, both direct and indirect. The indirect pathway is chiefly linked to the accessibility dimension, while the direct pathways are associated with the availability dimension of FNS. While the indirect pathway goes through income, the direct pathways are channeled through food production and improved food quality, more diverse diet composition, food prices, non-food spending, and intrahousehold resource allocation. The latter can be imp acted through three channels: women's control over resources; women's time and caring practices; and improved women's nutrition and health. It is recognized that the pathways through intrahousehold resource allocation are still poorly explored, particularly innovations that target the three channels altogether (Webb 2013). Our chapter focuses on several types of innovation, including the new platform technology through ICT and biofortification, traditional technology exemplified here by home gardens, and institution innovation through community-based actions. The first new platform technologies through ICT and biofortification are chosen, as these two technologies are projected to be among the priority of public investment in agricultural knowledge systems (IAASTD 2009). On the other hand, traditional technology is sometimes overlooked in term of its contribution to FNS. This chapter highlights the long contribution of traditional technology through home gardens that have been providing households with rich and diversified diets. In terms of institutional innovation through community-based institutions, this chapter outlines the impact of institutional arrangement in facilitating small-holder farmers to increase their voice and have better access to markets and services. We focus on FFS as one of the most established institutional innovations.
Future Trends and Priorities of FNS Innovation: A Stakeholder Survey
The stakeholder survey aims to collect a range of opinions, stakeholder attitudes and understandings of the impacts of innovations on FNS, as well as of the trade-offs of innovations in terms of FNS, socio-economic or environmental impacts. The results provide general directions that can be used in building scenarios for FNS innovations and their impacts in the future, based on the inferred likelihood of innovation creation and development, as well as adoption. The questionnaire is designed as a simple, non-technical survey in order to appeal to respondents with various educational and professional backgrounds. The number of respondents is 42, and the survey was constructed to approach a limited number of stakeholders with a key interest in FNS, agriculture and natural resources. The professional background of the respondents is fairly diverse: almost 40 % of the respondents work with NGOs, 25 % are from the public sector and academia, 17.1  % are from international agencies (i.e., FAO), 7.3 % are from the private sector, 7.3 % are farmers and the rest are from the general public. The survey was conducted online in February 2013.
General FNS Awareness
The first part of the survey assesses the general awareness of the respondents to FNS issues. The respondents were asked whether they had previously heard the term 'food and nutrition security' (FNS), what FNS means, and to list five priorities (multiple choice) for improving FNS. The majority of the respondents (almost 95 %) were aware of the expression "FNS". This high percentage is not surprising, as almost a quarter of the respondents report FNS as their field of expertise. However, it is interesting to see how the respondents defined FNS. The survey provided a closed question with six definitions, namely:
everyone has enough food,

stable food supply in the future,

all food is safe to eat,

well-functioning food distribution,

consumption of high quality of food, and

ensuring consumption of healthy food through hygienic cooking preparation.
Ninety percent of the respondents chose 'everyone has enough food' and 'stable food supply in the future'. Around 78 % of the respondents indicated that FNS should encompass the consumption of quality food (i.e., micronutrients, calorific content). The stakeholders' perception of FNS is paralleled by The United Nations High Level Task Force on Global Food Security (HLTF) through their Comprehensive Framework for Action (CFA). The framework defines food and nutrition security as a condition in which all people, at all times, have physical, social and economic access to sufficient, safe, and nutritious food which meets their dietary needs and food preferences for an active and healthy life.
To understand the future priorities of FN S innovations, respondents were prompted with a list of types of innovation and asked to choose five of them. The most common answers are as follows (% of respondents):
promoting a sustainable and diversified agricultural sector (71.8 %),

improving farmer's skill (69.2 %),

empowering farmers through collective action (53.8 %),

income generating programs (51.3 %), and

increasing agricultural crop production (46.2 %).
This result suggests that, although technological innovation is important for increasing agricultural production, institutional factors through farmer's collective action should be given more emphasis in directing future science policy for agriculture and FNS.
We also asked respondents to rank the relevance of the FNS d imensions, availability, accessibility, utilization and stability, in the context of developing countries and how the relevance of these dimensions may change with time. Around 80 % of the respondents agreed that accessibility in the present and in the future is highly relevant for developing countries. Almost 70 % of the respondents reported that utilization, both in the present and in the future, is highly relevant for developing countries. It is interesting that the availability dimension was seen as less relevant. In comparison, about 58 % of the respondents stated that availability in the present and in the future is highly relevant for developing countries. Thus, stakeholders consider that the future FNS innovations should go beyond the availability dimension, as FNS problems in developing countries are more complex. Many developing countries are entrenched with a dual, sometime triple burden of malnutrition, where undernutrition and overnutrition (overweight and obesity) coexist in the same population or household (Hawkes et al. 2005; FAO 2006), often compounded by a deficiency in micronutrients. Overnutrition in particular is mainly a result of a change in information and culture, and a change in lifestyles and physical activity patterns, as well as of the globalization of trade and finance (Hawkes et al. 2005; Popkin et al. 2012). Tackling these drivers of obesity may i ndeed require more innovations of the institutional type than presently exist.
Agricultural Innovations and FNS
We prompted respondents with a list of agricultural inno vations (generic or specific).8 First, the respondents were asked about their familiarity with the type of innovation provided in the survey. Among the innovations, FFS was the most familiar to the respondents (75 %), followed by local farmer organization empowerment (67 %), and farmer extension services (52 %). The respondents assessed GM crops as the least relevant technological innovation for FNS in developing countries. The results are affected by and, indeed, are consistent with the stated future priorities for innovations (Fig. A1, Appendix). Our survey also asked respondents to rank the innovations according to their environmental friendliness. FFS was seen as the most likely to be environmentally friendly (80 %), followed by new/integrated water management (77 %), empowering local farmer organizations and farmer extension services (both at 46 %). Around 40 % of the respondents reported that adapted inputs for small scale farming and GM crops are likely to have a negative impact on the environment (Fig. A2, Appendix).
Perceptions of the economic sustainability of innovations was also queried. While around 71 % of the respondents saw that FFS is economically sustainable, they were more likely to state that empowering local farmer organization is the most economically sustainable innovation for FNS. Similarly, this type of innovation is seen by the respondents (almost 70 %) as the most widely applicable beyond the original/experimental setting (Fig. A3, Appendix). The issue of trade-offs between the FNS, environmental, social, and/or economic impacts of innovations was also examined. The respondents rated institutional innovations such as FFS and local farmer organization (55 % and 50 %, respectively) as the most likely to have trade-offs. On the other hand, ICT, supply chain management, and food fortification (30 %, 30 %, and 20 %, respectively) were seen as the least likely to have trade-offs between environmental, social, and/or economic aspects (Fig. A4, Appendix). Finally, respondents were asked (closed question) about the two main barriers to the adoption of innovation. For all types of innovations, respon dents stated that limited farmer's access and lack of education and training are the two main barriers to adoption (Fig. A5, Appendix).
Conclusions
FNS continues to be an important challenge in developing countries. Volatile food prices have had mixed effects, but overall have slowed down the progress of achieving FNS. Even though many low middle income countries are now reducing hunger, they are currently experiencing a triple burden of malnutrition, experiencing undernutrition, overnutrition and 'hidden hunger' at the same time. Furthermore, it is estimated that two billion of the world's population suffer from hidden hunger, a chronic deficiency of essential micronutrients. To address these problems, a strong performance in FNS-related sectors, including agriculture and health, is urgently required. In addition to that, policies associated with the diffusion of technologies, knowledge and innovations, as well as institutional arrangements, are key factors in countering the complex and evolving challenges of FNS-related problems.
This study aims to review the role of technological and institutional innovation in FNS-related areas, discuss the main features of innovations for FNS, and describe the impact of innovation on FNS using the examples of new platform and traditional technology. Innovations have contributed to countering the challenges to FNS from the drivers of hunger and poverty, such as rising population, environmental pressures and price fluctuations. In many developing countries, where the small-holder farmers are the main target group, many factors hindering the achievement of FNS are related to the increasing demand for and lack of access to food.
Drawing from two types of technologies, innovations impact FNS through multiple pathways, directly and indirectly. The direct pathways perform through improved food production, which might lead to improved food quality through more diverse diet composition. However, FNS innovations should not only emphasize the supply side or the accessibility of food, but also focus on alleviating "hidden hunger". Our analysis shows that new-platform technologies can be directed at improvements in nutrition outcomes for the whole population and for the poorest. Biofortification provides opportunities to smallholder farmers to access and grow more nutritious food crops with rich micronutrient content. In addition, traditional technology through home gardens has proven to be an effective way to enhance the quality of nutritionally deficient diets through the locally grown vegetables and fruits of smallholder farmers.
Finally, the stakeholder survey pointed out that innovations for FNS should address various challenges, including climate change and environmental issues, energy and water availability, globalization of trade, finance, change in lifestyles and physical activity patterns, and demographic shifts. Based on the results of the stakeholder survey, appropriate 'software' through innovative institutions is recognized by several stakeholder groups as one of the most viable and effective FNS innovations. The survey also raised concerns about the role of institutional innovation in enabling developing countries to achieve FNS with lower environmental impacts. In a situation in which the agricultural sector routinely encounters new challenges and uncertainties, it is critical to refine the farming systems to increase resource use efficiency. Therefore, the new technologies for agricultural production should focus on precision farming, new crop varieties that have better nutritional quality, and diversified traditional crop systems for high-value horticulture.
Copyright information
© The Author(s) 2016
Open Access This chapter is distributed under the terms of the Creative Commons Attribution-Noncommercial 2.5 License (http://creativecommons.org/licenses/by-nc/2.5/) which permits any noncommercial use, distribution, and reproduction in any medium, provided the original author(s) and source are credited.
The images or other third party material in this chapter are included in the work's Creative Commons license, unless indicated otherwise in the credit line; if such material is not included in the work's Creative Commons license and the respective action is not permitted by statutory regulation, users will need to obtain permission from the license holder to duplicate, adapt or reproduce the material.