Abstract

Water scarcity due to increasing water demand triggered by population growth and irrigation expansion versus a limited and increasingly variable water supply as a consequence of climate change is presently one of the global challenges. This is exemplified in Uzbekistan, Central Asia, where irrigated agriculture is the primary source of the livelihoods of the rural population that makes more than 60 % of all inhabitants. Yet, socio-economic and ecological challenges keep growing, also due to the inefficient management of water resources. Therefore, options to increase water use efficiency were analyzed while considering the entire supply chain of products including the production, processing, consumption and trade stages and processes. These options were analyzed through an elaborated environmentally extended input-output model. The options examined throughout the entire supply chain included: (i) implementing advanced field-level water saving technologies, (ii) increasing crop diversity through expanding fruits and vegetables production and reducing the area of current dominant crops (cotton and paddy rice in downstream), (iii) fostering the further development of less-water demanding agricultural processing industries, (iv) upgrading production value chains by expanding the production of the commodities with higher values added, (v) reducing production and consumption losses, and (vi) diversifying exports by replacing the current cotton fiber exports with cotton commodities of higher values added. The findings may spur decision-makers to formulating strategic priorities at national level and coordinating water uses considering comprehensively technical, economic and ecological aspects along the entire supply chain, which is a key element of IWRM concepts. However, it is argued that increasing water use efficiency through technological and economic transformation reforms necessitates the empowerment of water users, raising their awareness for, and providing the institutional and market infrastructure, which is in-line with IWRM principles as well.
Keywords
Water use efficiency

Supply chain

Economic transformation

Empowerment of water users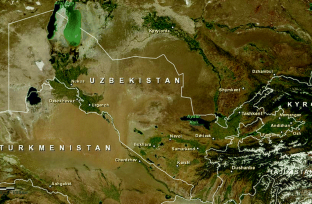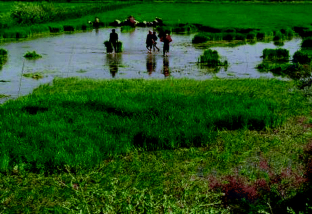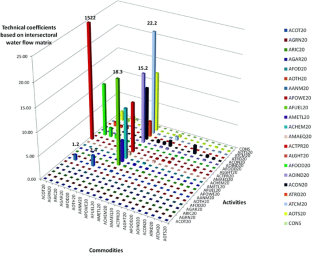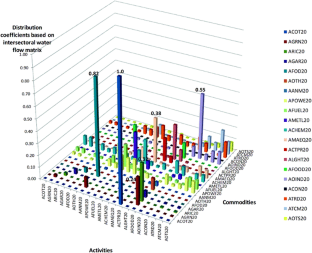 References
Awan UK, Ibrakhimov M, Tischbein B, Kamalov P, Martius C, Lamers JPA (2011) Improving irrigation water operation in the lower reaches of the Amu Darya River—current status and suggestions. Irrig Drain 60(5):600–612

Bekchanov M, A Bhaduri (2013) National tendencies and regional differences in small business development in Uzbekistan. In: Paper presented at IAMO Forum, 19–21 June 2013, Halle, Germany

Bekchanov M, Bhaduri A, Ringler C (2013) How market-based water allocation can improve water use efficiency in the Aral Sea Basin? ZEF-discussion papers on development policy No. 177, p 42

Bekchanov M, Bhaduri A, Lenzen M, Lamers JPA (2012) The role of virtual water for sustainable economic restructuring: evidence from Uzbekistan, Central Asia. In: ZEF discussion paper, No. 167. further information: http://papers.ssrn.com/sol3/papers.cfm?abstract_id=2099172

Bekchanov M, Lamers JPA, Martius C (2010) Pros and cons of adopting water-wise approaches in the lower reaches of the Amu Darya: a socio-economic view. Water 2:200–216. doi:10.3390/w2020200

Bobojonov I, Lamers JPA (2008) Analysis of agricultural markets in Khorezm, Uzbekistan. In: Wehrheim P, Schoeller-Schletter A, Martius C (eds) Continuity and Change: land and water use reforms in rural Uzbekistan. Socio-ecnomic and legal analyses for the region Khorezm, IAMO, Halle/Saale, pp 165–182

Center for Efficient Economic Policy (CEEP) (2006) Economy of Uzbekistan (Statistical analytical review). CEEP, Tashkent, Uzbekistan

Chapagain AK, Hoekstra AY (2004) Water footprints of nations. In: Value of water research report series No.16, vol 1, UNESCO-IHE, Delft, Netherlands

Chapagain AK, Hoekstra AY (2007) The water footprint of coffee and tea consumption in the Netherlands. Ecol Econ 64(1):109–118

CRIIWRM (Central Research Institute of Integrated Water Resources Management—Sentralniy Nauchno—Issledovatelskiy Institut Kompleksnogo Ispolzovaniya Vodnih Resursov) (1980) Aggregated norms of water use and discharge in animal husbandry and In rural settlements with centralized water sewage system. CRIIWRM, Minsk

Dietzenbacher E, Velazquez E (2007) Analysing andalusian virtual water trade in an input-output framework. Reg Stud 41(2):185–196

Dukhovny VA, Sokolov VI, Ziganshina DR (2013) Integrated water resources management in Central Asia, as a way of survival in conditions of water scarcity. Quatern Int 311:181–188

FAO (2000) Carbon sequestration options under the clean development mechanism to address land degradation. In: World soil resources reports No. 92, food and agriculture organization of the united nations, Rome

Global Water Partnership (GWP) (2000) Integrated water resources management. In: Technical paper. GWP, Stockholm, Sweden

Leontief W (1951) The structure of the American economy, 2nd edn. University Press, New York/ Oxford

Lenzen M (2003) Environmentally important paths, linkages and key sectors in the Australian economy. Struct Change Econ Dyn 14(1):1–34

Lenzen M, Foran B (2001) An input–output analysis of Australian water usage. Water Policy 3:321–340

Micklin P (2007) The Aral Sea disaster. Annu Rev Earth Planet Sci 35:47–72. Available online at: http://www.annualreviews.org/doi/pdf/10.1146/annurev.earth.35.031306.140120 (last visited on 28.07.2011)

Müller M (2006) A general equilibrium analysis of water and land use in Uzbekistan. PhD dissertation, Bonn University. Bonn, Germany

Rosegrant MW, Cai X, Cline SA (2002) World water and food to 2025: dealing with scarcity. IFPRI, Washington, D.C

Rudenko I, Bekchanov M, Djanibekov U, Lamers JPA (2013) The added value of a water footprint approach: micro- and macroeconomic analysis of cotton production, processing and export in water bound Uzbekistan. Global Planet Change 110A:143–151

State Construction Bureau (SEV and VNI VODGEO Gosstroya SSSR) (1978) Aggregated norms of water consumption and sewage in various sectors of industry. Stroyizdat, Moscow

Sutton W, Whitford P, Stephens EM, Galinato SP, Nevel B, Plonka B, Karamete E (2008) Integrating environment into agriculture and forestry: progress and prospects in Eastern Europe and Central Asia. The World Bank, Washington DC, US

Tischbein B, Manschadi AM, Conrad C, Hornidge AK, Bhaduri A, Ul Hassan M, Lamers JPA, Awan UK, Vlek PLG (2013) Adapting to water scarcity: constraints and opportunities for improving irrigation water management in Khorezm, Uzbekistan. Water Sci Technol Water Supp 13:337–348

United Nations Development Program (UNDP) (2007) Water—critical resource for Uzbekistan's future. UNDP Energy and Environment Unit, Tashkent, Uzbekistan

United Nations Development Program (UNDP) (2006) Modeling the impact of changes in tax rates on key macroeconomic parameters. UNDP, Tashkent, Uzbekistan

UN WATER (2007) World water day 2007: coping with water scarcity

UzStat (National Statistical Committee of Uzbekistan) (2008) Statistical Yearbook, 1991–2007 (Statistical bulletin). UzStat, Tashkent, Uzbekistan

Velazquez E (2006) An input–output model of water consumption: analysing intersectoral water relationships in Andalusia. Ecol Econ 56:226–240

Wheeler T, von Braun J (2013) Climate change impacts on global food security. Science 341(6145):508–513. doi:10.1126/science.1239402

World Wide Fund for Nature (WWF) (2002) Living planet report 2002. World Wide Fund for Nature, Gland, Switzerland
Acknowledgements

This research was carried out in the frame of the Project "Economic and Ecological Restructuring of Land- and Water Use in the Region Khorezm (Uzbekistan): A Pilot Project in Development Research" (www.uni-bonn.de/khorezm). The authors wish to thank the German Federal Ministry of Education and Research (BMBF) for the financial support (project number 509/UZB/2000). This work was also partly funded by the BMBF and the Australian Academy of Science under their joint Australia-Germany Researcher Mobility Call 2010–2011. The corresponding author thanks the International Postgraduate Studies on Water Technologies (IPSWaT) Program of BMBF for financial support during his Ph.D. research. The study was also supported by the CGIAR Research Program on Water, Land and Ecosystems (WLE) during the submission and revision process. The authors gratefully acknowledge the editors and an anonymous reviewer for the comments that helped considerably improving earlier versions of this manuscript.
Copyright information

© 2016 Springer International Publishing Switzerland
About this chapter
Cite this chapter
Bekchanov, M., Lamers, J.P., Bhaduri, A., Lenzen, M., Tischbein, B. (2016). Input-Output Model-Based Water Footprint Indicators to Support IWRM in the Irrigated Drylands of Uzbekistan, Central Asia. In: Borchardt, D., Bogardi, J., Ibisch, R. (eds) Integrated Water Resources Management: Concept, Research and Implementation. Springer, Cham. https://doi.org/10.1007/978-3-319-25071-7_7