Abstract

This paper describes distributed architecture and data workflow of the analysis system called FCART. Comparing with the similar systems FCART is capable of dealing with various data sources, data preprocessing and interactive analysis, extending functionality by integrating independent web-services and developing plugins. Example of gathering and analyzing data of social networking service is considered.
Keywords
Software architecture

Data analysis

Data mining

Graph mining

Formal concept analysis

Knowledge extraction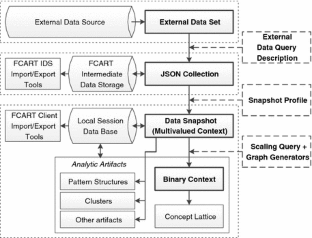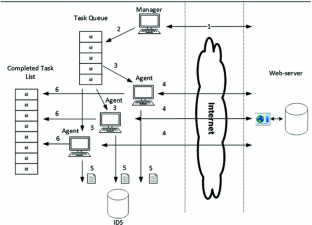 References
Ganter, B., Wille R.: Formal Concept Analysis: Mathematical Foundations. Springer, Berlin (1999)

Kuznetsov, S.O., Poelmans, J.: Knowledge representation and processing with formal concept analysis. Wiley Interdisc. Rev. Data Min. Knowl. Discov. 3(3), 200–215 (2013)

Poelmans, J., Ignatov, D.I., Kuznetsov, S.O., Dedene, G.: Formal concept analysis in knowledge processing: a survey on applications. Expert Syst. Appl. 40, 6538–6560 (2013)

Poelmans, J., Elzinga, P., Neznanov, A., Viaene. S., Kuznetsov, S.O., Ignatov D., Dedene G.: Concept relation discovery and innovation enabling technology (CORDIET). In: CEUR Workshop proceedings, Concept Discovery in Unstructured Data, vol. 757 (2011)

Neznanov A.A., Ilvovsky D.A., Kuznetsov S.O.: FCART: A new FCA-based system for data analysis and knowledge discovery In: Contributions to the 11th International Conference on Formal Concept Analysis, pp. 31–44 (2013)

Cubist Project: (http://www.cubist-project.eu)

Kaytoue, M., Marcuola, F., Napoli, A., Szathmary, L., Villerd, J.: The coron system. In: Proceeding of the 8th International Conference on Formal Concept Analysis (ICFCA 2010), pp. 55–58 (2010)

Yevtushenko, S.A.: System of data analysis "Concept Explorer". In: Proceedings of the 7th national conference on Artificial Intelligence KII-2000, p. 127–134, Russia, (2000) (In Russian).

Berners-Lee, T., Fielding, R., Masinter, L.: RFC-3986: Uniform Resource Identifier (URI): Generic Syntax. (http://www.ietf.org/rfc/rfc3986.txt)

Hunter II, T.: Consumer-Centric API Design. (https://thomashunter.name/consumer-centric-api-design)

The OAuth 2.0 Authorization Framework (RFC-6749): (https://tools.ietf.org/html/rfc6749)

Neznanov, A., Ilvovsky, D., Parinov, A.: Advancing FCA workflow in FCART system for knowledge discovery in quantitative data. In: 2nd International Conference on Information Technology and Quantitative Management (ITQM-2014), Procedia Computer Science, vol. 31, pp. 201–210 (2014)

LiveJournal: (http://livejournal.com)
Acknowledgments

This work was carried out by the authors within the project "Data mining based on applied ontologies and lattices of closed descriptions" supported by the Basic Research Program of the National Research University Higher School of Economics.
Copyright information

© 2016 Springer International Publishing Switzerland
About this paper
Cite this paper
Neznanov, A.A., Parinov, A.A. (2016). Distributed Architecture of Data Analysis System Based on Formal Concept Analysis Approach. In: Novais, P., Camacho, D., Analide, C., El Fallah Seghrouchni, A., Badica, C. (eds) Intelligent Distributed Computing IX. Studies in Computational Intelligence, vol 616. Springer, Cham. https://doi.org/10.1007/978-3-319-25017-5_25
DOI: https://doi.org/10.1007/978-3-319-25017-5_25

Published:

Publisher Name: Springer, Cham

Print ISBN: 978-3-319-25015-1

Online ISBN: 978-3-319-25017-5

eBook Packages: EngineeringEngineering (R0)