Abstract

As teachers, we have the responsibility to assist students in understanding the basic concepts and details (when necessary) upon a subject. We must offer them the right materials to achieve the information and the possibility to hear, try, see and think. In our study, conducted in Politehnica University of Timisoara (UPT) environment, we chose a target group consisting of approximately 200 students, divided into two subgroups. We had classroom meetings with all. We offered the first group printed material for home study and to the second group - video lectures. We evaluated students and analyzed the results. We conducted face-to-face post exam discussion and a survey to extract the advantages and disadvantages of video and printed from student's angle/perspective. This paper provide related work in the field, video lectures design, ours study findings and conclusions.
Keywords
Video lectures

Classroom

Interactivity

Blended learning

Printed educational resources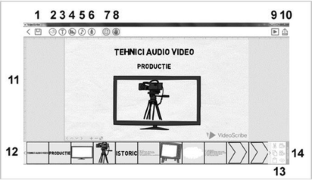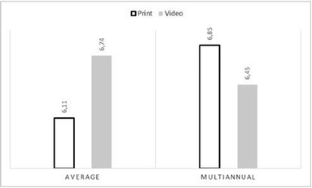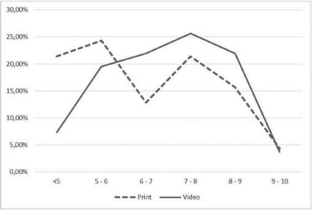 References
Nusir, S., Alsmadi, I., Al-Kabi, M., Sharadgah, F.: Studying the impact of using multimedia interactive programs at children ability to learn basic math skills. Acta Didactica Napocesnia 5(2), 17–31 (2012)

Wieling, M.B., Hofman, W.H.A.: The impact of online video lecture recordings and automated feedback on student performance. Comput. Educ. 54, 992–998 (2010)

Merkt, M., Weigand, S., Hiere, A., Scwan, S.: Learning with videos vs. learning with print. The role of interactive features. Learn. Inst. 21, 687–704 (2011)

Diwanji, P., Simon, B.P., Märki, M., Korkut, S., Dornberger, R.: Success factors of online learning videos. In: International Conference on Interactive Mobile Communication Technologies and Learning (IMCL), pp. 125–132 (2014)

Vasiu, R., Andone, D.: OERs and MOOCs-the romanian experience. In: 2014 International Conference on Web and Open Access to Learning (ICWOAL), pp. 1–5. IEEE (2014)

Clark, R.C., Mayer, R.E.: 10 brilliant design rules for e-learning. http://donaldclarkplanb.blogspot.ro/2013/01/mayer-clark-10-brilliant-design-rules.html

Gunter, B., Furnham, A., Leese, J.: Memory for information from a party political broadcast as a function of the channel of communication. Soc. Behav. 1(2), 135–142 (1986)

van der Molen, J.W., van der Voort, T.: Children's and adults' recall of television and print news in children's and adult news formats. Commun. Res. 27(2), 132–160 (2000)

Norhayati, A.M., Siew, P.H.: Malaysian perspective: designing interactive multimedia learning environment for moral values education. Educ. Technol. Soc. 7(4), 143–152 (2004)

Zhang, D., Zhou, L., Briggs, R.O., Nunamaker, J.F.: Instructional video in e-learning: assessing the impact of interactive video on learning effectiveness. Inf. Manage. 43, 15–27 (2006)

González, M.J., Montero, E., Beltrán de Heredia, A., Martínez, D.: Integrating digital video resources in teaching eLearning engineering courses. In: Education Engineering (EDUCON), pp. 789–793. IEEE (2012)

Bayhan, P., Olgun, P., Yelland, N.J.: A study of pre-school teachers' thoughts about computer assisted instruction. Contemp. Issues Early Child. 3(2), 298–303 (2002)

Chiu, C.F., Lee, G.C., Yang, J.H.: A comparative study of post-class lecture viewing. In: Proceedings of the 5th IASTED International Conference on Web-Based Education, pp. 126–130 (2006)

Evans, C., Gibbons, N.J.: The interactivity effect in multimedia learning. Comput. Educ. 49(4), 1147–1160 (2007)

Holzinger, A., Kickmeier-Rust, M., Wassertheurer, S., Hessinger, M.: Learning performance with interactive. Simulations in medical education: lessons learned from results of learning complex physiological models with the HAEMOdynamics SIMulator. Comput. Educ. 52(2), 292–301 (2009)

Lage, M.J., Platt, G.J., Treglia, M.: Inverting the classroom: a gateway to creating an inclusive learning environment. J. Econ. Educ. 31(1), 30–43 (2000)

Marsh, B., Mitchell, N., Adamczyk, P.: Interactive video technology: enhancing professional learning in initial teacher education. Comput. Educ. 54, 742–748 (2010)

Phelps, J.M., Evans, R.: Supplemental instruction in developmental mathematics. Commun. Coll. Enterp. 12(1), 21–37 (2006)

Ross, T.K., Bell, P.D.: No significant difference only on the surface. Int. J. Inst. Technol. Distance Learn. 4(7), 3–13 (2007)

Stith, B.: Use of animation in teaching cell biology. Cell Biol. Educ. 3, 181–188 (2004)

Onița, M., Mihaescu, V., Vasiu, R.: Technical analysis of MOOCs. TEM J. 4(1), 60–72 (2015). ISSN: 2217-8309 (print), eISSN: 2217-8333 (online), Index Copernicus ICID: 1144333

Mihaescu, V., Vasiu, R., Andone, D.: Developing a MOOC-the romanian experience. In: The 13th European Conference on e‐Learning ECEL, pp. 339–346, Aalborg, Denmark (2014)

ASSSIST: Approaches and study skills inventory for students survey. http://www.dcu.ie/surveys/assist.html

Soloman, B., Felder, R.M.: Index of learning styles questionnaire. https://www.engr.ncsu.edu/learningstyles/ilsweb.html

Udemy: Video lecture format: quality standards. https://support.udemy.com/customer/portal/articles/1505390-udemy-online-course-lecture-types?b_id=3150

Liu, W., Li, H.: Time-lapse photography applied to educational videos. In: Consumer Electronics, Communications and Networks (CECNet), pp. 3669–3672 (2012)

Petan, S., Mocofan, M., Vasiu, R.: Enhancing learning in massive open online courses through interactive video. In: Proceedings of the 10th International Scientific Conference "eLearning and Software for Education", Bucharest (2014)

Gabor, A.M, Vasiu, R., Loghin, G.: Video data use in interactive e-learning courses. A modern method of learning organizing process. In: 6th International Conference of Education, Research and Innovation ICERI 2013, pp. 2184–2190, Seville, Spain, 18–20 November 2013. ISBN 978-84-616-3847-5, ISSN 2340-1095, WOS:000347240602035

Wilson, E.A.H., Makoul, G., Bojarski, E.A., Bailey, S.C., Waite, K.R., Rapp, D.N., Baker, D.W., Wolf, M.S.: Comparative analysis of print and multimedia health materials: a review of the literature. Patient Educ. Couns. 89, 7–14 (2012)

McNamara, D.S., Levinstein, I.B., Boonthum, C.: iSTART: interactive strategy training for active reading and thinking. Behav. Res. Meth. Instrum. Comput. 36(2), 222–233 (2004)

Foertsch, J., Moses, G., Strickwerda, J., Litzkov, M.: Reversing the lecture/homework paradigm using eTEACH web-based streaming video software. J. Eng. Educ. 91(3), 267–274 (2002)

Brecht, H.D.: Learning from online video lectures. J. Inf. Technol. Educ. Innovations Pract. 11(2012), 227–250 (2012)
Acknowledgments

This work was partially supported by the strategic grant POSDRU/159/1.5/S/137070 (2014) of the Ministry of National Education, Romania, co-financed by the European Social Fund – Investing in People, within the Sectoral Operational Programme Human Resources Development 2007-2013.
Copyright information

© 2015 Springer International Publishing Switzerland
About this paper
Cite this paper
Onița, M., Ciuclea, C., Vasiu, R. (2015). The Value of Video Lectures in the Classroom - UPT Study Case. In: Dregvaite, G., Damasevicius, R. (eds) Information and Software Technologies. ICIST 2015. Communications in Computer and Information Science, vol 538. Springer, Cham. https://doi.org/10.1007/978-3-319-24770-0_12
DOI: https://doi.org/10.1007/978-3-319-24770-0_12

Published:

Publisher Name: Springer, Cham

Print ISBN: 978-3-319-24769-4

Online ISBN: 978-3-319-24770-0

eBook Packages: Computer ScienceComputer Science (R0)