Abstract

The adoption of mobile devices and context-aware technologies offers the opportunity of designing educational mobile-based games across multiple spaces that enrich the learners' experience. But producing these games is challenging from both the authoring and technical points of view. This paper proposes a framework to facilitate the design of these games. The framework consists of two elements: (1) a narrative structure, and (2) a platform for its deployment. Both elements defined as a set of templates to be completed for facilitating both the authoring of the narrative and the design of the platform. In order to show a usage example, the framework has been used to develop a mobile-based game for a museum. The game designed has been piloted with 10 students between 6 and 12 years old. The results of the pilot show that it is technically feasible to use this framework to design a mobile-base game across three spaces: a museum, home and a classroom. The students found the activity a good and engaging learning experience.
Keywords
Game-based learning

Museum

Augmented reality

Storytelling

Situated and embodied cognition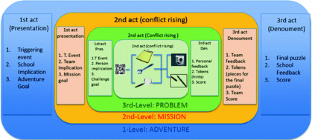 References
Avouris, N., Yiannoutsou, N.: A review of mobile location-based games for learning across physical and virtual spaces. J. UCS 18(15), 2120–2142 (2012)

Wei, T., Li, Y.: Design of educational game: a literature review. In: Pan, Z., Cheok, A.D., Müller, W., Zhang, X., Wong, K. (eds.) Transactions on Edutainment IV. LNCS, vol. 6250, pp. 266–276. Springer, Heidelberg (2010)

Vavoula, G., et al.: Design and evaluation of support for learning with multimedia phones between classrooms and museums. Comput. Educ. 53(2), 286–299 (2009)

Pérez-Sanagustín, M., Hernández-Leo, D., Santos, P., Delgado-Kloos, C., Blat, J.: Augmenting reality and formality of informal and non-formal settings to enhance blended learning. Trans. Learn. Technol. (TLT) 7(2), 118–131 (2014)

Dickey, M.: Engaging by design: how engagement strategies in popular computer and video games can inform instructional design. Educ. Tech. Res. Dev. 53(2), 67–83 (2005)

Garris, R., Ahlers, R., Driskell, J.: Games motivation, and learning: a research and practice model. Simul. Gaming 33, 441–467 (2002)

Amory, A.: Game object model version II: a theoretical framework for educational game development. Educ. Technol. Res. Dev. 55, 51–77 (2007)

Campbell, J.: The Hero with a Thousand Faces. Pantheon Books, New York (2008). ISBN 978-1-57731-593-3

Fernández-Panadero, C., Delgado Kloos, C.: PhyMEL. A framework to integrate physical, mental and emotional learning in meaningful experiences and multidimensional reports. In: Proceedings of 3rd European Immersive Education Summit, London, UK, pp. 203–209 (2013)
Acknowledgments

Work partially funded by the EEE (TIN2008-05163/TSI), RESET (TIN2014-53199-C3-1-R) eMadrid projects (S2013/ICE-2715) and the PhyMEL strategic action. The authors would also like to thank especially A. Martínez, I. Quiñones, A. García, J. Hidalgo, D. Novillo and R. Alonso.
Rights and permissions

Open Access This chapter is licensed under the terms of the Creative Commons Attribution-NonCommercial 2.5 International License (http://creativecommons.org/licenses/by-nc/2.5/), which permits any noncommercial use, sharing, adaptation, distribution and reproduction in any medium or format, as long as you give appropriate credit to the original author(s) and the source, provide a link to the Creative Commons license and indicate if changes were made.

The images or other third party material in this chapter are included in the chapter's Creative Commons license, unless indicated otherwise in a credit line to the material. If material is not included in the chapter's Creative Commons license and your intended use is not permitted by statutory regulation or exceeds the permitted use, you will need to obtain permission directly from the copyright holder.
Copyright information

© 2015 Springer International Publishing Switzerland
About this paper
Cite this paper
Fernández-Panadero, C., Pérez-Sanagustín, M., Pardo, A., Crespo García, R.M., Kloos, C.D. (2015). A Framework to Design Educational Mobile-Based Games Across Multiple Spaces. In: Conole, G., Klobučar, T., Rensing, C., Konert, J., Lavoué, E. (eds) Design for Teaching and Learning in a Networked World. EC-TEL 2015. Lecture Notes in Computer Science(), vol 9307. Springer, Cham. https://doi.org/10.1007/978-3-319-24258-3_32
DOI: https://doi.org/10.1007/978-3-319-24258-3_32

Published:

Publisher Name: Springer, Cham

Print ISBN: 978-3-319-24257-6

Online ISBN: 978-3-319-24258-3

eBook Packages: Computer ScienceComputer Science (R0)