Abstract

Myo-inositol (MI) and d-chiro-inositol (DCI), two second messengers of insulin in various insulin-dependent processes, are implicated in polycystic ovary syndrome (PCOS). MI and DCI exert distinct functions in insulin signaling. While MI is involved in the activation of glucose transporters and glucose utilization, DCI is mainly involved in the glycogen synthesis. At ovarian level, MI plays a pivotal role in the FSH signaling while DCI promotes insulin-dependent androgen synthesis. Although MI and DCI fulfill different roles, often their biological activities are confused.

A key point is the physiological plasma ratio of 40:1, between MI and DCI, in healthy subjects. It was shown in the PCOS treatment the efficacy of therapies based on the restoration of the appropriate MI:DCI ratio, in such a way as to prompt a new approach in the researches and clinical trials. Moreover, it has been demonstrated that MI is able to increase oocyte and sperm cell quality, opening new possibilities to assisted reproduction technology (ART). With the aim to clarify these two sets of issues and answer a number of research questions and also to develop future studies, the International Consensus Conference on myo- and d-chiro-inositol in obstetrics and gynecology was held in Florence in 2013. In this chapter are summarized the main conclusions on MI and DCI and the role of MI in ART.
Keywords
Gestational Diabetes Mellitus

Sperm Cell

Polycystic Ovary Syndrome

Follicular Fluid

Oocyte Maturation
These keywords were added by machine and not by the authors. This process is experimental and the keywords may be updated as the learning algorithm improves.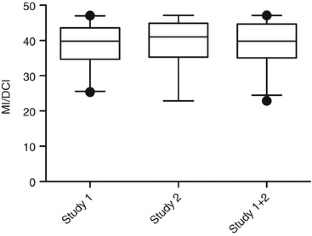 References
Dunaif A (1997) Insulin resistance and the polycystic ovary syndrome: mechanism and implications for pathogenesis. Endocr Rev 18:774–800

Murthy PPN (2006) Structure and nomenclature of inositol phosphates, phosphoinositides, and glycosylphosphatidylinositols. In: Lahiri Majumder A, Biswas BB (eds) Biology of inositols and phosphoinositides. Springer, New York, pp 1–19

Clements RS Jr, Darnell B (1980) Myo-inositol content of common foods: development of a high-myo-inositol diet. Am J Clin Nutr 33(9):1954–1967

Larner J, Huang LC, Tang G, Suzuki S, Schwartz CFW, Romero G, Roulidis Z, Zeller K, Shen TY, Oswald AS, Luttrell L (1988) Insulin mediators: structure and formation. Cold Spring Harb Symp Quant Biol 53(Pt 2):965–971

Sun TH, Heimark DB, Nguygen T, Nadler JL, Larner J (2002) Both myoinositol to chiro-inositol epimerase activities and chiro-inositol to myo-inositol ratios are decreased in tissues of GK type 2 diabetic rats compared to Wistar controls. Biochem Biophys Res Commun 293:1092–1098

Heimark D, McAllister J, Larner J (2014) Decreased myo-inositol to chiro-inositol (m/c) ratios and increased m/c epimerase activity in pcos theca cells demonstrate increased insulin sensitivity compared to controls. Endocr J 61:111–117

Pak Y, Huang LC, Lilley KJ, Larner J (1992) In vivo conversion of [3H] myoinositol to [3H]chiroinositol in rat tissues. J Biol Chem 267:16904–16910

Carlomagno G, De Grazia S, Unfer V, Manna F (2012) Myo-inositol in a new pharmaceutical form: a step forward to a broader clinical use. Expert Opin Drug Deliv 9(3):267–271. doi:10.1517/17425247.2012.662953

De Grazia S, Carlomagno G, Unfer V, Cavalli P (2012) Myo-inositol soft gel capsules may prevent the risk of coffee-induced neural tube defects. Expert Opin Drug Deliv 9(9):1033–1039. doi:10.1517/17425247.2012.701616, Epub 2012 Jul 5

Unfer V, Carlomagno G, Papaleo E, Vailati S, Candiani M, Baillargeon JP (2014) Hyperinsulinemia alters myoinositol to d-chiroinositol ratio in the follicular fluid of patients with PCOS. Reprod Sci 21:854–858

Carlomagno G, Unfer V, Roseff S (2011) The D-chiro-inositol paradox in the ovary. Fertil Steril 95:2515–2516

Unfer V, Carlomagno G, Rizzo P, Raffone E, Roseff S (2011) Myo-inositol rather than D-chiro-inositol is able to improve oocyte quality in intracytoplasmic sperm injection cycles. A prospective, controlled, randomized trial. Eur Rev Med Pharmacol Sci 15:452–457

Arya BK, Haq AU, Chaudhury K (2012) Oocyte quality reflected by follicular fluid analysis in polycystic ovary syndrome (PCOS): a hypothesis based on intermediates of energy metabolism. Med Hypotheses 78:475–478

Nordio M, Proietti E (2012) The combined therapy with myo-inositol and D-chiro-inositol reduces the risk of metabolic disease in PCOS overweight patients compared to myo-inositol supplementation alone. Eur Rev Med Pharmacol Sci 16:575–581

Minozzi M, Nordio M, Pajalich R (2013) The combined therapy myo-inositol plus D-chiro-inositol, in a physiological ratio, reduces the cardiovascular risk by improving the lipid profile in PCOS patients. Eur Rev Med Pharmacol Sci 17:537–540

Bevilacqua A, Carlomagno G, Gerli S, Montanino Oliva M, Devroey P, Lanzone A, Soulange C, Facchinetti F, Di Renzo GC, Bizzarri M, Hod M, Cavalli P, D'Anna R, Benvenga S, Chiu TT, Kamenov ZA (2015) Results from the International Consensus Conference on myo-inositol and D-chiro-inositol in Obstetrics and Gynecology – assisted reproduction technology. Gynecol Endocrinol. doi:10.3109/09513590.2015.1006616

Chiu TT, Tam PP (1992) A correlation of the outcome of clinical in vitro fertilization with the inositol content and embryotrophic properties of human serum. J Assist Reprod Genet 9:524–530

Chiu TT, Rogers MS, Law EL, Briton-Jones CM, Cheung LP, Haines CJ (2002) Follicular fluid and serum concentrations of myo-inositol in patients undergoing IVF: relationship with oocyte quality. Hum Reprod 17:1591–1596

Colazingari S, Fiorenza MT, Carlomagno G, Najjar R, Bevilacqua A (2014) Improvement of mouse embryo quality by myo-inositol supplementation of IVF media. J Assist Reprod Genet 31:463–469

Ma X, Fan L, Meng Y, Hou Z, Mao YD, Wang W, Ding W, Liu JY (2007) Proteomic analysis of human ovaries from normal and polycystic ovarian syndrome. Mol Hum Reprod 13:527–535

Chaudhary K, Babu KN, Joshi VN, Srivastava S, Chakravarty BN (2011) NMR-based metabolomics reveals differently expressed metabolites in follicular fluid of PCOS women: potential biomarkers for good quality oocyte? Hum Reprod 26:i226–i246
Copyright information

© 2016 International Society of Gynecological Endocrinology
About this chapter
Cite this chapter
Facchinetti, F., Dante, G., Neri, I. (2016). The Ratio of MI to DCI and Its Impact in the Treatment of Polycystic Ovary Syndrome: Experimental and Literature Evidences. In: Genazzani, A., Tarlatzis, B. (eds) Frontiers in Gynecological Endocrinology. ISGE Series. Springer, Cham. https://doi.org/10.1007/978-3-319-23865-4_13
DOI: https://doi.org/10.1007/978-3-319-23865-4_13

Published:

Publisher Name: Springer, Cham

Print ISBN: 978-3-319-23864-7

Online ISBN: 978-3-319-23865-4

eBook Packages: MedicineMedicine (R0)