Abstract
This paper examines the importance of the oldest chronological layer of the intangible heritage concerning the exploitation of salt springs, which is fortuitously still recoverable in Romania at the beginning of the twenty-first century. This layer, which comprises the first half of the twentieth century, has been investigated systematically through ethnological inquiries only since 2007, as part of two projects on the ethnoarchaeology of salt. Solely on the basis of this old layer, it was possible to study the complex relationships established between the salt springs and the various types of settlements supplied with natural brine, with ignigenous salt or even with naturally recrystallized salt. Additionally, the paper uses those elements of the intangible heritage that highlight the economic and symbolic dimensions that complete the purely archaeological approaches of the issue of salt springs.
Keywords
Salt springs

Intangible heritage

Natural brine supplying

Ignigenous salt supplying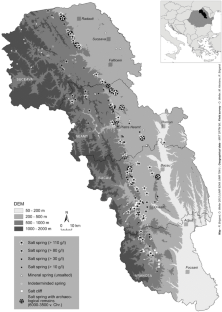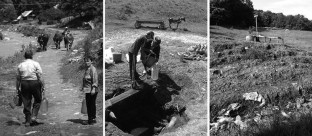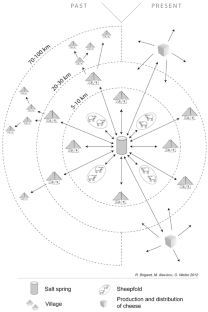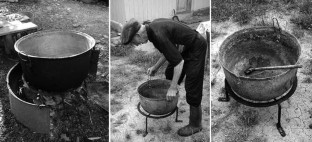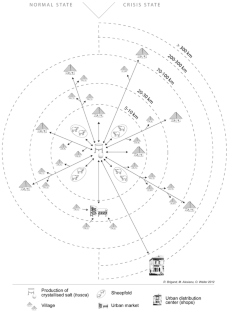 References
Alexianu, M., Dumitroaia, G., & Monah, D. (1992). Exploatarea surselor de apă sărată din Moldova: O abordare etnoarheologică. Thraco-Dacica, XIII, 159–167.

Alexianu, M., & Weller, O. (2009). The Ethnosal project. Ethnoarchaeological Investigation at the Moldavian Salt Springs. Antiquity, 83 (321).

Alexianu, M., Weller, O., & Brigand, R. (2012). Ethnosal Ro. An ethnoarchaeological project on Romanian Salt. The European Archaeologist, 38 (Winter 2012–2013), 17–22.

Alexianu, M., Weller, O., Brigand, R., and Curcă, R.-G. (2010–2011). Ethnoarchéologie des sources salées de la Moldavie précarpatique: une taxonomie des habitats. Thraco-Dacica XXV–XXVI, pp. 141–150.

Dumitroaia, Gh. (1987). La station archéologique de Lunca-Poiana Slatinei. In M. Petrescu-Dîmbovița (Ed.), La civilisation de Cucuteni en contexte européen (Vol. I, pp. 253–258). Iași: BAI.

Dumitroaia, Gh. (1994). Depunerile neo-eneolitice de la Lunca și Oglinzi, județul Neamț. Piatra Neamț: Memoria Antiquitatis.

Gero, M. J. (2007). Honoring ambiguity/problematizing certitude. Journal of Archaeological Method and Theory, 14, 311–327.

Massey, D. (1992). Place called home. New Formations, 17, 3–15.

Monah, D., Antonescu, S., & Bujor, A. (1980). Raport preliminar asupra cercetărilor arheologice din comuna Poduri, jud. Bacău. Materiale s̗i cercetări arheologice (pp. 86–99). Tulcea.

Ples̗ca, C., & Tîrcomnicu, E. (Eds.). (2004). Sărbători s̗i obiceiuri: răspunsuri la chestionarele Atlasului Etnografic Român, vol. IV, Moldova. Bucureşti: Editura Enciclopedică.

Romanescu, Gh., Alexianu, M., & Weller, O. (2012). Fresh rivers and salt springs: Modern management and ethno-management of water resources in eastern Romania. In Fan Hong (Ed.), Informatics, Environment, Energy and Applications. Selected, Peer Reviewed Papers from the 2012 International Congress in Informatics, Environment, Energy and Applications (pp. 207–219). Singapore: IACSIT Press. Retrieved March 17–18, 2012.

Șandru, I. (1952). Contribuţii geografico-economice asupra exploatării slatinelor în Bucovina de Sud. Studii s̗i Cercetări S̗tiințifice, Ias̗i, 1–4(III), 407–428.

Șandru, I. (1961). Contribuţii geografice economice asupra evoluţiei as̗ezărilor omeneşti în depresiunea subcarpatică Oneşti. Analele S̗tiinţifice ale Universităţii "Al.I.Cuza" din Ias̗i (serie nouă), Ias̗i, VII (fasc.1), 215–230.

Smith, C., & Ward, G. K. (Eds.). (2000). Indigenous Cultures in an Interconnected World (pp. 89–107). Singapore: Allen & Unwin.

Ursulescu, N. (1977). Exploatarea sării din saramură în neoliticul timpuriu, în lumina descoperirilor de la Solca (jud.Suceava). Studii s̗i Cercetări de Istorie Veche, Bucures̗ti, 28–3, 307–317.

Weller, O., & Dumitroaia, Gh. (2005). The earliest salt production in the World. A Neolithic exploitation in Lunca-Poiana Slatinei, Romania. Antiquity, 79(306).
Acknowledgement
This study was made possible with the financial support of the Ministry of Education, Research, Youth and Sports of Romania (Exploratory Research Project PN-II-ID-PCE-2011-3-0825, The Ethnoarchaeology of Salt Springs and Salt Mountains from the Extra-Carpathian Areas of Romania, No. 219/2011—http://ethnosalro.uaic.ro).
Copyright information
© 2016 Springer International Publishing Switzerland
About this chapter
Cite this chapter
Alexianu, M., Weller, O., Brigand, R. (2016). Romanian Salt Springs, Intangible Cultural Heritage, Archaeological Reconstruction: A Variable Geometry. In: Biagetti, S., Lugli, F. (eds) The Intangible Elements of Culture in Ethnoarchaeological Research. Springer, Cham. https://doi.org/10.1007/978-3-319-23153-2_18
DOI: https://doi.org/10.1007/978-3-319-23153-2_18

Published:

Publisher Name: Springer, Cham

Print ISBN: 978-3-319-23152-5

Online ISBN: 978-3-319-23153-2

eBook Packages: Social SciencesSocial Sciences (R0)