Abstract

This chapter presents an analysis of land cover and its changes in the Middle River Vistula catchment over the period 1990–2012. The river reach is situated between hydrological gauging stations at Zawichost and at Port Praski (Warsaw). Comprehensive information on land cover and land cover change is a crucial step in understanding and modelling hydrological processes. The land cover and land cover change were derived from the CORINE Land Cover (CLC) inventories. The land cover classes (level 3) were aggregated from the point of view of hydrological processes and anthropogenic impacts into five classes: urban, agricultural, meadow, forest, open spaces and surface water. The analysis of land cover changes was conducted for the entire Middle River Vistula catchment and for the 10 tributaries and 11 adjacent areas. The results indicate that most of the changes (≈−25 %) displayed belong to agricultural areas. Human impacts are mostly noted in the forested areas, bushes, meadows and urban areas.
Keywords
Land Cover

Agricultural Area

Adjacent Area

Land Cover Change

CORINE Land Cover
These keywords were added by machine and not by the authors. This process is experimental and the keywords may be updated as the learning algorithm improves.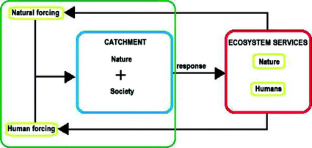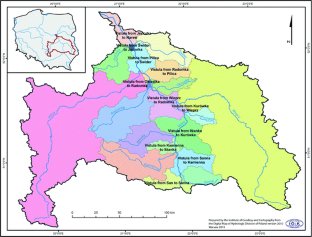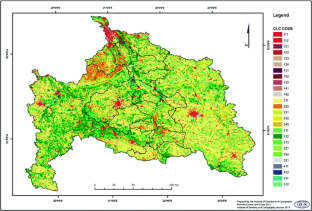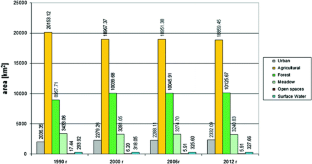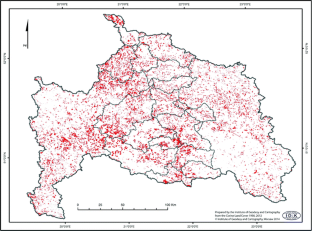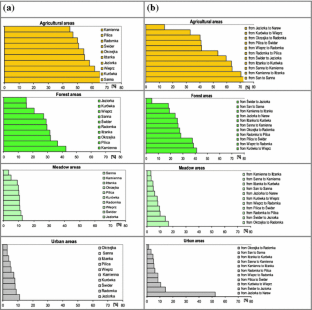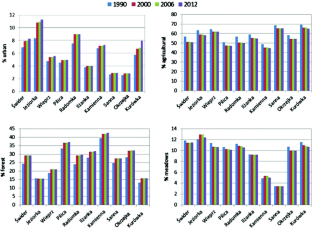 References
Bański J (2003) Selected aspects of present-day changes in Polish rural space. Geographia Polonica 76(1):73–76

Bański J (ed) (2010) Atlas rolnictwa Polski. Wyd. IGiPZ PAN, Warszawa

Beven KJ, Kirkby MJ (1979) A physically based, variable contributing area model of basin hydrology. Hydrol Sci Bull 24:43–69

Bielecka E, Ciołkosz A (2009) Land cover database in Poland CLC-2006 (in Polish). Polski Przegląd Kartograficzny 41(3):227–236

Büttner G, Kosztra B (2011) Manual of CORINE Land Cover changes. Final Draft, Copenhagen (EEA)

Büttner G, Soukup T, Kosztra B (2014) CLC2012 addendum to CLC2006 technical guidelines. Final Draft, Copenhagen (EEA)

Ciołkosz A, Bielecka E (2005) Land Cover in Poland—CORINE Land Cover data base (in Polish). Biblioteka Monitoringu Środowiska, Inspektorat Ochrony Środowiska, Warszawa, pp 1–76

Crave A, Gascuel-Odoux C (1997) The influence of topography on time and space distribution of soil surface water content. Hydrol Process 11(2):203–210

Dąbrowska-Zielińska K, Ciołkosz A, Malińska A, Bartold M (2011) Monitoring of agricultural drought In Poland using data derived from environmental satellite images. Geoinf Issues 3(3):87

Dąbrowska-Zielińska K, Budzyńska M, Kowalik W, Małek I, Gatkowska M, Bartold M, Turlej K (2012) Biophysical parameters assessed from mircrowave and optical data. Int J Electron Telecommun 58(2):99–104

Chościło A, Tomaszewska M (2015) CORINE Land Cover 2012-4th CLC inventory completed in Poland, Geoinf Issues (in press)

Jarsjö J et al (2012) Hydrological responses to climate change conditioned by historic alternations of land-use and water-use. Hydrol Earth Syst Sci 16:1335–1347

Kondracki J (2002) Geografia regionalna Polski. PWN, Warszawa

Kosmowska-Suffczyńska D (2009) Geneza i rozwój rzeźby w czwartorzędzie. In: Richling A, Ostaszewska K (eds) Geografia fizyczna Polski. WN PWN, Warszawa, pp 32–67

Łajczak A, Plit J, Soja R, Starkel L, Warowna J (2006) Changes of the vistula river channel and floodplain in the last 200 years. Geogr Polon 79:65–87

Laskowski K (1986) Przebieg erozji w dolinie Wisły na odcinku Puławy-Warszawa, Biul. Geol. Uniwersytetu Warszawskiego, No. 30

Mapa Podziału Hydrograficznego Polski (MPHP) (2010) Ośrodek Zasobów Wodnych IMGW-PIB. Warszawa

Montanari AG, Young G, Savenije HHG, Hughes D, Wagener T, Ren LL, Koutsoyiannis D, Cudennec C, Toth E, Grimaldi S, Blöschl G, Sivapalan M, Beven K, Gupta H, Hipsey M, Schaefli B, Arheimer B, Boegh E, Schymanski SJ, Di Baldassarre G, Yu B, Hubert P, Huang Y, Schumann A, Post D, Srinivasan V, Harman C, Thompson S, Rogger M, Viglione A, McMillan H, Characklis G, Pang Z, Belyaev V (2013) Panta Rhei – everything flows: change in hydrology and society – the IAHS scientific decade 2013–2022. Hydrol Sci J 58(6):1256–1275

Piskozub A (1982) Wisła. Monografia rzeki, Wydawn. Komunikacji i Łączności. Warszawa

Romanowicz RJ, Osuch M (2011) Assessment of land use and water management induced changes in flow regime of the Upper Narew. Phys Chem Earth. doi:10.1016/j.pce.2011.04.012

Schulze RE (2000) Modelling hydrological responses to land use and climate change: a Southern African perspective. Ambio 29(1):12–22

Sivapalan M, Savenije HHC, Blöschl G (2012) Sociohydrology a new science of people and water. Hydrol Process 26:1270–1276

Vachaud G, Passerat de Silans A, Balabanis P, Vauclin M (1985) Temporal stability of spatially measured soil water probability density function. Soil Sci Soc Am J 49:822–828
Acknowledgments

This work was supported by the project "Stochastic flood forecasting system (The Middle River Vistula reach from Zawichost to Warsaw)" carried by the Institute of Geophysics, Polish Academy of Sciences, on the order of the National Science Centre (contract No. 2011/01/B/ST10/06866).

The authors thank the Chief Inspectorate of Environmental Protection (GIOŚ) for providing the national CLC2006 and CLC2012 databases. The national CLC2012 project was conducted in the framework of the Copernicus GIO Land Monitoring (with funding from the European Union) by the Institute of Geodesy and Cartography in Warsaw.

The Map of Hydrographical Divide of Poland (MPHP) was prepared by the Institute of Meteorology and Water Management and was funded by the National Fund for Environmental Protection and Water Management.
Copyright information

© 2015 Springer International Publishing Switzerland
About this chapter
Cite this chapter
Gutry-Korycka, M., Mirończuk, A., Hościło, A. (2015). Land Cover Change in the Middle River Vistula Catchment. In: Romanowicz, R., Osuch, M. (eds) Stochastic Flood Forecasting System. GeoPlanet: Earth and Planetary Sciences. Springer, Cham. https://doi.org/10.1007/978-3-319-18854-6_1
DOI: https://doi.org/10.1007/978-3-319-18854-6_1

Published:

Publisher Name: Springer, Cham

Print ISBN: 978-3-319-18853-9

Online ISBN: 978-3-319-18854-6