Abstract
The demand for Echinacea is greater than the wild supply so there is opportunity for growers to cultivate it as a crop. Echinacea purpurea is relatively easy to grow, tops and flowers from cultivated fields supplying most of the market. Echinacea angustifolia, harvested for its root, is much riskier to cultivate, but there is steady and growing demand. Seed choice, germination techniques, and choices of when to direct seed and when to transplant greenhouse starts affect the likelihood of success when cultivating Echinacea for the marketplace.
Keywords
Germination Rate

Secondary Compound

Fibrous Root

Direct Seeding

Echinacea Purpurea
These keywords were added by machine and not by the authors. This process is experimental and the keywords may be updated as the learning algorithm improves.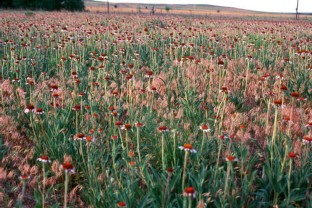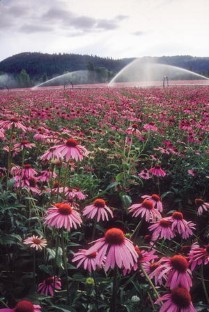 References
Bauer, R. 1998. Echinacea: Biological effects and active principles. American Chemical Society, 140–157. Dusseldorf, Germany: Institut für Pharmazeutische Biologie.

Berbec, S., B. Krol, and T. Wolski. 1998. The effect of soil and fertilization on the biomass and phenolic acid content in coneflower (Echinacea purpurea Moench.). Herba Polonica 44(4): 397–402.

Cech, R. 2002. Growing at-risk medicinal herbs. Williams, OR: Horizon Herbs.

Çekiç, Ç., and M. Özgen. 2010. Comparison of antioxidant capacity and phytochemical properties of wild and cultivated red raspberries (Rubus idaeus L.). Journal of Food Composition and Analysis 23: 540–544.

El-Gengaihi, S.E., A.S. Shalaby, E.A. Agina, and S.F. Hendawy. 1998. Alkylamides of Echinacea sp. purpurea L. as influenced by plant ontogeny and fertilization. Journal of Herbs, Spices, and Medicinal Plants 5(4): 35–41.

Feghahati, S.M.J., and R.N. Reese. 1994. Ethylene-, light-, and prechill-enchanced germination of Echinacea angustifolia seeds. Journal of the American Society for Horticultural Science 119(4): 853–858.

Foster, S. 1991. Echinacea: Nature's immune enhancer. Rochester, VT: Healing Arts Press.

Kindscher, K., C. Cao, R. Gallagher, H. Zhang, Q. Long, L. Service, L. Martin, and B.N. Timmermann. 2014. Comparison of bioactive secondary metabolites in experimental and natural populations of Wild Tomatillos, Physalis longifolia nutt. Ethnobotany Research & Applications 12: 175–182.

Little, R. 1998. Growing Echinacea angustifolia: Research at SDSU and insights from a Grower. Brookings, SD: South Dakota State University.

Parmenter, G.A., L.C. Burton, and R.P. Littlejohn. 1996. Chilling requirement of commercial Echinacea seed. New Zealand Journal of Crop Horticultural Science 24: 109–114.

Sari, A.O., M.R. Morales, and J.E. Simon. 1999. Echinacea angustifolia: An emerging medicinal. In Perspectives on new crops and new uses, ed. J. Janick, 490–493. Alexandria, VA: ASHS Press.

Smith-Jochum, C.C., and L.C. Davis. 1991. Variation in the hexane extracted oils of three Echinacea species. Transactions of the Kansas Academy of Science 1903: 12–21.
Copyright information
© 2016 Springer International Publishing Switzerland
About this chapter
Cite this chapter
Kindscher, K., Riggs, M. (2016). Cultivation of Echinacea angustifolia and Echinacea purpurea . In: Kindscher, K. (eds) Echinacea. Springer, Cham. https://doi.org/10.1007/978-3-319-18156-1_3