Abstract

Emergency management benefits from techniques such as the eCall that allow an automatic transmission of vehicle data and location to initiate response operations in case of an accident. Such operations may comprise the deployment of ambulances and recovery vehicles. Based on available data one can decide on the type of ambulances, police and other recovery vehicles needed, on prioritization in case of multiple events and on strategies for an efficient management of available resources. Automatically handling these constraints which can go beyond traditional database operations and deriving decisions is a challenging problem. In this paper, we describe how our existing spatio-temporal description and reasoning framework based on formal methods can be used to facilitate decisions in emergency recovery situations in combination with indexing of available information.
Keywords
Emergency Management

Spatial Reasoning

Rescue Operation

Traditional Database

Architecture Description Language
These keywords were added by machine and not by the authors. This process is experimental and the keywords may be updated as the learning algorithm improves.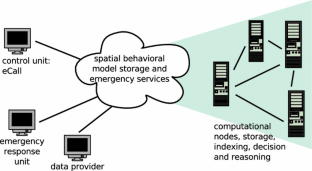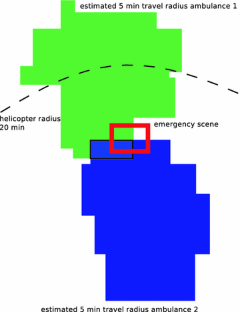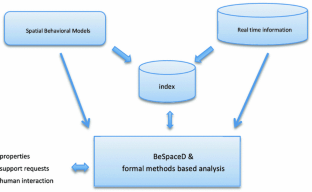 References
Bentley JL (1975) Multidimensional binary search trees used for associative searching. Commun ACM. 18 (9):509–517

Blech JO, Falcone Y, Rueß H, Schätz B (2012) Behavioral specification based runtime monitors for OSGI services. Leveraging applications of formal methods, verification and validation (ISoLA), vol 7609 of LNCS. Springer, New York

Blech JO, Schmidt H (2013) Towards modeling and checking the spatial and interaction behavior of widely distributed systems. In: Improving systems and software engineering conference, Melbourne

Blech JO, Schmidt H (2014) BeSpaceD: towards a tool framework and methodology for the specification and verification of spatial behavior of distributed software component systems. http://arxiv.org/abs/1404.3537

Caires L, Cardelli L (2003) A spatial logic for concurrency (Part I). Inf Comput 186/2:194– 235

Caires L, Cardelli L (2004) A Spatial Logic for Concurrency (Part II). Theor Comput Sci 322(3):517–565

Papadias D, Sellis T (1994) Qualitative representation of spatial knowledge in two-dimensional space. VLDB J 3(3):479–516

Papadias D, Theodoridis Y, Sellis T, Egenhofer M (1995) Topological relations in the world of minimum bounding rectangles: a study with r-trees. In: Proceedings of the 1995 ACM-SIGMOD international conference on the management of data, San Jose, pp 92–103

Sellis T (1999) Research issues in spatio-temporal database systems. Advances in spatial databases, vol 1651 of LNCS. Springer, Berlin

Skiadopoulos S, Giannoukos C, Sarkas N, Vassiliadis P, Sellis T, Koubarakis M (2005) Computing and managing cardinal direction relations. IEEE Trans Knowl Data Eng 17(12):1610–1623
Copyright information

© 2015 Springer International Publishing Switzerland
About this paper
Cite this paper
Blech, J.O., Schmidt, H., Sellis, T. (2015). Emergency Management Support by Spatial Reasoning. In: Denbratt, I., Subic, A., Wellnitz, J. (eds) Sustainable Automotive Technologies 2014. Lecture Notes in Mobility. Springer, Cham. https://doi.org/10.1007/978-3-319-17999-5_21
DOI: https://doi.org/10.1007/978-3-319-17999-5_21

Published:

Publisher Name: Springer, Cham

Print ISBN: 978-3-319-17998-8

Online ISBN: 978-3-319-17999-5

eBook Packages: EngineeringEngineering (R0)