Abstract
Traumatic injuries complicate approximately 1 in 15 pregnancies and are the leading cause of non-obstetric death in pregnancy, with a significant proportion due to interpersonal violence. Injury during pregnancy is associated with an increased risk of adverse obstetrical outcomes. Pregnancy induces certain physiologic changes that in turn create important alterations in clinical presentation that must be recognized and responded to. While maternal resuscitation is always paramount, the presence of a viable fetus and the potential for pregnancy-specific injuries create important challenges in the management of pregnant patients and require integrated multidisciplinary teams to provide optimal care.
Keywords
Trauma

Pregnancy

Fetal loss/demise

Perimortem cesarean delivery

Motor vehicle crash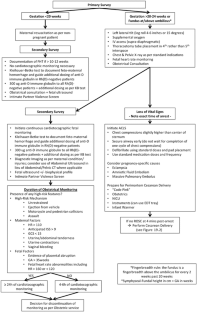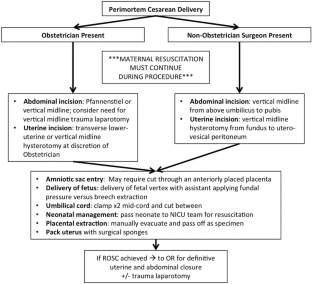 References
Fildes J, Reed L, Jones N, Martin M, Barrett J. Trauma: the leading cause of maternal death. J Trauma. 1992;32:643–5.

ACOG Educational Bulletin Number 251. Obstetric aspects of trauma management. Int J Gynaecol Obstet. 1999;64(1):87–94.

El Kady D. Perinatal outcomes of traumatic injuries during pregnancy. Clin Obstet Gynecol. 2007;50(3):582–91.

Kuo C, Jamieson DJ, McPheeters ML, Meikle SF, Posner SF. Injury hospitalizations of pregnant women in the United States, 2002. Am J Obstet Gynecol. 2007;196(2):161.

Melamed N, Aviram A, Silver M, Peled Y, Wiznitzer A, Glezerman M, Yogev Y. Pregnancy course and outcome following blunt trauma. J Matern Fetal Neonatal Med. 2012;25(9):1612–7.

Baerga-Varela Y, Zietlow SP, Bannon MP, Harmsen WS, Ilstrup DM. Trauma in pregnancy. Mayo Clin Proc. 2000;75:1243–8.

Aboutanos MB, Aboutanos SZ, Dompkowski D, Duane TM, Malhotra AK, Ivatury RR. Significance of motor vehicle crashes and pelvic injury on fetal mortality: a five-year institutional review. J Trauma. 2008;65(3):616–20.

Corsi PR, Rasslan S, de Oliveira LB, Kronfly FS, Marinho VP. Trauma in pregnant women: analysis of maternal and fetal mortality. Injury. 1999;30:239–43.

Weiss HB, Songer TJ, Fabio A. Fetal deaths related to maternal injury. JAMA. 2001;286(15):1863–8.

Warner MW, Salfinger SG, Rao S, Magann EF, Hall JC. Management of trauma during pregnancy. ANZ J Surg. 2004;74(3):125–8.

Sandy EA, Koerner M. Self-inflicted gunshot wound to the pregnant abdomen: report of a case and review of the literature. Am J Perinatol. 1989;6(1):30–1.

Sakala EP, Kort DD. Management of stab wounds to the pregnant uterus: a case report and a review of the literature. Obstet Gynecol Surv. 1988;43:319–24.

Pearlman MD, Tintinalli JE, Lorenz RP. Blunt trauma during pregnancy. N Engl J Med. 1990;323:1609–13.

Knuppel RA, Hatangadi SB. Acute hypotension related to hemorrhage in the obstetric patient. Obstet Gynecol Clin North Am. 1995;22:111–29.

El Kady D, Gilbert WM, Anderson J, Danielsen B, Towner D, Smith LH. Trauma during pregnancy: an analysis of maternal and fetal outcomes in a large population. Am J Obstet Gynecol. 2004;190(6):1661–8.

Weintraub AY, Leron E, Mazor M. The pathophysiology of trauma in pregnancy: a review. J Matern Fetal Neonatal Med. 2006;19(10):601–5.

Pearlman MD. Motor vehicle crashes, pregnancy loss and preterm labor. Int J Gynaecol Obstet. 1997;57:127–32.

Bamber JH, Dresner M. Aortocaval compression in pregnancy: the effect of changing the degree and direction of lateral tilt on maternal cardiac output. Anesth Analg. 2003;97:256–8.

Kundra P, Khanna S, Habeebullah S, Ravishankar M. Manual displacement of the uterus during Caesarean section. Anaesthesia. 2007;62:460–5.

Carbonne B, Benachi A, Leveque ML, Cabrol D, Papiernik E. Maternal position during labour: effects on fetal oxygen saturation measured by pulse oximetry. Obstet Gynecol. 1996;88:797–800.

Izci B, Vennelle M, Liston WA, Dundas KC, Calder AA, Douglas NJ. Sleep-disordered breathing and upper airway size in pregnancy and post-partum. Eur Respir J. 2006;27:321–7.

Advanced Trauma Life Support (ATLS). 9th ed. Chicago: American College of Surgeons; 2012

Lavery JP, Staten-McCormick M. Management of moderate to severe trauma in pregnancy. Obstet Gynecol Clin North Am. 1995;22:69–90.

SOGC Clinical Practice Guideline. No. 135, October 2003. Demianczuk NN, Van Den Hof MC, Farquharson D, Lewthwaite B, Gagnon R, Morin L, Salem S, Skoll A; Diagnostic Imaging Committee of the Executive and Council of the Society of Obstetricians and Gynecologists of Canada. The use of first trimester ultrasound. J Obstet Gynaecol Can. 2003;25(10):864–75.

Bochicchio GV, Haan J, Scalea TM. Surgeon-performed focused assessment with sonography for trauma as an early screening tool for pregnancy after trauma. J Trauma. 2002;52:1125–8.

Muench MV, Baschat AA, Reddy UM, Mighty HE, Weiner CP, Scalea TM, et al. Kleihauer–Betke testing is important in all cases of maternal trauma. J Trauma. 2004;57:1094–8.

Pearlman MD, Tintinalli JE. Evaluation and treatment of the gravida and fetus following trauma during pregnancy. Obstet Gynecol Clin North Am. 1991;18:371–81.

SOGC Clinical Practice Guidelines. No. 206, March 2008. Magee LA, Helewa M, Moutquin JM, von Dadelszen P; Hypertension Guideline Committee; Strategic Training Initiative in Research in the Reproductive Health Sciences (STIRRHS) Scholars. Diagnosis, Evaluation, and Management of the Hypertensive Disorders of Pregnancy. J Obstet Gynaecol Can. 2008;30(3 Suppl):S1–48.

Carlo WA, McDonald SA, Fanaroff AA, Vohr BR, Stoll BJ, Ehrenkranz RA, et al. Association of antenatal corticosteroids with mortality and neurodevelopmental outcomes among infants born at 22 to 25 weeks' gestation. JAMA. 2011;306(21):2348–58.

Roberts D, Dalziel S. Antenatal corticosteroids for accelerating fetal lung maturation for women at risk of preterm birth. Cochrane Database Syst Rev. 2006;(3):CD004454.

Van Hook JW. Trauma in pregnancy (obstetric emergencies). Clin Obstet Gynecol. 2002;45:414–24.

Bowdler N, Faix RG, Elkins T. Fetal skull fracture and brain injury after a maternal automobile accident. A case report. J Reprod Med. 1987;32:375–8.

Evrard JR, Sturner WQ, Murray EJ. Fetal skull fracture from an automobile accident. Am J Forensic Med Pathol. 1989;10:232–4.

Härtl R, Ko K. In utero skull fracture: case report. J Trauma. 1996;41:549–52.

Awwad JT, Azar GB, Seoud MA, Mroueh AM, Karam KS. High-velocity penetrating wounds of the gravid uterus: review of 16 years of civil war. Obstet Gynecol. 1994;83:259–64.

Nagy KK, Roberts RR, Joseph KT, Smith RF, An GC, Bokhari F, Barrett J. Experience with over 2500 diagnostic peritoneal lavages. Injury. 2000;31:479–82.

Visser BC, Glasgow RE, Mulvihill KK, Mulvihil SJ. Safety and timing of nonobstetrical abdominal surgery in pregnancy. Dig Surg. 2001;18:409–17.

Morris JA, Rosenbower TJ, Jurkovich GJ, Hoyt DB, Harviel JD, Knudson MM, et al. Infant survival after cesarean section for trauma. Ann Surg. 1996;223(5):481–91.

Moise KJ, Belfort MA. Damage control for the obstetric patient. Surg Clin North Am. 1997;77(4):835–52.

Sperry JL, Casey BM, McIntire DD, Minei JP, Gentilello LM, Shafi S. Long-term fetal outcomes in pregnant trauma patients. Am J Surg. 2006;192:715–21.

Theodorou DA, Velmahos GC, Souter I, Chan LS, Vassiliu P, Tatevossian R, et al. Fetal death after trauma in pregnancy. Am Surg. 2000;66(9):809–12.

Connolly AM, Katz VL, Bash KL, McMahon MJ, Hansen WF, et al. Trauma and pregnancy. Am J Perinatol. 1997;14(6):331–6.

Curet MJ, Schermer CR, Demarest GB, Bieneik EJ, Curet LB. Predictors of outcome in trauma during pregnancy: identification of patients who can be monitored for less than 6 hours. J Trauma. 2000;49(1):18–24. discussion 24-25.

Brown HL. Trauma in pregnancy. Obstet Gynecol. 2009;114(1):147–60.

Henderson SO, Mallon WK. Trauma in pregnancy. Emerg Clin North Am. 1998;16:209–28.

Mirza FG, Devine PC, Gaddipati S. Trauma in pregnancy: a systematic approach. Am J Perinatol. 2010;27(7):579–86.

Glantz C, Purnell L. Clinical utility of sonography in the diagnosis and treatment of placental abruption. J Ultrasound Med. 2002;21(8):837–40.

ACOG Committee on Obstetric Practice Opinion Number 299: Guidelines for Diagnostic Imaging During Pregnancy. 104(3): 647–51. September 2004. Available from:http://www.acog.org/~/media/Committee%20Opinions/Committee%20on%20Obstetric%20Practice/co299.pdf?dmc=1&ts=20130607T0151264793

American College of Radiology-Society for Pediatric Radiology Practice Guideline for Imaging Pregnant or Potentially Pregnant Adolescents and Women with Ionizing Radiation. Practice Guideline, revised 2013. Available from: http://www.acr.org/~/media/9e2ed55531fc4b4fa53ef3b6d3b25df8.pdf

Wieseler KM, Bhargava P, Kanal KM, Vaidya S, Stewart BK, Dighe MK. Imaging in pregnant patients: examination appropriateness. Radiographics. 2010;30:1215–33.

Tien HC, Tremblay LN, Rizoli SB, Gelberg J, Spencer F, Caldwell C, et al. Radiation exposure from diagnostic imaging in severely injured trauma patients. J Trauma. 2007;62(1):151–6.

Doll R, Wakeford R. Risk of childhood cancer from foetal irradiation. Br J Radiol. 1997;70:130–9.

American College of Radiology Committee on Drugs and Contrast Media. ACR Manual on Contrast Media Version 9, revised 2013. Available from:http://www.acr.org/~/media/ACR/Documents/PDF/QualitySafety/Resources/Contrast%20Manual/2013_Contrast_Media.pdf.

Wei SH, Helmy M, Cohen AJ. CT evaluation of placental abruption in pregnant trauma patients. Emerg Radiol. 2009;16(5):365–73.

Manriquez M, Srinivas G, Bollepalli S, Britt L, Drachman D. Is computed tomography a reliable diagnostic modality in detecting placental injuries in the setting of acute trauma? Am J Obstet Gynecol. 2010;202(6):611.e1–5.

Kopelman TR, Berardoni NE, Manriquez M, Gridley D, Vail SJ, Pieri PG, et al. The ability of computed tomography to diagnose placental abruption in the trauma patient. J Trauma Acute Care Surg. 2013;74:236–41.

Richards JR, Ormsby EL, Romo MV, Gillen MA, McGahan JP. Blunt abdominal injury in the pregnant patient: detection with us. Radiology. 2004;233(2):463–70.

Koninckx PR, Renaer M, Brosens IA. Origin of peritoneal fluid in women: an ovarian exudation product. Br J Obstet Gynaecol. 1980;87(3):177–83.

Hussain ZJ, Figueroa R, Budorick NE. How much free fluid can a pregnant patient have? Assessment of pelvic free fluid in pregnant patients without antecedent trauma. J Trauma. 2011;70(6):1420–3.

Katz V, Dotters DJ, Droegemueller W. Perimortem cesarean delivery. Obstet Gynecol. 1986;68:571.

Katz V, Balderston K, DeFreest M. Perimortem cesarean delivery: were our assumptions correct? Am J Obstet Gynecol. 2005;192:1916–21.

Strong Jr TH, Lowe RA. Perimortem cesarean section. Am J Emerg Med. 1989;7:489–94.

Ueland K, Akamatsu TJ, Eng M, Bonica JJ, Hansen JM. Maternal cardiovascular hemodynamics: VI. Cesarean section under epidural anesthesia without epinephrine. Am J Obstet Gynecol. 1972;114:775–80.

Page-Rodriguez A, Gonzalez-Sanchez JA. Perimortem cesarean section of twin pregnancy: case report and review of the literature. Acad Emerg Med. 1999;6:1072–4.

Phelan HA, Roller J, Minei JP. Perimortem cesarean section after utilization of surgeon-performed trauma ultrasound. J Trauma. 2008;64:E12–4.

Katz VL. Perimortem cesarean delivery: its role in maternal mortality. Semin Perinatol. 2012;36(1):68–72.

Vanden Hoek TL, Morrison LJ, Shuster M, Donnino M, Sinz E, Lavonas EJ, et al. Part 12: Cardiac arrest in special situations: 2010 American Heart Association Guidelines for Cardiopulmonary Resuscitation and Emergency Cardiovascular Care. Circulation. 2010;122:S829–61.

Soar J, Perkins GD, Abbas G, Alfonzo A, Barelli A, Bierens JJLM, et al. European Resuscitation Council Guidelines for Resuscitation 2010 Section 8: cardiac arrest in special circumstances: electrolyte abnormalities, poisoning, drowning, accidental hypothermia, hyperthermia, asthma, anaphylaxis, cardiac surgery, trauma, pregnancy, electrocution. Resuscitation. 2010;81(10):1400–33.

Barraco RD, Chiu WC, Clancy TV, Como JJ, Ebert JB, Hess W, et al. Practice management guidelines for the diagnosis and management of injury in the pregnant patient: the EAST Practice Management Guidelines Work Group. J Trauma. 2010;69:211–4.

Copobianco G, Balata A, Mannazzu MC, Oggiano R, Pinna Nossai L, Cherchi PL, et al. Perimortem cesarean delivery 30 minutes after a laboring patient jumped from a fourth-floor window: baby survives and is normal at age 4 years. Am J Obstet Gynecol. 2008;198(1):e15–6.

Guven S, Yazar A, Yakut K, Aydogan H, Erguven M, Avci E. Postmortem cesarean: report of our successful neonatal outcomes after severe trauma during pregnancy and review of the literature. J Matern Fetal Neonatal Med. 2012;25(7):1102–4.

Auforth R, Edhayan E, Dempah D. Should pregnancy be sole criterion for trauma code activation: a review of the trauma registry. Am J Surg. 2010;199(3):387–90.

Greene W, Robinson L, Rizzo AG, Sakran J, Hendershot K, Moore A, et al. Pregnancy is not a sufficient indicator for trauma team activation. J Trauma. 2007;63(3):550–5.

Advances in Labour and Risk Management (ALARM). Available from: http://sogc.org/events/advances-in-labour-and-risk-management/welcome/

Managing Obstetric Emergencies and Trauma (MOET). Advanced Life Support Group. Available from: http://www.alsg.org/uk/MOET

Advanced Life Support in Obstetrics (ALSO). Available from: http://www.aafp.org/about/initiatives/also.html

Managing Obstetrical Risk Efficiently (MOREOB®). Salus Global Corporation. Available:http://moreob.com

Dijkman A, Huisman CM, Smit M, Schutte JM, Zwart JJ, van Roosmalen JJ, et al. Cardiac arrest in pregnancy: increasing use of perimortem cesarean section due to emergency skills training? BJOG. 2010;117:282–7.

Daniels K, Lipman S, Harney K, Arafeh J, Druzin M. Use of simulation based team training for obstetric crises in resident education. Simul Healthc. 2008;3:154–60.

Robertson B, Schumacher L, Gosman G, Kanfer R, Kelley M, DeVita M. Simulation-based crisis team training for multidisciplinary obstetric providers. Simul Healthc. 2009;4:77–83.

Daniels K, Arafeh J, Clark A, Waller S, Druzin M, Chueh J. Prospective randomized trial of simulation versus didactic teaching for obstetrical emergencies. Simul Healthc. 2010;5:40–5.

British Columbia Ministry of Health Services Policy Communique. Standardized Hospital Colour Codes. January 21, 2011. Available from: http://www.health.gov.bc.ca/emergency/pdf/standardized-hospital-colour-codes.pdf

Al Kadri HMF. Obstetric medical emergency teams are a step forward in maternal safety! J Emerg Trauma Shock. 2010;3(4):337–41.

McCollough CH, Schueler BA, Atwell TD, Braun NN, Regner DM, Brown DL, et al. Radiation exposure and pregnancy: when should we be concerned? Radiographics. 2007;27:909–18.
Copyright information
© 2016 Springer International Publishing Switzerland
About this chapter
Cite this chapter
Eiriksson, L.R., Engels, P.T. (2016). Trauma in Pregnancy. In: Gillman, L., Widder, S., Blaivas MD, M., Karakitsos, D. (eds) Trauma Team Dynamics. Springer, Cham. https://doi.org/10.1007/978-3-319-16586-8_19
DOI: https://doi.org/10.1007/978-3-319-16586-8_19

Publisher Name: Springer, Cham

Print ISBN: 978-3-319-16585-1

Online ISBN: 978-3-319-16586-8

eBook Packages: MedicineMedicine (R0)