Abstract
The relevant pathomechanics that have led to digital contracture have already been discussed in a comprehensive manner in previous chapters. The focus of this case presentation is dedicated to the treatment of the deformity via arthrodesis as mediated with a poly-etheretherketone (PEEK) implant. The material merits of PEEK provide significant advantages over traditional Kirschner wires (K-wires) which are detailed within this chapter. In addition to the material advantages, we will highlight the benefits and techniques for the use of a contemporary implant that we have been using since 2012. The implant is a two-component design that enhances stability and reliability of digital arthrodesis. Although more costly, clinical outcomes have been more successful and consistent as compared to the percutaneous technique. The market has been flooded with digital implants that have emerged in recent years with many implants gaining significant acceptance. Although there are significant differences in these implants, the fact remains that if the cheap and simple K-wire approach was adequate, then why have so many implants emerged and remained relevant?
Keywords
Implant arthrodesis

Digital deformity

Hammertoe deformity

Poly-etheretherketone

PEEK

Allografts

Arthrodesis

Toe joint

Hammertoe syndrome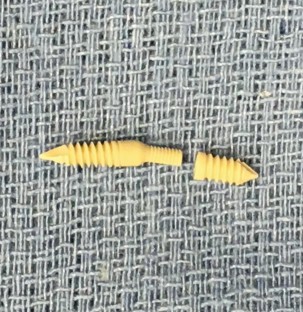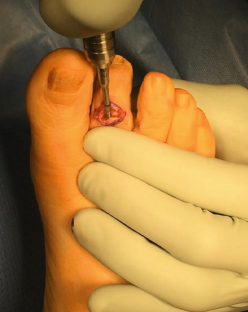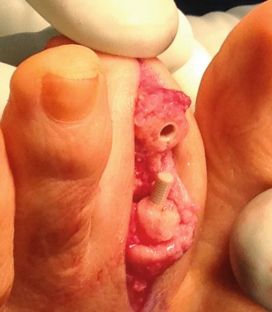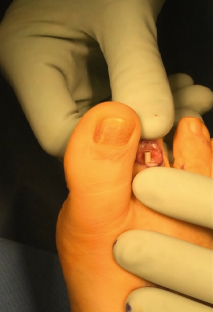 References
Ramakrishna S, Mayer J, Wintermantel E, Leong KW. Biomedical applications of polymer-composite materials: a review. Compos Sci Technol. 2001;61(9):1189–224.

Kurtz SM, Devine JN. PEEK biomaterials in trauma, orthopedic, and spinal implants. Biomaterials. 2007;28:4845–69. https://doi.org/10.1016/j.biomaterials.2007.07.013.

Panayotov IV, Orti V, Cuisinier F, et al. Polyetheretherketone (PEEK) for medical applications. J Mater Sci Mater Med. 2016;27:118. https://doi.org/10.1007/s10856-016-5731-4.

Edwards WH, Beischer AD. Interphalangeal joint arthrodesis of the lesser toes. Foot Ankle Clin. 2002;7(1):43–8.

O'Kane C, Kilmartin T. Review of proximal interphalangeal joint excisional arthroplasty for the correction of second hammer toe deformity in 100 cases. Foot Ankle Int. 2005;26(4):320–5.

Kramer WC, Parman M, Marks RM. Hammertoe correction with K-wire fixation. Foot Ankle Int. 2015;36(5):494–502.
Copyright information
© 2019 Springer Nature Switzerland AG
About this chapter
Cite this chapter
Cook, J.J., Cook, E.A. (2019). Proximal Interphalangeal Joint (PIPJ) Arthrodesis with a Poly-etheretherketone (PEEK) Implant. In: Cook, E., Cook, J. (eds) Hammertoes. Springer, Cham. https://doi.org/10.1007/978-3-319-16552-3_11
DOI: https://doi.org/10.1007/978-3-319-16552-3_11

Published:

Publisher Name: Springer, Cham

Print ISBN: 978-3-319-16551-6

Online ISBN: 978-3-319-16552-3

eBook Packages: MedicineMedicine (R0)