Abstract
Existing micro-grid design and planning approaches tend to emphasize techno-economic assessments and lack community engagement, necessary for effective planning and implementation. New approaches must be employed to not only include significant social impacts of micro-grids beyond technical components, but prioritize human development objectives, participation and capacity building. A newly proposed simulation gaming approach to micro-grid design provides an innovative, participatory tool and process that incorporates social, organizational, technical and financial factors for improved design and planning. Additionally, the approach represents an experiential learning and capacity building exercise that teaches shared resource management and collaborative decision-making.
Keywords
Energy design

Micro-grid planning

Participatory design

Simulation game

Capacity building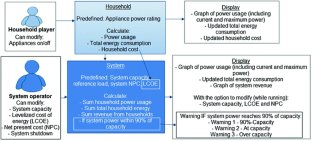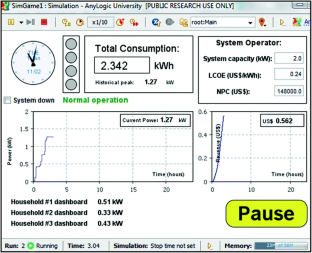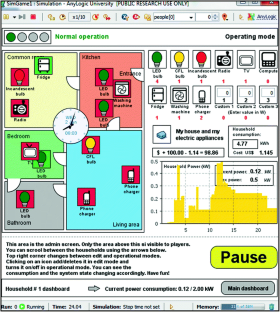 References
Abdullah, M. A. (2013, June). A participatory approach to rural energy systems: Design, planning and implementation (Master of Science Thesis). Abu Dhabi, UAE: Masdar Institute.

Brandt, E. (2006). Designing exploratory design games: A framework for participation in participatory design? In Proceedings of the ninth conference on participatory design: Expanding boundaries in design-Volume 1 (pp. 57–66).

Chua, A. Y. K. (2005). The design and implementation of a simulation game for teaching knowledge management. Journal of the American Society for Information Science and Technology, 56(11), 1207–1216. doi:10.1002/asi.20224.

Connolly, D., Lund, H., Mathiesen, B. V., & Leahy, M. (2010). A review of computer tools for analysing the integration of renewable energy into various energy systems. Applied Energy, 87(4), 1059–1082. doi:10.1016/j.apenergy.2009.09.026.

Cross, N., & Gaunt, C. T. (2003). Application of rural residential hourly load curves in energy modelling. In Proceedings of power tech conference, 2003 IEEE Bologna (Vol. 3, p. 4). doi:10.1109/PTC.2003.1304492.

Howells, M., Alfstad, T., Cross, N., Jeftha, L., & Goldstein, G. (2002). Rural energy modeling. Citeseer.
Acknowledgment
To Dénes Csala (Masdar Institute) for his invaluable contribution in coding the beta version and developing its multi-user networking functionality in AnyLogic, and providing technical support during the trial.
Copyright information
© 2015 Springer International Publishing Switzerland
About this paper
Cite this paper
Abdullah, M.A., Kennedy, S. (2015). A Simulation Gaming Approach to Micro-grid Design and Planning: Participatory Design and Capacity Building. In: Groh, S., van der Straeten, J., Edlefsen Lasch, B., Gershenson, D., Leal Filho, W., Kammen, D. (eds) Decentralized Solutions for Developing Economies. Springer Proceedings in Energy. Springer, Cham. https://doi.org/10.1007/978-3-319-15964-5_7
DOI: https://doi.org/10.1007/978-3-319-15964-5_7

Published:

Publisher Name: Springer, Cham

Print ISBN: 978-3-319-15963-8

Online ISBN: 978-3-319-15964-5

eBook Packages: EnergyEnergy (R0)