Abstract

There are boundaries in the ocean which are not fronts, such as the pycnocline, the interface of water with the air, the sediments or the ice. These boundaries pose distinctive biotic and abiotic conditions and are the preferred living space for certain groups of organisms. Due to the gravitational stratification, vertical scales in the sea are highly compressed relative to horizontal scales, so pycnoclines, and the interfaces between water and sediments; ice; and the atmosphere are all nearly horizontal edges having much larger horizontal scales than typical fronts. Most of these interfaces are layers of greatly reduced flows, weakening plankton dispersion. Life tends to congregate at boundaries and such non-frontal interfaces are places of locally elevated biological activity. However, non-frontal interfaces lack mechanisms that persistently bring nutrients to promote phytoplankton production. Fronts concentrate more biological productivity in narrower places, and their dynamics appear as more complex, characterized by intense three dimensional flows. Such complexity could explain the wider range of ecological properties of fronts compared to other interfaces.
Keywords
Thermocline

Halocline

Marine interfaces

Abiotic conditions

Plankton concentration

Benthic boundary layer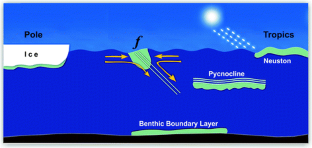 Notes
1.

In some cases tidal currents may cause oscillations of the pycnocline and waves that propagate along the interface.
About this chapter
Cite this chapter
Acha, E.M., Piola, A., Iribarne, O., Mianzan, H. (2015). Comparisons of Fronts with Other Boundaries at Sea. In: Ecological Processes at Marine Fronts. SpringerBriefs in Environmental Science. Springer, Cham. https://doi.org/10.1007/978-3-319-15479-4_5
DOI: https://doi.org/10.1007/978-3-319-15479-4_5

Published:

Publisher Name: Springer, Cham

Print ISBN: 978-3-319-15478-7

Online ISBN: 978-3-319-15479-4