Abstract

The field of "digital humanities" is about using the latest digital methodologies in order to tackle humanities disciplines and social sciences questions. The ARCHIVES project belongs to this new research area. It proposes a methodology to build agent-based models of historical events, in particular crisis events, in order to answer new questions about them or explore them in new ways. In this paper, we present the first implementation of ARCHIVES on the case study of the management of floods in Hà Nội (Việt Nam) in 1926. We show how we collected, digitized and indexed numerous historical documents from various sources, built a historical geographic information system to represent the environment and flooding events and finally designed an agent-based model of human activities in this reconstructed environment. We then show how this model helped us understanding the decisions made by the different actors during this event, testing multiple scenarios and answering several questions concerning the management of the flooding events.
Keywords
Agent-based model

Historical geographic information systems

Historical event simulation

Crisis management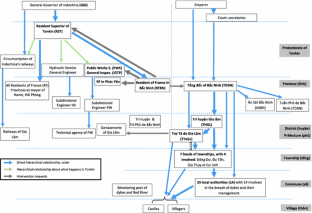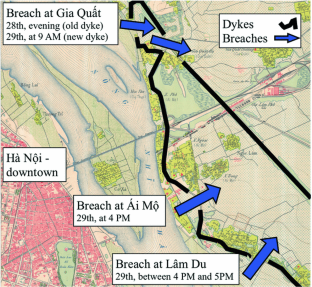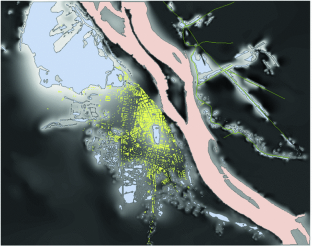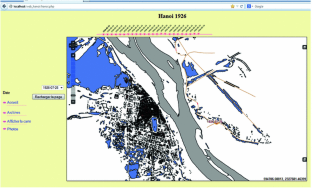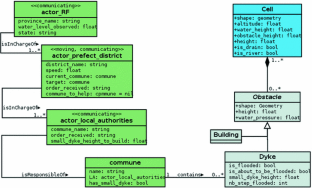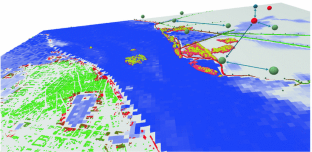 References
Dean, J.S., Gumerman, G.J., Epstein, J.M., Axtell, R.L., Swedlund, A.C., Parker, M.T., McCarroll, S.: Understanding Anasazi culture change through agent-based modeling. In: Kohler, T.A., Gummerman, G.J. (eds.) Dynamics in Human and Primate Societies, pp. 179–205. Oxford University Press, New York (2000)

Foundation for Intelligent Physical Agents. FIPA Communicative Act Library Specification (2002). http://www.fipa.org/repository/aclspecs.html

Gourou, P.: Les paysans du delta tonkinois. Publications de l'Ecole Française d'Extrême Orient, Les Editions d'art et d'histoire, Paris (1936)

Grignard, A., Taillandier, P., Gaudou, B., Vo, D.A., Huynh, N.Q., Drogoul, A.: GAMA 1.6: advancing the art of complex agent-based modeling and simulation. In: Boella, G., Elkind, E., Savarimuthu, B.T.R., Dignum, F., Purvis, M.K. (eds.) PRIMA 2013. LNCS, vol. 8291, pp. 117–131. Springer, Heidelberg (2013)

Heckbert, S.: MayaSim: an agent-based model of the ancient maya social-ecological system. J. Artif. Soc. Soc. Simul. 16(4), 11 (2013)

Moss, S., Edmonds, B.: Towards good social science. J. Artif. Soc. Soc. Simul. 8(4), 13 (2005)

Tessier, O.: Outline of the process of red river hydraulics development during the nguyen dynasty. Environ. Change Agric. Sustain. Econ. Dev. Mekong Delta 45, 45–68 (2011)

Tessier, O.: Hydrological development of the red river delta: a historical perspective of the role of the imperial then colonial state (From the XIIth century to the first half of the XXth century). In: Lagrée, S. (ed.) Water and its Many Issues. Methods and Cross-cutting Analysis, Regional Social Sciences Summer University, chapter 1.6, pp. 130–154. Journées de Tam Dao (2013)
Acknowledgements

The ARCHIVES Project is funded by the University of Science and Technology of Hà Nội and has been supported by the summer university "Les Journées de Tam Dao". Authors would like to thank institutions that have provided the historical and geographical documents: the National Archives Center #1 (Hà Nội, Việt Nam), the French mapping agency, IGN (Paris, France) and the French School of Asian Studies, EFEO (Hà Nội, Việt Nam).
Copyright information

© 2015 Springer International Publishing Switzerland
About this paper
Cite this paper
Gasmi, N. et al. (2015). Reproducing and Exploring Past Events Using Agent-Based Geo-Historical Models. In: Grimaldo, F., Norling, E. (eds) Multi-Agent-Based Simulation XV. MABS 2014. Lecture Notes in Computer Science(), vol 9002. Springer, Cham. https://doi.org/10.1007/978-3-319-14627-0_11
DOI: https://doi.org/10.1007/978-3-319-14627-0_11

Published:

Publisher Name: Springer, Cham

Print ISBN: 978-3-319-14626-3

Online ISBN: 978-3-319-14627-0

eBook Packages: Computer ScienceComputer Science (R0)