Abstract
Hungary is a society that has gone through profound social, political and economical changes in the last two decades. In the transition of post-communist states to market economy, competition has been a key concept. Since 1989, competition, a previously ideologically denied and banned phenomenon, has become a highly required and praised one at all levels of the society, from politics to everyday individual life in Hungary. The state-socialist concept of gender equality during the socialist system that was limited to women's and men's equal labour force participation may have resulted in the fact that Hungary proved to be the most gender egalitarian in the societal practice among 62 countries within the GLOBE Study.
This chapter presents a summary of gender-related research in Hungary. It focuses on masculinity and femininity and how women and men in the competitive Hungarian society are seen as competitors. It presents the results of two studies: a study with university students that revealed how the respondents see themselves and the ideal man and woman along a series of characteristics including competition. The second study is an in-depth interview study carried out among men and women in leadership positions in the Hungarian business world about the perception of gender differences among the female and male leaders.
The studies demonstrate that in spite of the gender-egalitarian labour force practice of the socialist system and the gender-egalitarian democratic discourse, young men still wish for a traditionally feminine woman and while young women find a more masculine woman ideal than they themselves are, at the same time they wish for a masculine man as well. The second study revealed that women's competition and competitive women evoke more tension and are seen in a more negative light than men's competition and competitive men in the business context.
Keywords
Competition

Gender stereotypes

Ideal man

Ideal woman

Leadership

Post-socialist society

Hungary

Gender egalitarianism

Masculinity

Femininity
While writing this chapter the first author, Márta Fülöp was supported by the following research grant: National Research Fund, K 104332.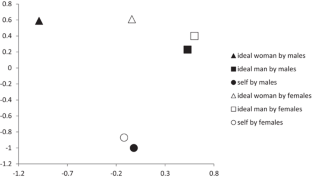 Notes
1.

Global Leadership and Organizational Behavior Effectiveness Research Program

2.

International Social Survey Programme

3.

4.

We translated the exact terms of the adjectives directly from German to English and did not use the translation that Sieverding (2002) later presented in English.
References
Ahlgren, A., & Johnson, D. W. (1979). Sex differences in cooperative and competitive attitudes from the 2nd through the 12th grades. Developmental Psychology, 15(1), 45–49.

Best, D. (2003).Gender Stereotypes. In C.R. Ember & M. Ember (Eds.), Encyclopedia of sex and gender (pp. 11–23). New York: Kluwer.

Budavári, R. (2008). Férfi. NÓ§. EgyenlÓ§? Avagy férfiak és nÓ§k közti esélyegyenlÓ§ség a magyar foglalkoztatásban. [Man. Woman. Equal? Equal chances of men and women in the Hungarian labour market] M.A. Thesis, Budapest: Corvinus University.

Buss, D. M. (1999). Evolutionary psychology: The new science of mind. Boston: Allyn and Bacon.

Cashdan, E. (1998). Are men more competitive than women? British Journal of Social Psychology, 37(2), 213–229.

Eagly, A. H. (1997). Sex differences in social behavior: Comparing social role theory and evolutionary psychology. American Psychologist, 52(12), 1380–1383.

Ellemers, N., Heuvel, H., Gilder, D., Maass, A., & Bonvini, A. (2004). The underrepresentation of women in science: Differential commitment or the queen bee syndrome? British Journal of Social Psychology, 43(3), 315–338.

Emrich, C. G., Denmark, F. L., & Hartog, D. N. (2004). Cross-cultural differences in gender egalitarianism: Implications for societies, organizations, and leaders. In R. J. House, P. J. Hanges, M. Javidan, P. W. Dorfman, & V. Gupta (Eds.), Culture, leadership, and organizations: The GLOBE Study of 62 societies (pp. 343–394). Thousand Oaks: Sage.

Fiske, S. T., Cuddy, A. J., Glick, P., & Xu, J. (2002). A model of (often mixed) stereotype content: Competence and warmth respectively follow from perceived status and competition. Journal of Personality and Social Psychology, 82(6), 878–902.

Fodor, É. (2004). The state socialist emancipation project: Gender inequality in workplace authority in Hungary and Austria. Signs, 29(3), 783–813.

Fülöp, M. (2005). The development of social, economical, political identity among adolescents in the post-socialist countries of Europe. In M. Fülöp, A. Ross (Eds.), Growing up in Europe today: Developing identities among adolescents (pp. 11–39). Stoke-on-Trent: Trentham Books.

Fülöp, M. (2012). Female and competitive in Japan. In A. M. Tuncoku (Eds.), Studies on women's education in Turkey and Japan for social development. Panels and research findings (pp. 288–327). Ankara: Positif Matbaa.

Geary, D. C. (1998). Male, female: The evolution of human sex differences. Washington, DC: American Psychological Association.

Hawley, P. H. (1999). The ontogenesis of social dominance: A strategy-based evolutionary perspective. Developmental Review, 19, 97–132.

Hawley, P. H., Little, T. D., & Card, N. A. (2008). The myth of the alpha male: A new look at dominance-related beliefs and behaviors among adolescent males and females. International Journal of Behavioral Development, 32(1), 76–88.

Hofstede, G. (1980). Culture's consequences: International differences in work-related values. Beverly Hills: Sage.

Hofstede, G. (2001). Culture's consequences (2nd ed.). Thousand Oaks: Sage.

House, R. J., Hanges, P. J., Javidan, M., Dorfman, P. W., & Gupta, V. (Eds.). (2004). Culture, leadership, and organizations: The GLOBE study of 62 societies. Thousand Oaks: Sage.

Hughes, L. A. (1988). "But that's not really mean": Competing in a cooperative mode. Sex Roles, 19(11–12), 669–687.

Hunyady, Gy. (1996). Sztereotípiák a változó közgondolkodásban. [Stereotypes in the changing public discourse]. Budapest: Akadémiai Kiadó.

Kende, J. (2000). Család és/vagy karrier. Fiatal nÓ§i életutak szociális konstrukciós megközelítésben. [Family and/or career. Social constructionist approach to young females' life courses], Magyar Pszichológiai Szemle, 87–111.

Nagy, B. (2001). NÓ§i menedzserek [Women managers]. Budapest: Aula

Nagy, B. (2005). NÓ§k a vezetésben. [Women in management.] In I. Nagy, T. Pongrácz, & I. G. Tóth (Eds.), Szerepváltozások: Jelentés a nÓ§k és férfiak helyzetérÓ§l 2005 (pp. 44–56). Budapest: TÁRKI—ICSSZEM.

Nagy, B. (2010). Obstacles and supports in women's career. In A. Chybicka, S. Safdar, & A. Kwiatkowska (Eds), Culture and gender: An intimate relation (pp. 195–208). Gdansk: GWP.

Nagy, B. (2012). Women in management—the Hungarian case. In C. Fagan, G. María, & A. S. Gómez. (Eds.), Women on corporate boards and in top management: European trends and policy (pp. 221–244). Hampshire: Palgrave Macmillan.

Nagy, B., Vicsek, L. (2008). The evaluation of male and female managers in a local municipality of Hungary. Gender in Management: An International Journal, 23(1), 36–50.

Neményi M. (1996). The Social Construction of Women's Roles in Hungary. Replika, Special Issue, 83–90.

Nguyen Luu, L. A. (2001). Nemi sztereotípiák változása a kilencvenes években. [Changes in gender stereotypes in the nineties] In G. Hunyady & L. A. Nguyen Luu (Eds.), Sztereotípiakutatás. (pp. 437–447). Budapest: ELTE Eötvös Kiadó.

Niederle, M., & Vesterlund, L. (2005). Do women shy away from competition? Do men compete too much? The Quarterly Journal of Economics, 122(3), 1067–1101.

Pongrácz, T. (2001). A család és a munka szerepe a nÓ§k életében. [The role of the family and the work in women's life.] In I. Nagy, T. Pongrácz, & I. G. Tóth (Eds.) Szerepváltozások: Jelentés a nÓ§k és férfiak helyzetérÓ§l 2001 (pp. 30–45). Budapest: TÁRKI—SZCSM.

Pongrácz, T., & S. Molnár, E. (2011). Nemi szerepek és a közvélemény változásának kölcsönhatása. [The relation of gender roles and the changes in public opinion] In I. Nagy & T. Pongrácz (Eds.) Szerepváltozások. Jelentés a nÓ§k és férfiak helyzetérÓ§l 2011 (pp. 192–206). Budapest: TÁRKI—Nemzeti ErÓ§forrás Minisztérium.

Riskind, J. H., & Wilson, D. W. (1982). Interpersonal attraction for the competitive person: Unscrambling the competition paradox. Journal of Applied Social Psychology, 12, 444–452.

Rudman, L. A., & Fairchild, K. (2004). Reactions to counterstereotypic behavior: The role of backlash in cultural stereotype maintenance. Journal of Personality and Social Psychology, 87(2), 157–176.

Rutter, A., & Hine, D. W. (2005). Sex differences in workplace aggression: An investigation of moderation and mediation effects. Aggressive Behavior, 31(3), 254–270.

Sandberg, S. (2013). Lean in. New York: Alfred A. Knoff.

Savin-Williams, R.C. (1987). Adolescence: An ethological perspective. New York: Springer.

Sieverding, M. (1997). Die Bedeutung von Prototype-Matching für präventives Verhalten: Ist die Teilnahme an Streßbewältigungskursen "unmännlich"? Zeitschrift für Gesundheitspsychologie, 5, 272–289.

Sieverding, M. (2002). Gender and health-related attitudes: The role of a "macho" self-concept. In G. Weidner, S. M. Kopp, & M. Kristenson (Eds.), Heart Disease: Environment, Stress and Gender. NATO Science Series, Series I: Life and Behavioural Sciences, 327 (pp. 237–250). Amsterdam: IOS Press.

Simmons, R. (2002). Odd girl out: The hidden culture of aggression in girls. New York: Houghton Mifflin Harcourt.

Spéder, Z., & Kapitány, B. (2013). Failure to realize fertility intentions: A key aspect of the post-communist fertility transition. population research and policy review, 33(3), 393–418.

Staines, G., Tavris, C., & Jayaratne, T. E. (1974). The queen bee syndrome. Psychology Today, 7(8), 55–60.

Takács, J. (2008). Ha a mosogatógép nem lenne, már elváltunk volna…Férfiak és nÓ§k otthoni munkamegosztása európai összehasonlításban, [If there was no washing machine we would have already divorced…Household chores distribution between men and women in European comparison ]. Esély, 19(6):51–73.

Tóth, O. (2004). The Hungarian Family. In M. Bobila (Eds.) Families in Eastern Europe (pp. 121–139). New York: Elsevier.

Tóth O, Dupcsik C. (2007). Családok és formák. Változások az utóbbi ötven évben Magyarországon. [Families and forms. Changes in the last 50 years in Hungary]. Demográfia, 50(4), 430–437.

Tóth, O., Somlai, P. (2004). Families in Hungary. In B. N. Adams, & J. Trost (Eds.), Handbook of World Families (pp. 313–329). London: Sage.

Tracy, L. (1991). The secret between us: Competition among women. New York: Little, Brown and Company.

Van de Vliert, E. (1998). Gender role gaps, competitiveness and temperature. In G. Hofstede (Ed.), Masculinity and femininity. The taboo dimension of national cultures (pp. 117–129). Thousand Oaks: Sage.

Van de Vliert, E., & Janssen, O. (2002). Competitive societies are happy if women are less competitive than men. Cross-Cultural Research, 36(4), 321–337.

Wajcman, J. (1998). Managing like a man. Women and men in corporate management. Cambridge: Polity Press.

Williams, J. E., & Best, D. L. (1990a). Measuring sex stereotypes: A multination study. Thousand Oaks: Sage.

Williams, J. E., & Best, D. L. (1990b). Sex and psyche: Gender and self viewed cross-culturally. Newbury Park: Sage.
Copyright information
© 2015 Springer International Publishing Switzerland
About this chapter
Cite this chapter
Fülöp, M., Berkics, M. (2015). Perception of Gender Differences in Competition in the Post-Socialist Hungary. In: Safdar, S., Kosakowska-Berezecka, N. (eds) Psychology of Gender Through the Lens of Culture. Springer, Cham. https://doi.org/10.1007/978-3-319-14005-6_10