Abstract

Several towns over the whole world run the network of the station for rent a bike for municipal transport. The town Olomouc has good condition for bike transport. The town is flat, and private transport by bike is very often. There is the opportunity to prepare the network of bike rental station. The rent out the bike is assumed for daily transport of inhabitants or tourists and visitors. The presented study shows the analysis of optimal placement of the rental station in Olomouc. The spatial analysis is based on data about street lines, cycling lines and numbers of inhabitants and others. Extension Network Analyst for ArcGIS was used for location and allocation analyses. Moreover, the suggestion of capacities (number of position for bikes) for each station was calculated. The result is two variants for 3 and 4 min walking time to the rental station.
Keywords
Rental station

Cycling

Location analysis

Allocation analysis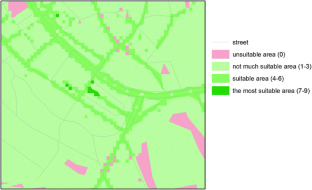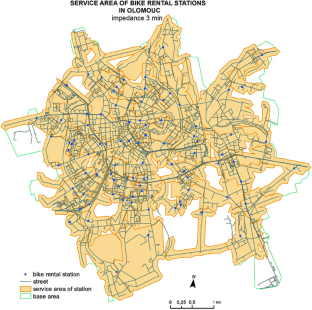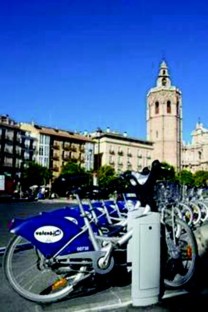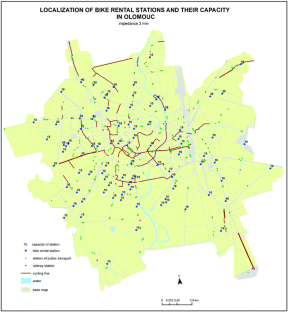 References
Chen F (2011) A GIS suitability model on optimal locations for bike-sharing stations: a case study in the city of San Francisco. http://www.ocf.berkeley.edu/~fncchen/portfolio/%5BPAPER%5D%20A%20GIS%20Suitability%20Model%20on%20Optimal%20Locations%20for%20Bikesharing%20Stations.pdf. Accessed 7 Apr 2013

Martinez LM, Caetano L, Eiro T, Cruz F (2012) An optimization algorithm to establish the location of stations of a mixed fleet biking system: an application to the city of Lisbon. Conference EWGT, Paris, 10–13 Sept. http://www.lvmt.fr/ewgt2012/compendium_109.pdf. Accessed 8 Apr 2013

Wuerzer T, Mason S, Youngerman R (2012) Boise bike share location analysis. http://sspa.boisestate.edu/planning/files/2012/12/Boise-Bike-Share-Location-Analysis.pdf. Accessed 8 Apr 2013

Ajuntament de Valencia (2013) Valenbisi, En Valencia, di sí a la bici. http://www.valenbisi.com/. Accessed 7 Oct 2013

Sedlák P, Komárková J, Jedlička M, Hlásný R, Černovská I (2010) Modelling of spatial analyses processes for purpose of detection of weak points in barrier-free environment. In: Narsingh D et al (ed) Applied computer science, Proceedings of international conference on ACS, WSEAS Press, Malta, pp 419–412

Midgley P (2011) Bicycle-sharing schemes: enhancing sustainable mobility in urban areas. http://www.un.org/esa/dsd/resources/res_pdfs/csd-19/Background-Paper8-P.Midgley-Bicycle.pdf. Accessed 10 Apr 2013

Bike Share Program Investigation (2009) Phase 1 report: best practices investigation final report. http://www.smartcommute.ca/media/uploads/pdf/bike_share_best_practices_2009.pdf. Accessed 10 Apr 2013

Hýbner R (2013) Návrh optimálního rozmístění stanic půjčoven kol a jejich kapacit v Olomouci (Design of the optimal placement of the bike rental stations and their capacities in Olomouc) diploma thesis, Department of geoinformatics. Palacký University, Olomouc

Burian J, Brus J, Vozenilek V (2013) Development of Olomouc city in 1930–2009: based on analysis of functional areas. J Map 9(1):64–67

Dobesova Z, Dobes P (2012) Comparison of visual languages in geographic information systems. Erwing M, Stapleton G, Costagliola G (eds) Proceedings of IEEE symposium on visual languages and human centric computing, VL/HCC 2012 IEEE, Innsbruck, p 245

Dobesova Z (2013) Using the "Physics" of notation to analyse ModelBuilder diagrams. In: Proceedings of SGEM 2013 13th international multidisciplinary scientific geoconference, vol 1, STEF92 Technology Ltd., Sofia, pp 595–602

Valchařová D (2012) Alokační a lokační analýzy města Olomouce. (Location and allocation analyses in town Olomouc) diploma thesis, Department of geoinformatics, Palacký University, Olomouc
Acknowledgments

Work was supported by the project CZ.1.07/2.3.00/20.0166.
Copyright information

© 2015 Springer International Publishing Switzerland
About this chapter
Cite this chapter
Dobešová, Z., Hýbner, R. (2015). Optimal Placement of the Bike Rental Stations and Their Capacities in Olomouc. In: Ivan, I., Benenson, I., Jiang, B., Horák, J., Haworth, J., Inspektor, T. (eds) Geoinformatics for Intelligent Transportation. Lecture Notes in Geoinformation and Cartography. Springer, Cham. https://doi.org/10.1007/978-3-319-11463-7_4
DOI: https://doi.org/10.1007/978-3-319-11463-7_4

Published:

Publisher Name: Springer, Cham

Print ISBN: 978-3-319-11462-0

Online ISBN: 978-3-319-11463-7