Wrist – Digit II, Palm – Digit II
Surface Recording Technique, Antidromic Study
Original Settings
Sensitivity was 10 μV/division, low-frequency filter was 20 Hz, high-frequency filter was 5 kHz, sweep speed was 1 ms/division, and the machine used was a Dantec Counterpoint. Duration of pulse and rate of pulse were not specified.
Position
This study was performed in the supine position.
Recording
Following the antidromic method [
1
], signals were recorded from digit II (index finger) using ring electrodes. The active electrode (A) was placed around the base of digit II; the reference (R) was placed 4 cm distally, on the same finger (Fig.
1
). Ground (G) electrode was placed on the dorsum of the hand (the authors used 3 cm disk electrode). The figure shows the ground electrode positioned on the palm.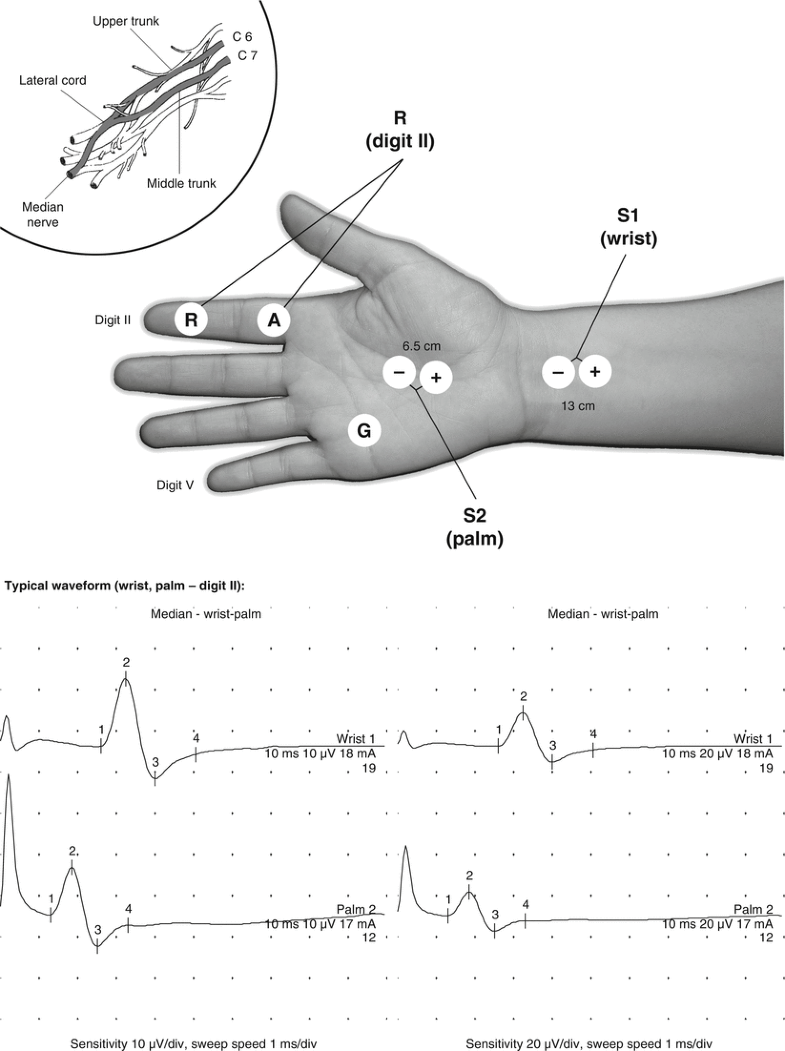 References
1.

Lesser EA, Venkatesh S, Preston D et al (1995) Stimulation distal to the lesion in patients with carpal tunnel syndrome. Muscle Nerve 18:503–507

PubMed

CrossRef

Google Scholar

2.

Di Guglielmo G, Torrieri F, Repaci M et al (1997) Conduction block and segmental velocities in carpal tunnel syndrome. Electroencephalogr Clin Neurophysiol 105:321–327

PubMed

CrossRef

Google Scholar

3.
Copyright information
© Springer International Publishing Switzerland 2015