Elbow – Wrist
Surface Recording Technique, Antidromic Study
Original Settings
Sensitivity was 20 μV/division, low-frequency filter was 20 Hz, high-frequency filter was 10 kHz, sweep speed was 1 ms/division, and the machine used was a TECA (model was not specified). Duration and rate of pulse were not specified.
Position
This study was performed in the supine position, with the elbow and fingers slightly flexed.
Recording
Following the antidromic method [
1
], signals were recorded distally from the elbow at the wrist (R). A pair of 8-mm disc surface electrodes was placed proximal to the wrist crease; the active recording electrode (A) was placed 4 cm proximal to the wrist crease (Fig.
1
). The ground (G) electrode position was not specified; it can be placed over the skin of the forearm (between the stimulating and the recording electrodes) or on the dorsum of the hand (the figure shows the ground electrode placed over the forearm).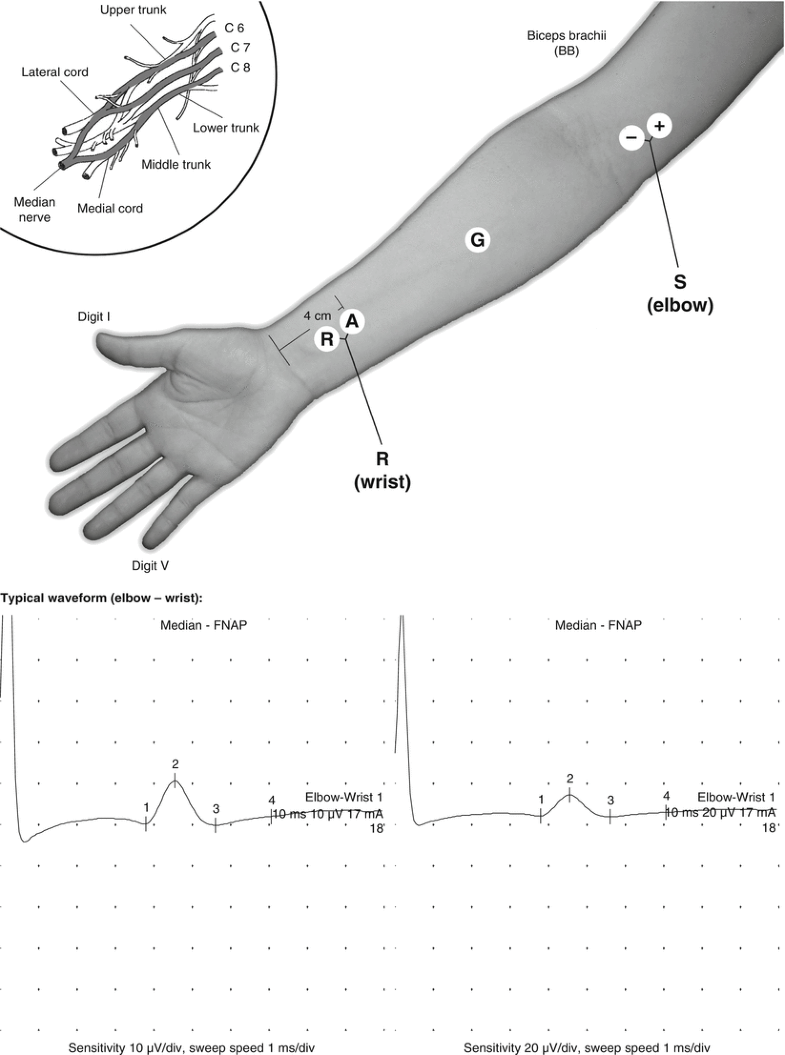 References
1.

Pease WS, Lee HH, Johnson EW (1990) Forearm median nerve conduction velocity in carpal tunnel syndrome. Electromyogr Clin Neurophysiol 30:299–302

PubMed

Google Scholar

2.

Melvin JL, Schuchmann JA, Lanese RR (1973) Diagnostic specificity of motor and sensory nerve conduction variables in the carpal tunnel syndrome. Arch Phys Med Rehabil 54:69–74

PubMed

Google Scholar

3.
Copyright information
© Springer International Publishing Switzerland 2015