Abstract

In recent years we have been witnessing an increase in the need for advanced bibliometric indicators for individual researchers and research groups, for which author disambiguation is needed. Using the complete population of university professors and researchers in the Canadian province of Québec (N = 13,479), their papers as well as the papers authored by their homonyms, this paper provides evidence of regularities in researchers' publication patterns. It shows how these patterns can be used to automatically assign papers to individuals and remove papers authored by their homonyms. Two types of patterns were found: (1) at the individual researchers' level and (2) at the level of disciplines. On the whole, these patterns allow the construction of an algorithm that provides assignment information for at least one paper for 11,105 (82.4 %) out of all 13,479 researchers—with a very low percentage of false positives (3.2 %).
Keywords
Individual Researcher

Bibliometric Data

Reference Index

Light Zone

Publication Pattern
These keywords were added by machine and not by the authors. This process is experimental and the keywords may be updated as the learning algorithm improves.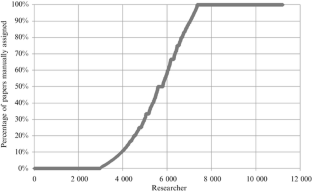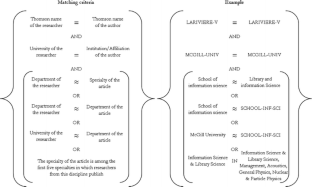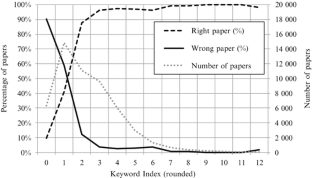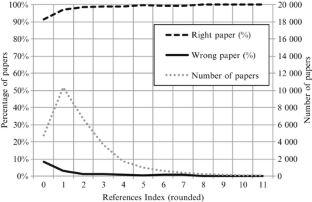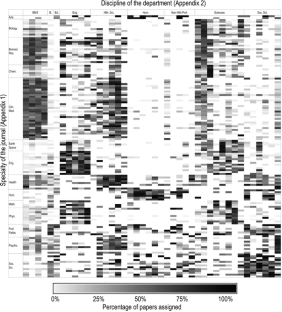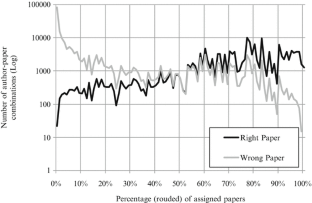 Notes
1.

The recent collection of Scientometrics papers dealing with individual researchers published by Academia Kiado (Braun, 2006) illustrates this trend: the study with the highest number of researchers included has less than 200. Similarly, notable studies in the sociology of science by Cole and Cole (1973), Merton (1973) and Zuckerman (1977) analyzed small datasets.

2.

Physics journals, for instance, often having very long author lists, only provide initial(s) of author(s) given name(s).

3.

4.

The bibliometric part of their paper used the Scopus database, which, contrary to Thomson Reuters' databases, links names of authors with institutional addresses for papers published since 1996.

5.

6.

7.

Thus, 2,256 of Quebec's researchers did not publish any papers during that period nor had any of their homonyms.

8.
References
Aksnes, D. W. (2008). When different persons have an identical author name. How frequent are homonyms? Journal of the American Society for Information Science and Technology, 59(5), 838–841.

Aswani, N., Bontcheva, K., & Cunningham, H. (2006). Mining information for instance unification. Lecture Notes in Computer Science, 4273, 329–342.

Barnett, G. A., & Fink, E. L. (2008). Impact of the internet and scholar age distribution on academic citation age. Journal of the American Society for Information Science and Technology, 59(4), 526–534.

Boyack, K. W., & Klavans, R. (2008). Measuring science–technology interaction using rare inventor–author names. Journal of Informetrics, 2(3), 173–182.

Braun, T. (Ed). (2006). Evaluations of Individual Scientists and Research Institutions: Scientometrics Guidebooks Series. Budapest, Hungary : Akademiai Kiado.

Campbell, D., Picard-Aitken, M., Côté, G., Caruso, J., Valentim, R., Edmonds, S., … & Archambault, É. (2010). Bibliometrics as a performance measurement tool for research evaluation: The case of research funded by the National Cancer Institute of Canada. American Journal of Evaluation, 31(1), 66–83.

Cole, J. R., & Cole, S. (1973). Social stratification in science. Chicago, IL: University of Chicago Press.

Cota, R. G., Ferreira, A. A., Nascimento, C., Gonçalves, M. A., & Laender, A. H. F. (2010). An unsupervised heuristic-based hierarchical method for name disambiguation in bibliographic citations. Journal of the American Society for Information Science and Technology, 61(9), 1853–1870.

Egghe, L. (2006). Theory and practice of the g-index. Scientometrics, 69(1), 131–152.

Enserink, M. (2009). Are you ready to become a number? Science, 323, 1662–1664.

Gingras, Y., Larivière, V., Macaluso, B., & Robitaille, J. P. (2008). The effects of aging on researchers' publication and citation patterns. PLoS One, 3(12), e4048.

Gurney, T., Horlings, E., & van den Besselaar, P. (2012). Author disambiguation using multi-aspect similarity measures. Scientometrics, 91(2), 435–449.

Han, H., Zha, H., & Giles, C. L. (2005). Name disambiguation in author citations using a K-way spectral clustering method. Proceedings of the 5th ACM/IEEE-CS Joint Conference on Digital libraries (pp. 334–343). Retrieved from http://clgiles.ist.psu.edu/papers/JCDL-2005-K-Way-Spectral-Clustering.pdf.

Hirsch, J. E. (2005). An index to quantify an individual's scientific research output. Proceedings of the National Academy of Science, 102(46), 16569–16572.

Jensen, P., Rouquier, J. B., Kreimer, P., & Croissant, Y. (2008). Scientists who engage in society perform better academically. Science and Public Policy, 35(7), 527–541.

Kang, I. S., Seung-Hoon, N., Seungwoo, L., Hanmin, J., Pyung, K., Won-Kyung, S., & Jong-Hyeok, L. (2009). On co-authorship for author disambiguation. Information Processing and Management, 45(1), 84–97.

Larivière, V., Macaluso, B., Archambault, E., & Gingras, Y. (2010). Which scientific elites? On the concentration of research funds, publications and citations. Research Evaluation, 19(1), 45–53.

Levin, M., Krawczyk, S., Bethard, S., & Jurafsky, D. (2012). Citation-based bootstrapping for large-scale author disambiguation. Journal of the American Society for Information Science and Technology, 63(5), 1030–1047.

Lewison, G. (1996). The frequencies of occurrence of scientific papers with authors of each initial letter and their variation with nationality. Scientometrics, 37(3), 401–416.

Merton, R. K. (1973). The sociology of science: Theoretical and empirical investigations. Chicago, IL: Chicago University Press.

Reijnhoudt, L., Costas, R., Noyons, E., Borner, K., & Scharnhorst, A. (2013). "Seed + Expand": A validated methodology for creating high quality publication oeuvres of individual researchers. arXiv preprint arXiv:1301.5177.

Schreiber, M. (2008). A modification of the h-index: The hm-index accounts for multi-authored manuscripts. Journal of Informetrics, 2(3), 211–216.

Smalheiser, N. R., & Torvik, V. I. (2009). Author name disambiguation. In B. Cronin (Ed.), Annual review of information science and technology (Vol. 43, pp. 287–313). Medford, NJ: ASIST and Information Today.

Torvik, V. I., Weeber, M., Swanson, D. R., & Smalheiser, N. R. (2005). Probabilistic similarity metric for Medline records: A model for author name disambiguation. Journal of the American Society for Information Science and Technology, 56(2), 140–158.

Wang, J., Berzins, K., Hicks, D., Melkers, J., Xiao, F., & Pinheiro, D. (2012). A boosted-trees method for name disambiguation. Scientometrics, 93(2), 391–411.

Wooding, S., Wilcox-Jay, K., Lewison, G., & Grant, J. (2006). Co-author inclusion: A novel recursive algorithmic method for dealing with homonyms in bibliometric analysis. Scientometrics, 66(1), 11–21.

Zhang, C. T. (2009). The e-index, complementing the h-index for excess citations. PLoS One, 5(5), e5429.

Zuckerman, H. A. (1977). Scientific elite: Nobel laureates in the United States. New York, NY: Free Press.
Appendices
Appendix 1: List of Disciplines Assigned to Journals
Arts

Fine Arts & Architecture

Performing Arts

Biology

Agricultural & Food Sciences

Botany

Dairy & Animal Science

Ecology Entomology

General Biology

General Zoology

Marine Biology & Hydrobiology

Miscellaneous Biology

Miscellaneous Zoology

Biomedical Research

Anatomy & Morphology

Biochemistry & Molecular Biology

Biomedical Engineering

Biophysics

Cellular Biology Cytology & Histology

Embryology

General Biomedical Research

Genetics & Heredity

Microbiology Microscopy

Miscellaneous Biomedical Research

Nutrition & Dietetic

Parasitology

Physiology

Virology

Chemistry

Analytical Chemistry

Applied Chemistry

General Chemistry

Inorganic & Nuclear Chemistry

Organic Chemistry

Physical Chemistry

Polymers

Clinical Medicine

Addictive Diseases

Allergy

Anesthesiology

Arthritis & Rheumatology

Cancer

Cardiovascular System

Dentistry

Dermatology & Venereal Disease

Endocrinology

Environmental & Occupational Health

Fertility

Gastroenterology

General & Internal Medicine

Geriatrics

Hematology

Immunology

Miscellaneous Clinical Medicine

Nephrology

Neurology & Neurosurgery

Obstetrics & Gynecology

Ophthalmology

Orthopedics

Otorhinolaryngology

Pathology

Pediatrics

Pharmacology

Pharmacy

Psychiatry

Radiology & Nuclear Medicine

Respiratory System

Surgery

Tropical Medicine

Urology

Veterinary Medicine

Earth and Space

Astronomy & Astrophysics

Earth & Planetary Science

Environmental Science

Geology

Meteorology & Atmospheric Science

Oceanography & Limnology

Engineering and Technology

Aerospace Technology

Chemical Engineering

Civil Engineering

Computers

Electrical Engineering & Electronics

General Engineering

Industrial Engineering

Materials Science

Mechanical Engineering

Metals & Metallurgy

Miscellaneous Engineering & Technology

Nuclear Technology

Operations Research

Health

Geriatrics & Gerontology

Health Policy & Services

Nursing

Public Health

Rehabilitation

Social Sciences, Biomedical

Social Studies of Medicine

Speech-Language Pathology and Audiology

Humanities

History

Language & Linguistics

Literature

Miscellaneous Humanities

Philosophy

Religion

Mathematics

Applied Mathematics

General Mathematics

Miscellaneous Mathematics

Probability & Statistics

Physics

Acoustics

Applied Physics

Chemical Physics

Fluids & Plasmas

General Physics

Miscellaneous Physics

Nuclear & Particle Physics

Optics

Solid State Physics

Professional Fields

Communication

Education

Information Science & Library Science

Law

Management

Miscellaneous Professional Field

Social Work

Psychology

Behavioral Science & Complementary Psychology

Clinical Psychology

Developmental & Child Psychology

Experimental Psychology

General Psychology

Human Factors

Miscellaneous Psychology

Psychoanalysis

Social Psychology

Social Sciences

Anthropology and Archaeology

Area Studies

Criminology

Demography

Economics

General Social Sciences

Geography

International Relations

Miscellaneous Social Sciences

Planning & Urban Studies

Political Science and Public Administration

Science studies

Sociology
Appendix 2: List of Disciplines Assigned to Departments
Basic Medical Sciences

General Medicine

Laboratory Medicine

Medical Specialties

Surgical Specialties

Business & Management

Education

Engineering

Chemical Engineering

Civil Engineering

Electrical & Computer Engineering

Mechanical & Industrial Engineering

Other Engineering

Health Sciences

Dentistry

Kinesiology/Physical Education

Nursing

Other Health Sciences

Public Health & Health Administration

Rehabilitation Therapy

Humanities

Fine & Performing Arts

Foreign Languages, Literature, & Linguistics

Area Studies

French/English

History

Philosophy

Religious Studies & Vocations

Non-health Professional

Law & Legal Studies

Library & Information Sciences

Media & Communication Studies

Planning & Architecture

Social Work

Sciences

Agricultural & Food Sciences

Biology & Botany

Chemistry

Computer & Information Science

Earth & Ocean Sciences

Mathematics

Physics & Astronomy

Resource Management & Forestry

Social Sciences

Anthropology, Archaeology, & Sociology

Economics

Geography

Other Social Sciences & Humanities

Political Science

Psychology
Copyright information

© 2014 Springer International Publishing Switzerland
About this chapter
Cite this chapter
Larivière, V., Macaluso, B. (2014). Researchers' Publication Patterns and Their Use for Author Disambiguation. In: Ding, Y., Rousseau, R., Wolfram, D. (eds) Measuring Scholarly Impact. Springer, Cham. https://doi.org/10.1007/978-3-319-10377-8_7
DOI: https://doi.org/10.1007/978-3-319-10377-8_7

Published:

Publisher Name: Springer, Cham

Print ISBN: 978-3-319-10376-1

Online ISBN: 978-3-319-10377-8

eBook Packages: Computer ScienceComputer Science (R0)