Abstract
Uterine leiomyomas or, as frequently called, fibroids or myomas, are the most common solid pelvic tumors of the genital tract in women. Because of their frequency and bothersome symptomatology, they represent an onerous condition for women that often need to be dealt with medically. The majority of symptomatic women may require surgical treatment, as most medical approaches available at present, have not been completely successful, particularly in the long term. The pathophysiology of these tumors needs to be carefully reviewed and understood by physicians caring for women afflicted with this condition, in order to provide the best therapeutic option. This chapter will summarize the important factors involved in the pathophysiology of these tumors.
Keywords
Uterine fibroids

Uterine myoma

Pathophysiology

Prevalence

Progesterone

Progestins

Estrogens

Clinical implications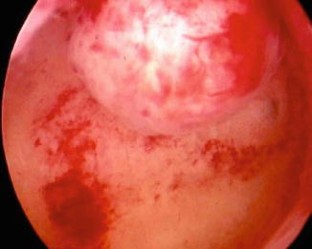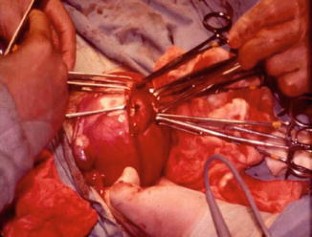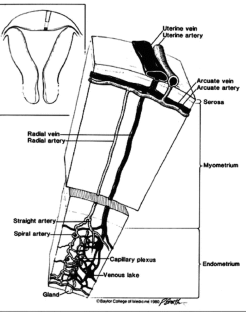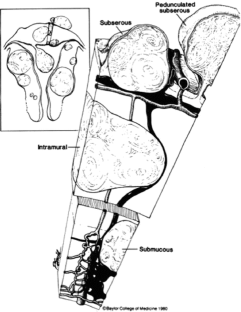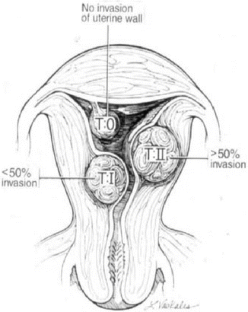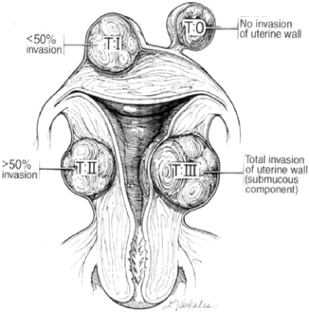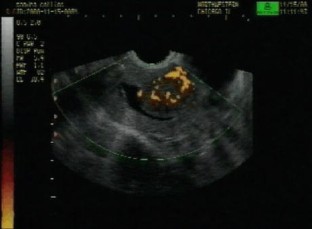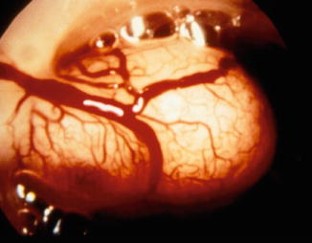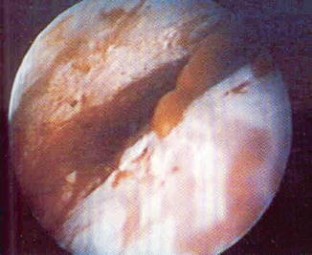 References
Cramer SF, Patel A. The frequency of uterine myomas. Am J Clin Pathol. 1990;94:435–8.

Marsh EE, Ekpo GE, Cardozo ER, et al. Racial differences in fibroid prevalence and ultrasound findings in asymptomatic young women (18–30 years old): a pilot study. Fertil Steril. 2013;99:1951–7.

Buttram Jr VC, Reiter RC. Uterine leiomyomata: etiology, symptomatology, and management. Fertil Steril. 1981;36:433–45.

Wallach EE, Vlahas NF. Uterine myomas: an overview of development, clinical features, and management. Obstet Gynecol. 2004;104:393–406.

Maruo T, Matsuo H, Samoto T, et al. Effects of progesterone on uterine leiomyoma growth and apoptosis. Steroids. 2000;65:585–92.

Islam MS, Protic O, Stortoni P, et al. Complex networks of multiple factors in the pathogenesis of uterine leiomyoma. Fertil Steril. 2013;100:178–93.

Lewicka A, Osuch B, Cendrowski K, et al. Expression of vascular endothelial growth factor mRNA in human myomas. Gynecol Endocrinol. 2010;26:451–5.

Stewart EA, Morton CC. The genetics of uterine leiomyomata: what clinicians need to know. Obstet Gynecol. 2008;1007:917–21.

Brosens I, Johansson E, Dal Cin P, et al. Analysis of the karyotype and deoxyribonucleic acid content of uterine myomas in premenopausal, menopausal, and gonadotropin-releasing hormone agonist-treated females. Fertil Steril. 1996;66:376–9.

Meloni AM, Suoti U, Contento AM, et al. Uterine myomas: cytogenetic and histologic profile. Obstet Gynecol. 1992;80:209–17.

Brosens I, Duprest J, Cin PD, Van den Berghe H. Clinical significance of cytogenetic abnormalities in uterine myomas. Fertil Steril. 1997;69:232–5.

Megine M, Kaasinen E, Makinen N, et al. Characterization of uterine myomas by hole-genome sequencing. N Engl J Med. 2013;369:43–53.

Henning Y, Wanschura S, Deichert V, et al. Rearrangements of the high mobility group protein family genes and he molecular genetic origin of uterine myomas and endometrial polyps. Mol Hum Reprod. 1996;2:277–83.

Fuhrmann U, Wasserfall A, Klotzbucher M. Expression of high mobility group 1 proteins in uterine myomas. In: Brosens IA, Lunenfeld B, Donnez J, editors. Uterine fibroids. New York/London: Parthenon Publishing Group; 1999. p. 61–79.

Brosens J, Campo R, Gordts S, Brosens I. Submucosal and outer myometrium myomas are two distinct clinical entities. Fertil Steril. 2003;79:1452–4.

Cohen LS, Valle RF. Role of vaginal sonography and hysterosonography in the endoscopic treatment of uterine myomas. Fertil Steril. 2000;73(2):197–204.

Rogers R, Norian J, Malik M, et al. Mechanical homeostasis is altered in uterine leiomyoma. Am J Obstet Gynecol. 2008;198:474.e1–e11.

Pritts EA. Myomas and infertility; a systematic review of the evidence. Obstet Gynecol Surv. 2001;56:483–91.

Yan L, Ding L, Li C. Effect of myomas not distorting the endometrial cavity on the outcome of in vitro fertilization treatment: a retrospective cohort study. Fertil Steril. 2014;101:717–21.

Rackow BM, Taylor HS. Submucosal uterine myomas have a global effect on molecular determinants of endometrial receptivity. Fertil Steril. 2010;93(6):2027–34.

Daftary GS, Taylor HS. Hydrosalpinx fluid diminishes endometrial cell HOXA 10 expression. Fertil Steril. 2002;78:577–80.

Daftary GS, Kayisli U, Seli E, Bukulmez ZO, Arici A, Taylor HS. Salpingectomy increases peri-implantation endometrial HOXA 10 expression in women with hydrosalpinx. Fertil Steril. 2007;87:367–72.

Klatzky PC, Tran ND, Caughey AB, Fujimoto VY. Myomas and reproductive outcomes: a systematic literature review from conception to delivery. Am J Obstet Gynecol. 2008;198:357–66.

Olive DL. Role of progesterone antagonists and new selective progesterone receptor modulators in reproductive health. Obstet Gynecol Surv (Suppl). 2002;57 Suppl 4:S55–63.

Stovall DW, Mikdachi HE. Treatment of symptomatic uterine myomas with selective progesterone receptor modulators. Expert Rev Obstet Gynecol. 2011;6:579–82.

Murphy AA, Kettel LM, Morales AJ, et al. Regression of uterine leiomyomata in response to the antiprogesterone RU 486. J Clin Endocrinol Metab. 1993;76:513–7.

Chwalisz K, Larsen L, Mattia-Golberg C, Edmonds A, Elger W, Winkel CA. A randomized, controlled trial of Asoprisnil, a novel selective progesterone receptor modulator, in women with uterine leiomyomata. Fertil Steril. 2001;87:1399–412.

Wilkens J, Chwalisz K, Han C, et al. Effects of the selective progesterone receptor modulator Asoprisnil on uterine artery blood flow, ovarian activity, and clinical symptoms in patients with uterine leiomyomata scheduled for hysterectomy. J Clin Endocrinol Metab. 2008;93:4664–71.

Levens ED, Potlog-Nahari C, Armstrong AY. CDB-2914 for uterine leiomyomata treatment: a randomized controlled trial. Obstet Gynecol. 2008;111:1129–36.

Nieman LK, Blocker W, Nansel T, et al. Efficacy and tolerability of CDB 2914 treatment for symptomatic uterine myomas: a randomized, double blind, placebo controlled, Phase IIb study. Fertil Steril. 2011;95:767–72.

Shozu M, Murakami K, Inoue M. Aromatase and leiomyoma uterus. Semin Reprod Med. 2004;22:51–60.

Folkerd EJ, Newton CJ, Davidson K, Anderson MC, James VH. Aromatase activity in uterine leiomyomata. J Steroid Biochem. 1984;20:1195–200.
Copyright information
© 2015 Springer International Publishing Switzerland
About this chapter
Cite this chapter
Valle, R.F., Ekpo, G.E. (2015). Pathophysiology of Uterine Myomas and Its Clinical Implications. In: Tinelli, A., Malvasi, A. (eds) Uterine Myoma, Myomectomy and Minimally Invasive Treatments. Springer, Cham. https://doi.org/10.1007/978-3-319-10305-1_1
DOI: https://doi.org/10.1007/978-3-319-10305-1_1

Published:

Publisher Name: Springer, Cham

Print ISBN: 978-3-319-10304-4

Online ISBN: 978-3-319-10305-1

eBook Packages: MedicineMedicine (R0)