Abstract

Rockfalls in mountainous roads may result in increasing hazards for vehicles and people. Cases of rockfalls with fatalities or great disruption of traffic have been reported in the news and account for significant money loss. Unfortunately due to the complexity of the phenomenon of a single or a few rocks detachment, it has not been studied extensively and data relating to triggering of such phenomena are scarce. In this paper a first attempt is made to gather and analyze available published case studies where the triggering mechanisms of rockfalls are presented. The most significant triggering mechanisms are presented and the resulting rockfalls are analyzed based on the collected data. This work is part of a project aiming to monitor and evaluate rockfall phenomena in Greek highways.
Keywords
Rockfalls

Triggering mechanisms

Greece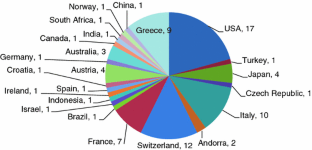 References
Amitrano D, Arattano M, Chiarle M, Mortara G, Occhiena C, Pirulli M, Scavia C (2010) Microseismic activity analysis the study of the rupture mechanisms in unstable rock masses. Nat Hazards Earth Syst Sci 10:831–841

Badger TC, Lowell S (1992) Rockfall control washington state. In: Rockfall prediction and control and landslide case histories, transportation research record. National Research Council, Washington, No 1342, pp 14–19

Bakun-Mazor D, Hatzor YH, Glaser SD, Santamarina JC (2013) Thermally versus seismically induced block displacements in Masada rock slopes. Int J Rock Mech Mining Sci 61:196–211

Braathen A, Blikra LH, Berg SS, Karlsen F (2004) Rock-slope failure in Norway; type, geometry, deformation mechanisms and stability. Norw J Geol 84:67–88

Chau KT, Wong RHC, Liu J, Lee CF (2003) Rockfall hazard analysis for Hong Kong based on rockfall inventory. Rock Mech Rock Eng 36(5):383–408

Christaras B, Papathanassiou G, Vouvalidis K, Pavlides SP (2010) Preliminary results regarding the rock falls of December 17, 2009 at Tempi, Greece, vol XLIII, No 3, pp 1122–1130

Dahlhaus PG, Miner AS (2000) Estimating the occurrence of rockfalls in columnar Basalt. GeoEng 2000 (Reprinted in Australian Geomechnanics) 36(2):1–6 June 2001

Frayssines M, Hantz D (2006) Failure mechanisms and triggering factors in calcareous cliffs of the subalpine Ranges (French Alps). Eng Geol 86:256–270

Guzzetti F, Reichenbach P, Wieczorek GF (2003) Rockfall hazard and risk assessment in the Yosemite Valley, California, USA. Nat Hazards Earth Syst Sci 3:491–503

Krautblatter M, Moser M (2009) A nonlinear model coupling rockfall and rainfall intensity based on a four year measurement in a high Alpine rock wall (Reintal, German Alps). Nat Hazards Earth Syst Sci 9:1425–1432

Mavrouli O, Corominas J, Wartman J (2009) The seismic effect on rockfall hazard: the Sola de Santa Coloma. Nat Hazards Earth Syst Sci 9:1763–1773

Parise M (2002) Landslide hazard zonation of slopes susceptible to rock falls and topples. Nat Hazards Earth Syst Sci 2:37–49

Peel MC, Finlayson BL, McMahon TA (2007) Updated worldmap of the Köppen-Geiger climate classification. Hydrol Earth Syst Sci 11:1633–1644

Saroglou H, Marinos V, Marinos P, Tsiambaos G (2012) Rockfall hazard and risk assessment: and example from a high promontory at the historical site of Monemvasia, Greece. Nat Hazards Earth Syst Sci 12:1823–1836

Sepúlveda SA, Murphy W, Jibson RW, Petley DN (2005) Seismically induced rock slope failures resulting from topographic amplification of strong ground motions: the case of Pacoima Canyon, California. Eng Geol 80:336–348

Wieczorek GF, Stock GM, Reichenbach P, Snyder JB, Borchers JW, Godt JW (2008) Investigation and hazard assessment of the 2003 and 2007 staircase falls rock falls, Yosemite National Park, California, USA. Nat Hazards Earth Syst Sci 8:421–432

Wilson P, Cunningham A (2003) Examples of recent rockfalls from basalt cliffs in Northern Ireland. Irish Geography 36(2):170–177
Acknowledgments

Part of this work has been performed under the framework of the Cooperation 2011 project ISTRIA (11_SYN_9_1389) funded by the Operational Program Competitiveness and Entrepreneurship (co-funded by the European Regional Development Fund (ERDF)) and managed by the Greek General Secretariat for Research and Technology.
Copyright information

© 2015 Springer International Publishing Switzerland
About this paper
Cite this paper
Apostolou, E., Agioutantis, Z., Steiakakis, C. (2015). Integrated Evaluation of Rockfall Triggering Mechanism for Road Monitoring. In: , et al. Engineering Geology for Society and Territory - Volume 2. Springer, Cham. https://doi.org/10.1007/978-3-319-09057-3_350
DOI: https://doi.org/10.1007/978-3-319-09057-3_350

Published:

Publisher Name: Springer, Cham

Print ISBN: 978-3-319-09056-6

Online ISBN: 978-3-319-09057-3