Abstract

Guarding editorial independence and at the same time securing accountability towards stakeholders is a difficult governance issue in any media business. Nowhere is it more important, and more controversial, than in public service media (PSM), on the one side administered by the state and financed with public funds and on the other having its primary accountability obligations to the needs and interests of civic society. Although the principles of editorial independence and keeping an 'arm's length distance' between governments and PSM institutions are widely supported in rhetorical terms, these are often disregarded in practice. In recent years there has been a notable trend towards less independence and growing interference. This chapter examines the public governance of PSM by illustrating crucial institutional mechanisms and procedural channels by which public regulation and PSM accountability are managed. It will become apparent how the stakeholder environment of public media renders the senior post of Director General especially complex compared to the counterpart relations of a CEO for a private media enterprise.
Keywords
Civil Society

Corporate Governance

Governing Board

Twilight Zone

Political Interference
These keywords were added by machine and not by the authors. This process is experimental and the keywords may be updated as the learning algorithm improves.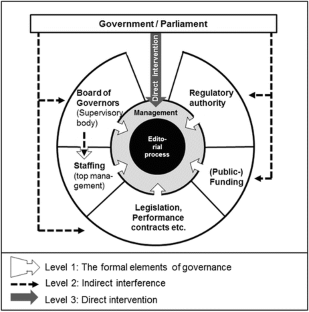 References
Atkonson, D. (1997). Public service television in the age of competition. In D. Atkonson, & M. Raboy, et al. (Eds.), Public service broadcasting: The challenge of the twenty-first century (UNESCO 1997). Accessed January 2013, from http://unesdoc.unesco.org/images/0010/001097/109746eb.pdf

Bacisin, V. (1998). Attacks on the press in 1998—Slovakia. Refworld, UNCHR. Accessed March 2013, from http://www.unhcr.org/refworld/country,,CPJ,,SVK,4562d8b62,47c56585c,0.html

BBC. (2006). Broadcasting, an agreement between her majesty's secretary of state for culture, media and sport and the British Broadcasting Corporation 2006, article 81, 4. Accessed April 2013, from http://downloads.bbc.co.uk/bbctrust/assets/files/pdf/about/how_we_govern/agreement.pdf

Centre for Media and Communication Studies (CMCS). (2012). Hungarian media laws in Europe—An assessment of the consistency of Hungary's media laws with European practices and norms. Accessed February 2013, from http://www.eui.eu/Documents/General/DebatingtheHungarianConstitution/HungarianMediaLawsinEurope.pdf

Coppens, T. (2005). Fine-tuned or out-of-key? Critical reflections on frameworks for assessing PSB performance. In G. F. Lowe, & P. Jauert (Eds.), Cultural dilemmas in public service broadcasting. RIPE 2005, Gothenburg University: NORDICOM

Council of Europe. (2006). Declaration of the Committee of Ministers on the guarantee of the independence of public service broadcasting in the member states. Adopted by the Committee of Ministers on 27 September 2006. Accessed February 2013, from https://wcd.coe.int/ViewDoc.jsp?Ref=Decl-27.09.2006&Sector=secCM&Language=lanEnglish&Ver=original&BackColorInternet=9999CC&BackColorIntranet=FFBB55&BackColorLogged=FFAC75#

Council of Europe. (2012). The state of media freedom in Europe. Accessed February 2013, from http://www.assembly.coe.int/Communication/26062012_HorsleyReport_E.pdf

Cowling, J. (2004). How should BBC be regulated?, Open Democracy 5 February 2004. Accessed March 2013, http://www.opendemocracy.net/media-journalismwar/article_1718.jsp

Czwitkovics,T. (2011). The former head of the Slovak Radio prepares for RTS project". Mediálne.sk. Accessed March 2013, from http://medialne.etrend.sk/televizia-spravy/rts-docasne-povedie-zemkova-niznansky-skoncil.html

Deltenre, I. (Director General of the EBU). (2012). Political interference in public service broadcasting growing. PublicServiceEurope. Accessed February 2013, from http://www.publicserviceeurope.com/article/2447/political-interference-in-public-service-broadcasting

Dragomir, M. (2009). Politics as usual. EuropeanVoice.com 2009. Accessed March 2013, from http://www.europeanvoice.com/article/2009/03/politics-as-usual/64159.aspx

Dunn, W. N., & Miller, D. Y. (2007). A critique of the new public management and the Neo-Weberian State: Advancing a critical theory of administrative reform. Public Organizational Review, 2007, 345–358.

Dyke, G. (2005). Inside story. London: Harper Perennial.

European Commission. (2012). A free and pluralistic media to sustain European democracy, The report of the high level group on media freedom and pluralism. Accessed February 2013, from http://ec.europa.eu/information_society/media_taskforce/doc/pluralism/hlg/hlg_final_report.pdf

European Parliament. (2011). Resolution of 10 March 2011 on media law in Hungary. Accessed February 2013, from http://www.europarl.europa.eu/sides/getDoc.do?pubRef=-//EP//TEXT+TA+P7-TA-2011-0094+0+DOC+XML+V0//EN

Hallin, D. C., & Mancini, P. (2004). Comparing media systems, three models of media and politics. Cambridge: Cambridge University Press.

Hanretty, C. (2011). Public broadcasting and political interference. London: Routledge.

Karpinski, J. (1996). Another battle over Polish Public TV won by the ruling coalition. The Open Society Archives (OSA). Accessed March 2013, from http://fa.osaarchivum.org/ft?col=210&i=318

Kellner, D. (2012). The Murdoch media empire and the spectacle of scandal. International Journal of Communication, 6(2012), 1169–1200.

McQuail, D. (2010). McQuail's mass communication theory (10th ed.). London: Sage.

Mendel, T. (2011). Public service broadcasting: A comparative legal survey. Kuala Lumpur: UNESCO.

Milne, A. (1988). DG: The memoires of a British broadcaster. London: Hodder and Stroughton.

Moe, H. (2010). Governing public service broadcasting: Public value tests in different national contexts. Communication, Culture and Critique, 3, 207–223.

Nissen, C. S. (2006a). Public service media in the information society. Report prepared for the Council of Europe's Group of Specialists on Public Service Broadcasting in the Information Society (MC-S-PSB). Accessed January 2013, from http://www.coe.int/t/dghl/standardsetting/media/Doc/H-Inf(2006)003_en.pdf

Nissen, C. S. (2006b). No public service without both Public and Service—Content provision between the Scylla of populism and the Charybdis of elitism. In C. S. Nissen (Ed.), Making a difference—Public service broadcasting in the European media landscape. Eastleigh: John Libbey Publishing.

Nissen, C. S. (2007). Generalens veje og vildveje, 10 år i Danmarks Radio [Roads and detours of the General, 10 years in the Danish Broadcasting Corporation]. Copenhagen: Gyldendal.

Open Society Foundation. (2005). Television across Europe: Regulation, policy and independence. Budapest: Open Society Institute/Foundation.

Open Society Foundation. (2008). Television across Europe—More channels, less independence. Budapest: Open Society Institute/Foundation.

Picard, R. G.(2005). Corporate governance: Issues and challenges. In R. G. Picard (Ed.), Corporate governance of media companies (JIBS Research Report Series No. 2005-1)

Rumphorst, W. (1999). Model—Public service broadcasting law. Geneva: ITU and UNESCO. Accessed February 2013, from http://portal.unesco.org/ci/en/files/5630/10353894120Model_public_service_broadcasting_law.pdf/Model%2Bpublic%2Bservice%2Bbroadcasting%2Blaw.pdf

The Economist. (2004, January 29). Not guilty, How Lord Hutton cleared the government of "sexing up" its dossier on Iraq's WMD. The Economist. Accessed March 2013, from http://www.economist.com/node/2388579

The Guardian. (2004). BBC boosted by increase in public support. Accessed March 2013, from http://www.guardian.co.uk/media/2004/mar/24/broadcasting.huttoninquiry

The Guardian. (2005). Home secretary's letter to the BBC chairman July 29 1985. Accessed February 2013, from http://image.guardian.co.uk/sys-files/Media/documents/2005/12/12/July29A.pdf

UNESCO. (2005). Public Service Broadcasting: A best practice sourcebook. Accessed February 2013, from http://unesdoc.unesco.org/images/0014/001415/141584e.pdf
Copyright information

© 2016 Springer International Publishing Switzerland
About this chapter
Cite this chapter
Nissen, C.S. (2016). Obeying His Masters' Voices: Managing Independence and Accountability in Public Service Media Between Civil Society and State. In: Lowe, G., Brown, C. (eds) Managing Media Firms and Industries. Media Business and Innovation. Springer, Cham. https://doi.org/10.1007/978-3-319-08515-9_7