Abstract
Depression is associated with parasympathetic excess (PE), whether at rest or during Valsalva or stand. Typically, Valsalva or stand PE is associated with unstable patients, including difficult to control BP, blood glucose, or hormone level, and stand PE can mask sympathetic withdrawal (SW) which is associated with orthostatic dysfunction. In cases of depression, Valsalva or stand PE often involves depression with anxiety, high BP, pain, or hyperactivity, i.e., bipolar, manic depression, anxiety, hypertension with depression, chronic regional pain syndrome, fibromyalgia, chronic fatigue, or attention-deficit disorder with or without hyperactivity. Physiologically, the PE amplifies the sympathetic response, causing a seemingly normal individual at rest to react excessively. Since the sympathetic nervous system is the reactionary nervous system, it should not be surprising that the Valsalva or stand PE is the primary autonomic disorder. Treating the PE enables the sympathetics to react less excessively, normalizing those responses, thereby normalizing BP or other responses. Stand PE masking SW helps to document and treat dizzy hypertensives. Resting PE is associated with clinical or subclinical depression and is the PE that elevates mortality risk in heart disease patients.
Keywords
Depressive Symptom

Chronic Fatigue Syndrome

Major Depressive Disorder

Parasympathetic Activity

Sympathetic Blockade
These keywords were added by machine and not by the authors. This process is experimental and the keywords may be updated as the learning algorithm improves.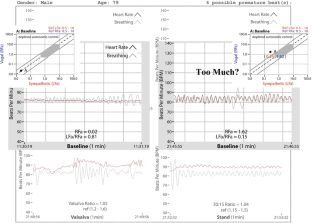 References
Tobias H, Vinitsky A, Bulgarelli RJ, Ghosh-Dastidar S, Colombo J. Autonomic nervous system monitoring of patients with excess parasympathetic responses to sympathetic challenges – clinical observations. US Neurol. 2010;5(2):62–6.

Litchman JH, Bigger Jr JT, Blumenthal JA, et al. Depression and coronary heart disease recommendations for screening, referral, and treatment: A science advisory from the American Heart Association Prevention Committee of the Council on Cardiovascular Nursing, Council on Clinical Cardiology, Council on Epidemiology and Prevention, and Interdisciplinary Council on Quality of Care and Outcomes Research: endorsed by the American Psychiatric Association. Circulation. 2008;118:1768–75.

Carney RM, Blumenthal JA, Freedland KE, Stein PK, Howells WB, Berkman LF, Watkins LL, Czajkowski SM, Hayano J, Domitrovich PP, Jaffe AS. Low heart rate variability and the effect of depression on post–myocardial infarction mortality. Arch Intern Med. 2005;165:1486–91.

Silver MA. Depression and heart failure: an overview of what we know and don't know. Cleve Clin J Med. 2010;77 Suppl 3:S7–11.

Barefoot JC, Helms MJ, Mark DB, Blumenthal JA, Califf RM, Haney TL, O'Connor CM, Siegler IC, Williams RB. Depression and long-term mortality risk in patients with coronary artery disease. Am J Cardiol. 1996;78:613–7.

Davidson KW, Rieckmann N, Lesperance F. Psychological theories of depression: potential application for the prevention of acute coronary syndrome recurrence. Psychosom Med. 2004;66:165–73.

Lett HS, Blumenthal JA, Babyak MA, Sherwood A, Strauman T, Robins C, Newman MF. Depression as a risk factor for coronary artery disease: evidence, mechanisms, and treatment. Psychosom Med. 2004;66:305–15.

Frasure-Smith N, Lesperance F, Gravel G, Masson A, Juneau M, Talajic M, Bourassa MG. Social support, depression, and mortality during the first year after myocardial infarction. Circulation. 2000;101:1919–24.

Lespérance F, Frasure-Smith N, Juneau M, Théroux P. Depression and 1-year prognosis in unstable angina. Arch Intern Med. 2000;160(9):1354–60.

Joynt KE, Whellan DJ, O'Connor CM. Depression and cardiovascular disease: mechanisms of interaction. Biol Psychiatry. 2003;54:248–61.

Pereira E, Baker S, Bulgarelli R, Arora RR, Ghosh Dastidar S, Colombo J. Autonomic imbalance may underlie labile hypertension: I. Possible remedy. Clin Auton Res. 2010;20(5):318.

Baker S, Pereira E, Bulgarelli R, Arora RR, Ghosh Dastidar S, Colombo J. Autonomic imbalance may underlie labile hypertension: II. Possible physiology. Clin Auton Res. 2010;20(5):319.

Lagergren K. Effect of exogenous changes in heart rate upon mental performance in patients treated with artificial pacemakers for complete heart block. Br Heart J. 1974;36:1126–32.

Koide H, Kobayashi S, Kitani M, Tsunematsu T, Nakazawa Y. Improvement of cerebral blood flow and cognitive function following pacemaker implantation in patients with bradycardia. Gerontology. 1994;40:279–85.

Barbe C, Puisieux F, Jansen I, Dewailly P, Klug D, Kacet S, DiPompeo C. Improvement of cognitive function after pacemaker implantation in very old persons with bradycardia. J Am Geriatr Soc. 2002;50:778–80.

Zimny A, Leszek J, Kiejna A, Sasiadek M. Analysis of correlation between the degree of cognitive impairment and the results of perfusion CT in patients with dementia. Med Sci Monit. 2007;13 Suppl 1:23–30.

Chandiramani S, Cohorn LC, Chandiramani S. Heart rate changes during acute mental stress with closed loop stimulation: report on two single-blinded, pacemaker studies. Pacing Clin Electrophysiol. 2007;30:976–84.

Malinowski K. Interindividual comparison of different sensor principles for rate adaptive pacing. Pacing Clin Electrophysiol. 1998;21:2209–13.

Griesbach L, Gestrich B, Wojciechowski D, Weyers G, Toenges J, Schier M, Danilovic D. Clinical performance of automatic closed loop stimulation systems. Pacing Clin Electrophysiol. 2003;26:1432–7.

Santini M, Ricci R, Pignalberi C, Biancalana G, Censi F, Calcagnini G, Bartolini P, et al. Effect of autonomic stressors on rate control in pacemakers using ventricular impedance signal. Pacing Clin Electrophysiol. 2004;27:24–32.

Coenen M, Malinowski K, Spitzer W, Schuchert A, Schmitz D, Anelli-Monti M, Maier SK, et al. Closed loop stimulation and accelerometer-based rate adaptation: results of the PROVIDE study. Europace. 2008;10:327–33.

Cook L, Hamilton D, Busse E, Tsang J, Garbe G, Wojcik W, Haennel R. Impact of adaptive rate pacing controlled by a right ventricular impedance sensor on cardiac output in response to exercise. Pacing Clin Electrophysiol. 2003;26:244–7.

Puglisi A, Altamura G, Capestro F, Castaldi B, Critelli G, Favale S, Pavia L, et al. Impact of closed-loop stimulation, overdrive pacing, DDDR pacing mode on atrial tachyarrhythmia burden in bradytachy syndrome. A randomized study. Eur Heart J. 2003;24:1952–61.

Bailey WM, Hull D. Closed loop stimulation improves ejection fraction and NYHA class in patients with congestive heart failure and/or ejection fraction <40%. Heart Rhythm. 2005;2(Suppl):S163. Abstract.

Pavri BB, Russell S. An impedance sensor is superior to an accelerometer for chronotropically incompetent patients with sinus node dysfunction: results of a pilot study with a dual sensor pacemaker. Circulation. 2006;114(Suppl II):II749. Abstract.

Lamas GA, Knight JD, Sweeney MO, Mianulli M, Jorapur V, Khalighi K, Cook JR, et al. Impact of rate-modulated pacing on quality of life and exercise capacity – evidence from the advanced elements of pacing randomized controlled trial (ADEPT). Heart Rhythm. 2007;4:1125–32.

Wiegand U, Nuernberg M, Maier SKG, Weiss C, Sancho–Tello MJ, Hartmann A, Schuchert A, Maier P, Chan NY. The COGNITION study rationale and design: influence of closed loop stimulation on cognitive performance in pacemaker patients. Pacing Clin Electrophysiol. 2008;31:709–13.

Khawaja IS, Westermeyer JJ, Gajwani P, Feinstein RE. Depression and coronary artery disease: the association, mechanisms, and therapeutic implications. Psychiatry (Edgmont). 2009;6:38–51.

May HT, Horne BD, Carlquist JF, Sheng X, Joy E, Catinella AP. Depression after coronary artery disease is associated with heart failure. J Am Coll Cardiol. 2009;53:1440–7.

Tomfohr LM, Martin TM, Miller GE. Symptoms of depression and impaired endothelial function in healthy adolescent women. J Behav Med. 2008;31:137–43.
Copyright information
© 2015 Springer International Publishing Switzerland
About this chapter
Cite this chapter
Colombo, J., Arora, R., DePace, N.L., Vinik, A.I. (2015). Depression. In: Clinical Autonomic Dysfunction. Springer, Cham. https://doi.org/10.1007/978-3-319-07371-2_16
DOI: https://doi.org/10.1007/978-3-319-07371-2_16

Published:

Publisher Name: Springer, Cham

Print ISBN: 978-3-319-07370-5

Online ISBN: 978-3-319-07371-2

eBook Packages: MedicineMedicine (R0)