Abstract

Aluminium matrix composite materials are used in aerospace, defence, automotive applications especially in the thermal management areas. Aluminium Matrix Composite (AMCs) reinforced with Nano Iron Oxide (Fe3O4) exhibit good physical and mechanical behaviour (electrical conductivity and wear resistance), which makes it an excellent multifunctional lightweight material. The present paper is based on low cost manufacturing of light and efficient materials for aeronautical applications. To that end, a study has been carried out on an aluminium matrix composite reinforced with Fe3O4-iron oxide and other alloying elements produced in our laboratory. Micro indentation tests were conducted on the AMC to investigate its elastic modulus, hardness, and scratch tests with very long cycles were performed to study its wear performance. Scanning Electron Microscopy examinations were made to study the morphology of damage surfaces. The goal was to get more information about the influence of fillers on the corresponding reinforcing and wear mechanism.
Keywords
Wear

Scratch test

Aluminium matrix composites

Iron oxide (Fe3O4)

Damage analysis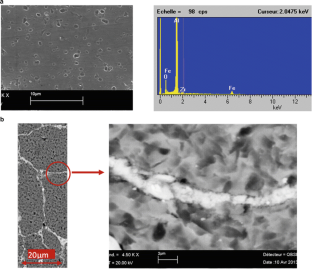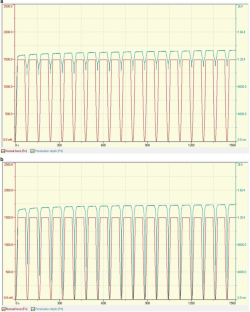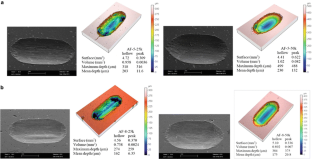 References
Bayraktar E, Katundi D (2010) Development of a new aluminium matrix composite reinforced with iron oxide (Fe3O4). J Achiev Mater Manuf Eng 38(1):7–14

Katundi D, Ayari F, Bayraktar E, Tan M-J, Tosun Bayraktar A (2012) Design of aluminum matrix composites reinforced with nano iron oxide (Fe3O4). In: AMPT, 15th international conference on "advanced materials processing technologies", 23–26 Sept, Australia, vol 1, pp 1–12

Asif M, Chandra K, Misra PS (2011) Development of aluminum based hybrid metal matrix, composites for heavy duty applications. J Miner Mater Character Eng 10(14):1337–1344

Ibrahim IA, Mohamed FA, Lavernia EJ (1991) Particulate reinforced metal matrix composites—a review. J Mater Sci 26:1137–1156

Sinclair I, Gregson PJ (1997) Structural performance of discontinuous metal matrix composites. Mater Sci Technol 3:709–725

Katundi D, Ayari F, Bayraktar E, Tan M-J, Tosun Bayraktar A (2013) Manufacturing of aluminum matrix composites reinforced with iron-oxide (Fe3O4) nanoparticles: microstructural and mechanical properties. Metallur Mater Trans B 45(2):352–362. In: Laughlin DE (ed) ASM-TMS/USA. doi:10.1007/s11663-013-9970-1

Akhtar S, Sami Yilbas B, Bayraktar E (2013) Thermal stress distributions and microstructure in laser cutting of thin Al–Si alloy sheets (experimental and FEM). Int J LASER Appl (Am J) 25(4):1–12. In: Poprawe R (ed) Laser Institute of America. http://dx.doi.org/10.2351/1.4807081

Tolle LG, Craig RG (1978) Viscoelastic properties of elastomeric impression materials: polysulphide, silicone and polyether rubbers. J Oral Rehabil 5:121–128

Fang B, Wang G, Zhang W, Li M, Kan X (2005) Fabrication of Fe3O4 nano-particles modified electrode and its application for voltammetric sensing of dopamine. J Electroanal 17(9):744–748

Oliver WC, Pharr GM (1992) An improved technique for determining hardness and elastic modulus using load and displacement sensing indentation experiments. J Mater Res 7:1564–1583
Copyright information

© 2015 The Society for Experimental Mechanics, Inc.
About this paper
Cite this paper
Bayraktar, E., Robert, MH., Miskioglu, I., Bayraktar, A.T. (2015). Mechanical and Tribological Performance of Aluminium Matrix Composite Reinforced with Nano Iron Oxide (Fe3O4). In: Tandon, G. (eds) Composite, Hybrid, and Multifunctional Materials, Volume 4. Conference Proceedings of the Society for Experimental Mechanics Series. Springer, Cham. https://doi.org/10.1007/978-3-319-06992-0_23
DOI: https://doi.org/10.1007/978-3-319-06992-0_23

Published:

Publisher Name: Springer, Cham

Print ISBN: 978-3-319-06991-3

Online ISBN: 978-3-319-06992-0

eBook Packages: EngineeringEngineering (R0)