Abstract

Photosensitivity in the form of a photoparoxysmal response on EEG is seen in both the normal population and in individuals with epilepsy. This response is seen more commonly in a variety of epilepsies (predominantly generalized), may be age-related, and is identified overall more frequently in females. The photoparoxysmal response may have an underlying genetic influence and may also be influenced by hormonal and other factors. This chapter reviews the data on gender differences of photosensitivity in the normal population, in relatives of probands with photosensitivity, and in the epilepsies.
Keywords
Photosensivity

Photoparoxysmal response

Epilepsy

Gender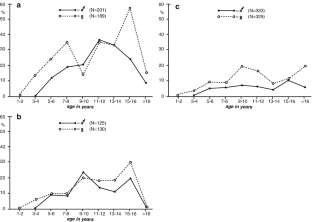 References
Covanis A. Photosensitivity in idiopathic generalized epilepsies. Epilepsia. 2005;46(Suppl. 9):67–72.

Kasteleijn-Nolst Trenité DG. Intermittent photic stimulation as an activation method for electroencephalographic screening of aircrew applicants. Epilepsy Behav. 2005 Feb;6(1):21–6.

Doose H, Gerken H. On the genetics of EEG-anomalies in childhood. IV Photoconvulsive reaction. Neuropadiatrie. 1973;4:162–71.

Doose H, Gerken H, Hien-Volpel KF, Volzke E. Genetics of photosensitive epilepsy. Neuropadiatrie. 1969;1:56–73.

Doose H, Waltz S. Photosensitivity – genetics and clinical significance. Neuropediatrics. 1993;24:249–55.

Fish DR, Quirk JA, Smith SJN. National survey of photosensitivity and seizures induced by electronic screen games: interim findings. London: Department of Trade & Industry; 1993.

Harding GFA, Jeavons PM. Photosensitivity epilepsy: clinics in developmental medicine, vol. 133. London: MacKeith Press; 1994. p. 28–9.

Appleton R, Beirne M, Acomb B. Photosensitivity in juvenile myoclonic epilepsy. Seizure. 2000;9:108–11.

Anyanwu EC, Ehiri JE, Jones J. Photosensitive epilepsy beyond adolescence: is freedom from photosensitivity age-dependent. Int J Adolesc Med Health. 2003;15:125–32.

Radhakrishnan K, St Louis EK, Johnson JA, McClelland RL, Westmoreland BF, Klass DW. Pattern-sensitive epilepsy: electroclinical characteristics, natural history, and delineation of the epileptic syndrome. Epilepsia. 2005;46:48–58.

Kasteleijn-Nolst Trenité DG. Reflex seizures induced by intermittent light stimulation. Adv Neurol. 1998;75:99–121.

Wolf P, Goosses R. Relation of photosensitivity to epileptic syndromes. J Neurol Neurosurg Psychiatry. 1986;49:1386–91.

Taylor I, Berkovic SF, Scheffer IE. Genetics of epilepsy syndromes in families with photosensitivity. Neurology. 2013;80:1322–9.

Thomas RH, Zhang LM, Carvill GL, Archer JS, Heavin SB, Mandelstam SA, Craiu D, Berkovic SF, Gill DS, Mefford HC, Scheffer IE. CHD2 myoclonic encephalopathy is frequently associated with self-induced seizures. Neurology. 2015;84:951–8.

Verbeek N, Kasteleijn-Nolst Trenite D, Wassenaar M, Van Campen J, Sonsma A, Gunning WB, et al. Photosensitivity in Dravet syndrome is under-recognized and related to prognosis. Clin Neurophysiol. 2017;128:323–30.

Ferrie CD, De Marco P, Grunewald RA, et al. Video game-induced seizures. J Neurol Neurosurg Psychiatry. 1994;57:925–31.

Kuruvilla A. Prevalence of photoparoxysmal response and the significance of sex steroid hormones in epilepsy. Seizure. 1999;8(6):378–9.

Newmark ME, Penry JK. Catamenial epilepsy: a review. Epilepsia. 1980;21(3):281–300.

Taylor I, Hodgson B, Scheffer IE, Mulley J, Berkovic SF, Dibbens L. Is photosensitive epilepsy less common in males due to variation in X chromosome Photopigment genes? Epilepsia. 2007;48(9):1807–9.

Waltz S, Doose H. Photosensibilität-neue genetische Aspekte. In: Schef Jher D, editor. Epilepsie 1991. Reinbek: Einhorn-Presse Verlag; 1992. p. 41–5.

Pinto D, Kasteleijn-Nolst Trenité DG, Cordell HJ, Mattheisen M, Strauch K, Lindhout D, Koeleman BP. Explorative two-locus linkage analysis suggests a multiplicative interaction between the 7q32 and 16p13 myoclonic seizures-related photosensitivity loci. Genet Epidemiol. 2007;31(1):42–50.

Tauer U, Lorenz S, Lenzen KP, Heils A, Muhle H, Gresch M, Neubauer BA, Waltz S, Rudolf G, Mattheisen M, Strauch K, Nürnberg P, Schmitz B, Stephani U, Sander T. Genetic dissection of photosensitivity and its relation to idiopathic generalized epilepsy. Ann Neurol. 2005;57(6):866–73.

de Kovel CGF, Pinto D, Tauer U, Lorenz S, Muhle H, Leu C, Neubauer BA, Hempelmann A, Callenbach PM, Scheffer IE, Berkovic SF, Rudolf G, Striano P, Siren A, Baykan B, Sander T, Lindhout D, Kasteleijn-Nolst Trenité DG, Stephani U, Koeleman BP. Whole-genome linkage scan for epilepsy-related photosensitivity: a mega-analysis. Epilepsy Res. 2010;89:286–94.

Galizia EC, Myers CT, Leu C, CGF DK, Afrikanova T, Cordero-Maldonado ML, Martins TG, Jacmin M, Drury S, Chinthapalli VK, Muhle H, Pendziwiat M, Sander T, Ruppert A-K, Møller RS, Thiele H, Krause R, Schubert J, Lehesjoki A-E, Nurnberg P, Lerche H, Palotie A, Coppola A, Striano S, Del Gaudio L, Boustred C, Schneider AL, Lench N, Jocic-Jakubi B, Covanis A, Capovilla G, Veggiotti P, Piccioli M, Parisi P, Cantonetti L, Sadleir LG, Mullen SA, Berkovic SF, Stephani U, Helbig I, Crawford AD, Esguerra CV, Kasteleijn-Nolst-Trenite DG, BPC K, Mefford HC, Scheffer IE, Sisodiya SM. CHD2 variants are a risk factor for photosensitivity in epilepsy. Brain. 2015;138:1198–207.
Copyright information

© 2021 Springer Nature Switzerland AG
About this chapter
Cite this chapter
Vila-Sala, C., Delanty, N. (2021). Epidemiology of Photosensitivity: Gender Comparisons. In: Kasteleijn-Nolst Trenite, D. (eds) The Importance of Photosensitivity for Epilepsy. Springer, Cham. https://doi.org/10.1007/978-3-319-05080-5_21
DOI: https://doi.org/10.1007/978-3-319-05080-5_21

Published:

Publisher Name: Springer, Cham

Print ISBN: 978-3-319-05079-9

Online ISBN: 978-3-319-05080-5

eBook Packages: MedicineMedicine (R0)