Abstract
Endovascular treatment of wide-necked intracranial aneurysms frequently requires stent- or balloon-assisted coiling to prevent coil herniation into the parent artery. Provided that coils can be securely deployed within the aneurysm sac, these adjunctive devices and their associated risk can be avoided. The Penumbra 400 Coil (PC-400) has a larger diameter than conventional coils and is constructed completely of metal, a feature that increases the coil stability and may improve its ability to respect the aneurysm neck. The purpose of this study was to examine the frequency of adjunctive stent usage when coiling wide-necked intracranial aneurysms with the PC-400 in comparison with conventional coils. We examined consecutive patients with unruptured wide-necked aneurysms treated at our institution with endovascular coils. Aneurysm characteristics and procedural outcomes were compared between patients treated with PC-400 compared with a control group treated with conventional coils. Thirty-eight patients met criteria for this study. Stent-assisted coiling was required in 34 % fewer cases using PC-400 compared with conventional coils (P = .049). Fewer coils and less length were required with the PC-400 to obtain the same packing densities, occlusion types, and short-term stability. This may reduce treatment cost and prove to be valuable in patients with contraindications to dual antiplatelet therapy.
Keywords
Intracranial aneurysm

Embolization

Penumbra Coil 400

Stent-assisted coiling

Wide necked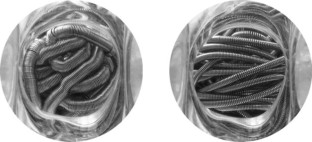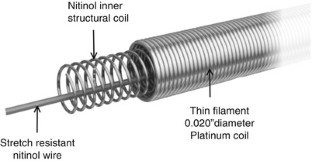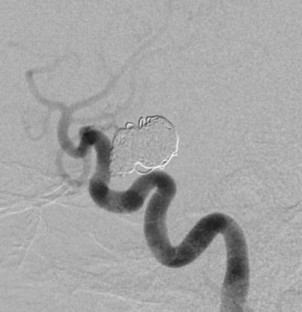 References
Akpek S, Arat A, Morsi H, Klucznick RP, Strother CM, Mawad ME (2005) Self-expandable stent-assisted coiling of wide-necked intracranial aneurysms: a single-center experience. AJNR Am J Neuroradiol 26(5):1223–1231

Deshaies EM, Adamo MA, Boulos AS (2007) A prospective single-center analysis of the safety and efficacy of the hydrocoil embolization system for the treatment of intracranial aneurysms. J Neurosurg 106(2):226–233

Fiorella D, Albuquerque FC, Han P, McDougall CG (2004) Preliminary experience using the Neuroform stent for the treatment of cerebral aneurysms. Neurosurgery 54(1):6–16; discussion 16–17

Fiorella D, Albuquerque FC, Woo H, Rasmussen PA, Masaryk TJ, McDougall CG (2006) Neuroform in-stent stenosis: incidence, natural history, and treatment strategies. Neurosurgery 59(1):34–42; discussion 34–42

Jabbour P, Koebbe C, Veznedaroglu E, Benitez RP, Rosenwasser R (2004) Stent-assisted coil placement for unruptured cerebral aneurysms. Neurosurg Focus 17(5):E10

Kanaan H, Jankowitz B, Aleu A et al (2010) In-stent thrombosis and stenosis after neck-remodeling device-assisted coil embolization of intracranial aneurysms. Neurosurgery 67(6):1523–1532; discussion 1532–1533

Layton KF, Cloft HJ, Gray LA, Lewis DA, Kallmes DF (2007) Balloon-assisted coiling of intracranial aneurysms: evaluation of local thrombus formation and symptomatic thromboembolic complications. AJNR Am J Neuroradiol 28(6):1172–1175

Lefkowitz MA, Gobin YP, Akiba Y, Duckwiler GR, Murayama Y, Guglielmi G, Martin NA, Viñuela F (1999) Balloon-assisted Guglielmi detachable coiling of wide-necked aneurysms: Part II – Clinical results. Neurosurgery 45(3):531–537; discussion 537–538

McDonald JS, Norgan AP, McDonald RJ, Lanzino G, Kallmes DF, Cloft HJ (2012) In-hospital outcomes associated with stent-assisted endovascular treatment of unruptured cerebral aneurysms in the USA. J Neurointerv Surg. doi:10.1136/neurintsurg-2012-010349

Piotin M, Blanc R, Spelle L, Mounayer C, Piantino R, Schmidt PJ, Moret J (2010) Stent-assisted coiling of intracranial aneurysms: clinical and angiographic results in 216 consecutive aneurysms. Stroke 41(1):110–115

Singla A, Villwock MR, Jacobsen W, Deshaies EM (2012) Aneurysm embolization grade: a predictive tool for aneurysm recurrence after coil embolization. Acta Neurochir (Wien). doi:10.1007/s00701-012-1554-3

Sluzewski M, van Rooij WJ, Beute GN, Nijssen PC (2006) Balloon-assisted coil embolization of intracranial aneurysms: incidence, complications, and angiography results. J Neurosurg 105(3):396–399

Soeda A, Sakai N, Sakai H, Iihara K, Yamada N, Imakita S, Nagata I (2003) Thromboembolic events associated with Guglielmi detachable coil embolization of asymptomatic cerebral aneurysms: evaluation of 66 consecutive cases with use of diffusion-weighted MR imaging. AJNR Am J Neuroradiol 24(1):127–132

Toyoda K, Yasaka M, Iwade K et al (2008) Dual antithrombotic therapy increases severe bleeding events in patients with stroke and cardiovascular disease: a prospective, multicenter, observational study. Stroke 39(6):1740–1745

Tumialán LM, Zhang YJ, Cawley CM, Dion JE, Tong FC, Barrow DL (2008) Intracranial hemorrhage associated with stent-assisted coil embolization of cerebral aneurysms: a cautionary report. J Neurosurg 108(6):1122–1129
Conflict of Interest Statement
Dr. Eric Deshaies consults for MicroVention Inc., Covidien Neurovascular, Integra LifeSciences Corporation, and McKesson Health Solutions.
Copyright information
© 2015 Springer International Publishing Switzerland
About this chapter
Cite this chapter
Villwock, M.R., Singla, A., Padalino, D.J., Deshaies, E.M. (2015). The Penumbra Coil 400 System for Treatment of Wide-Necked Intracranial Aneurysms: Initial Single-Center Experience. In: Fandino, J., Marbacher, S., Fathi, AR., Muroi, C., Keller, E. (eds) Neurovascular Events After Subarachnoid Hemorrhage. Acta Neurochirurgica Supplement, vol 120. Springer, Cham. https://doi.org/10.1007/978-3-319-04981-6_33
DOI: https://doi.org/10.1007/978-3-319-04981-6_33

Published:

Publisher Name: Springer, Cham

Print ISBN: 978-3-319-04980-9

Online ISBN: 978-3-319-04981-6

eBook Packages: MedicineMedicine (R0)