Abstract

The more that human society develops, the greater the human need for well-mannered and elegant clothes, especially traditional costumes. Selecting fine clothes for a specific occasion is always an interesting individual question. Based on computer vision and machine learning, this research proposes a Kansei (emotional) evaluation for Aodai, which is traditional and well-known Vietnamese clothes for women. Features of an Aodai image are described by color coherence vectors. Self-organizing maps (SOMs) and multilayer neural networks (NNs) are used to learn the relationships between the image features and the Kansei words. Once learned, the system can recommend which Aodai is suitable for a woman through her desired feelings. She can use this recommendation when purchasing an Aodai at online stores or selecting one from her own collection for an outing. Topics for future research include investigating other image representation methods, such as combinations of color buckets in different parts of the Aodai, using more detailed descriptions in decorative patterns, and integrating conspicuity factors such as color harmony, discriminability and visibility.
Keywords
Kansei

Vietnamese Aodai

Fashion design

Traditional costume

Color coherence vector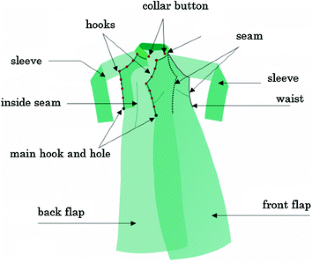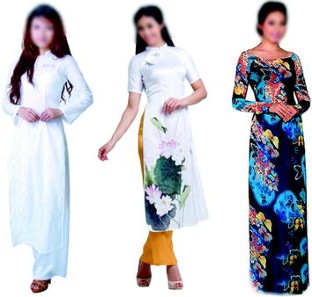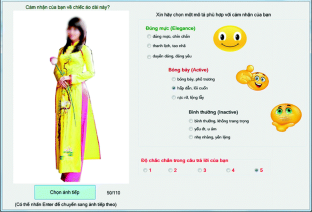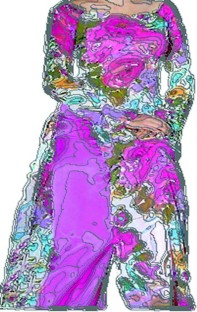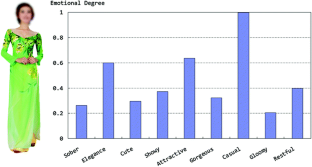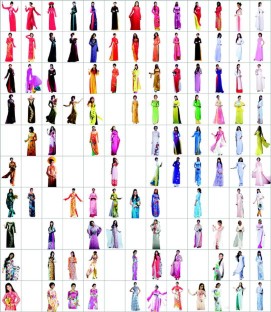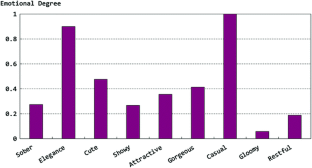 References
Kauffner P (2010) Aodai: the allure and grace of Vietnam's traditional dress, Asia insights: destination Asia

Nagamachi M (2010) Kansei engineering: Kansei/affective engineering (industrial innovation), 1st edn. CRC Press, Boca Raton

Ogata Y, Onisawa T (2008) Interactive clothes design support system. Lect Notes Comput Sci 4985:657–665

Kim H-S, Cho S-B (2000) Application of interactive genetic algorithm to fashion design. Eng Appl Artif Intell 13:635–644

Santos M, Rebelo F (2007) An expert system to support clothing design process. Lect Notes Comput Sci 4566:284–289

Anitawati ML, Laila N, Nagamachi M (2007) Kansei engineering: a study on perception of online clothing website. In: Proceedings of the 10th international conference on quality management and operation development

Chang Y-C et al (2003) A Kansei study on the style image of fashion design. In: 6th Asian design international conference

Ishihara S, Ishihara K, Nagamachi M, Matsubara Y (1997) An analysis of Kansei structure on shoes using self-organizing neural networks. Int J Ind Ergon 19:93–104

Cooper EW, Kamei K (2002) A study of color conspicuity for ease-of-use inference in visualization. Color Res Appl 27(2):74–82

Pass G, Zabih R, Miller J (1997) Comparing images using color coherence vectors. In: Proceedings of the 4th ACM international conference on multimedia, pp 65–73

Kohonen T (2006) Self-organizing maps, 3rd edn. Springer New York

Cao T, Kamei K, Dang TL (2009) Visualization system of herbal prescription effects in oriental medicine by self-organizing map. Biomed Soft Comput Hum Sci 14(1):101–108

The CS, Lim Chee Peng (2007) A hybrid Kansei engineering system using the self-organizing map neural network. J IT Asia 2(1):23–38

Thang C et al (2006) A proposed model of diagnosis and prescription in oriental medicine using RBF neural networks. J Adv Comput Intell Intell Inf 10(4):458–464

Kinoshita Y et al (2006) Kansei and colour harmony models for townscape evaluation. J Syst Control Eng 220(8):725–734

Cao T, Hoshino Y (2013) A proposal of Kansei evaluation for traditional vietnamese Aodai clothes based on computer vision. In: Proceedings of 1st international symposium on affective engineering (ISAE2013), pp 31–36
Acknowledgments

The authors would like to thank Mr. Dang Tuan Linh at Ritsumeikan University and other people for their valuable help on the Aodai evaluation survey.
Copyright information

© 2014 Springer International Publishing Switzerland
About this chapter
Cite this chapter
Cao, T., Nguyen, H.T., Nguyen, H.M., Hoshino, Y. (2014). Modeling Emotional Evaluation of Traditional Vietnamese Aodai Clothes Based on Computer Vision and Machine Learning. In: Watada, J., Shiizuka, H., Lee, KP., Otani, T., Lim, CP. (eds) Industrial Applications of Affective Engineering. Springer, Cham. https://doi.org/10.1007/978-3-319-04798-0_9
DOI: https://doi.org/10.1007/978-3-319-04798-0_9

Published:

Publisher Name: Springer, Cham

Print ISBN: 978-3-319-04797-3

Online ISBN: 978-3-319-04798-0

eBook Packages: EngineeringEngineering (R0)