Abstract

Hair care, color, and style play an important role in people's physical appearance and self-perception. Hair defines an individual's gender, age, sexual attitude, and social status. There are no significant differences in the number of hair follicles between men and women or between different races. Differences in the appearance of hair are due to the type of hair produced by a follicle and to the type of hair care and cosmetics practiced by the individual.

Healthy hair is usually perceived to be shiny hair with a smooth texture and clean-cut end or tapered tips. Hair texture and shine relate to hair surface properties, while the integrity of hair ends relates to the hair cortex.
Keywords
Minimal Inhibitory Concentration

Allergic Contact Dermatitis

Hair Shaft

Tinea Capitis

Seborrheic Dermatitis
These keywords were added by machine and not by the authors. This process is experimental and the keywords may be updated as the learning algorithm improves.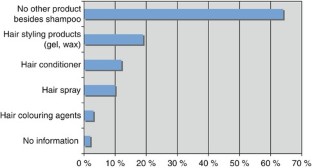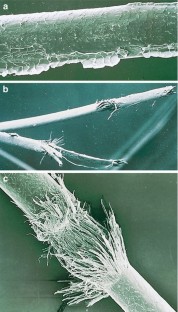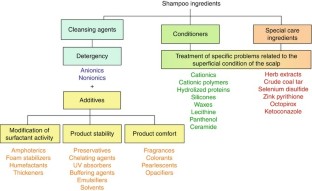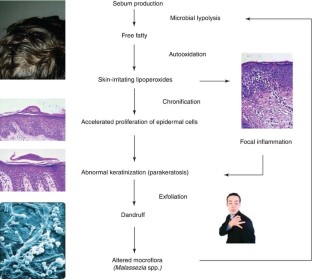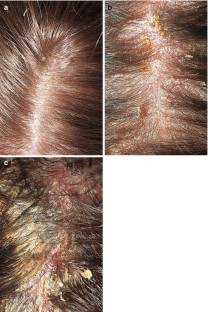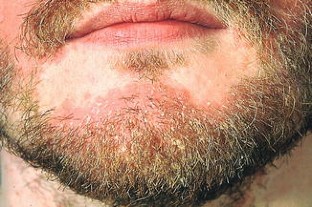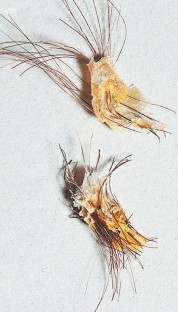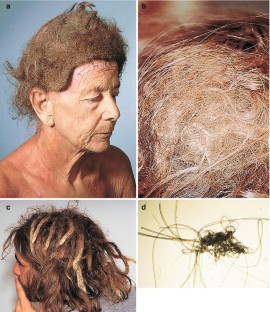 Further Reading
Trüeb RM, de Viragh PA, Swiss Trichology Study Group (2001) Significance of scalp hair and therapy of alopecia in men in Switzerland. Praxis (Bern 1994) 90:241–248, Article in German
Hair Weathering
Hofbauer GF, Tsambaos D, Spycher MA, Trüeb RM (2001) Acquired hair fragility in pili annulati: causal relationship with androgenetic alopecia. Dermatology 203:60–62

Sinclair R (2007) Healthy hair: what is it? J Investig Dermatol Symp Proc 12:2–5

Thibaut S, de Becker E, Bernard BA, Huart M, Fiat F, Baghdadli N, Luengo GS, Leroy F, Angevin P, Kermoal AM, Muller S, Peron M, Provot G, Kravtchenko S, Saint-Léger D, Desbois G, Gauchet L, Nowbuth K, Galliano A, Kempf JY, Silberzan I (2010) Chronological ageing of human hair keratin fibres. Int J Cosmet Sci 1–13

Trüeb RM (2005) Dermocosmetic aspects of hair and scalp. J Investig Dermatol Symp Proc 10:289–292
Shampoos
Ackerman AB, Kligman AM (1969) Some observations on dandruff. J Soc Cosmet Chem 20:81–101

Adams RM, Maibach HI (1985) A five-year study of cosmetic reactions. J Am Acad Dermatol 13:1062–1069

Baroni A, de Rosa R, de Rosa A et al (2000) New strategies in dandruff treatment: growth control of Malassezia ovalis. Dermatology 201:332–336

Bouillon C (1996) Shampoos. Clin Dermatol 14:113–121

Dawber R (1996) Hair: its structure and response to cosmetic preparations. Clin Dermatol 14:105–112

Faergemann J (2002) Atopic dermatitis and fungi. Clin Microbiol Rev 15:545–563

Georgalas A (2004) Enhanced delivery of antidandruff active in shampoo vehicle. J Cosmet Sci 55 Suppl:S207–S214

Goldschmidt JA, Kligman AM (1968) Increased sebum secretion following selenium sulfide shampoos. Acta Derm Venereol 48:489–491

Griesemer RD (1978) Emotionally triggered disease in a dermatology practice. Psychiatr Ann 8:49–56

Hay RJ, Graham-Brown RAC (1997) Dandruff and seborrhoeic dermatitis: causes and management. Clin Exp Dermatol 22:3–6

Hughes-Formella BJ, Filbry A, Gassmueller J, Rippke F (2002) Anti-inflammatory efficacy of topical preparations with 10 % hamamelis distillate in a UV erythema test. Skin Pharmacol Appl Skin Physiol 15:125–132

Korting HC, Schäfer-Korting M, Klövekorn W et al (1995) Comparative efficacy of hamamelis distillate and hydrocortisone cream in atopic eczema. Eur J Clin Pharmacol 48:461–465

Merk HF, Mukhtar H, Kaufmann I et al (1987) Human hair follicle benzo[a]pyrene and benzo[a]pyrene 7,8-diol metabolism: effect of exposure to a coal tar containing shampoo. J Invest Dermatol 88:71–76

Naldi L, Rebora A (2009) Clinical practice. Seborrheic dermatitis. N Engl J Med 360:387–396, 22

Piérard-Franchimont C, De Doncker P, Cauwenbergh G, Piérard GE (1998) Ketoconazole shampoo: effect of long-term use in androgenic alopecia. Dermatology 196:474–477

Piérard-Franchimont C, Goffin V, Henry F, Uhoda I, Braham C, Piérard GE (2002) Nudging hair shedding by antidandruff shampoos. A comparison of 1 % ketoconazole, 1 % piroctone olamine and 1 % zinc pyrithione formulations. Int J Cosmet Sci 24:249–256

Rushton H, Gummer CL, Flasch H (1994) 2-in-1 shampoo technology: state of the art shampoo and conditioner in one. Skin Pharmacol 7:78–83

Schuster S (1984) The aetiology of dandruff and the mode of action of therapeutic agents. Br J Dermatol 111:235–242

Shapiro J, Maddin S (1996) Medicated shampoos. Clin Dermatol 14:123–128

Sulzberger MB, Witten VH, Hunt JA (1956) Puzzling persistent penile plaques. AMA Arch Dermatol 73:101–109

Trüeb RM (2007) Shampoos: ingredients, efficacy and adverse effects. J Dtsch Dermatol Ges 5:356–365

Urbano CC (1995) 50 years of hair care development. Cosmet Toiletries 110:85–104

Van Schooten FJ, Moonen EJ, Rhynsburger E et al (1994) Dermal uptake of polycyclic aromatic hydrocarbons after hair wash with coal tar shampoo. Lancet 344:1505–1506
Conditioners
Rushton H, Gummer CL, Flasch H (1994) 2-in-1 shampoo technology: state of the art shampoo and conditioner in one. Skin Pharmacol 17:78–83

Trüeb RM (2005) Dermocosmetic aspects of hair and scalp. J Investig Dermatol Symp Proc 10:289–292
Hairstyling Aids
Draelos ZD (2005) Hair grooming cosmetics. In: Draelos ZD (ed) Hair care. An illustrated dermatologic handbook. Taylor & Francis, London/New York, p 75
Hair Dyes
Bolt HM, Golka K (2007) The debate on carcinogenicity of permanent hair dyes: new insights. Crit Rev Toxicol 37:521–536

Kelsh MA, Alexander DD, Kalmes RM, Buffler PA (2008) Personal use of hair dyes and risk of bladder cancer: a meta-analysis of epidemiologic data. Cancer Causes Control 19:549–558

Mendelsohn JB, Li QZ, Ji BT et al (2009) Personal use of hair dye and cancer risk in a prospective cohort of Chinese women. Cancer Sci 100:1088–1091

Pande CM, Albrecht L, Yang B (2001) Hair photoprotection by dyes. J Cosmet Sci 52:377–389

Rollison DE, Helzlsouer KJ, Pinney SM (2006) Personal hair dye use and cancer: a systematic literature review and evaluation of exposure assessment in studies published since 1992. J Toxicol Environ Health B Crit Rev 9:413–439
Cosmetic Treatment for Aging Hair
Bangha E, Elsner P, Kistler GS (1996) Suppression of UV-induced erythema by topical treatment with melatonin (N-acetyl-5-methoxytryptamine). Arch Dermatol Res 288:522–526

Davis MG, Thomas JH, van de Velde S, Boissy Y, Dawson TL Jr, Iveson R, Sutton K (2011) A novel cosmetic approach to treat thinning hair. Br J Dermatol 165 Suppl 3:24–30

Draelos ZD (2010) Care of aging hair and photoprotection. In: Trüeb RM, Tobin DJ (eds) Aging hair. Springer, Berlin/Heidelberg, pp 183–191

Fischer TW, Scholz G, Knoll B et al (2001) Melatonin reduces UV-induced reactive oxygen species in a dose-dependent manner in IL-3-stimulated leukocytes. J Pineal Res 31:39–45

Gao T, Bedell A (2001) Ultraviolet damage on natural gray hair and its photoprotection. J Cosmet Sci 52:103–118

Wissing SA, Muller RH (2001) Solid lipid nanoparticles (SLN) – a novel carrier for UV blockers. Pharmazie 56:783–786
Adverse Effects of Cosmetic Hair Treatments
Al Ghani MA, Geilen CC, Blume-Peytavi U, Orfanos CE (2000) Matting of hair: a multifactorial enigma. Dermatology 20:101–104

Cashman AL, Warshaw EM (2005) Parabens: a review of epidemiology structure, allergenicity, and hormonal properties. Dermatitis 16:57–66

Gummer CL (1994) Bubble hair: a cosmetic abnormality caused by brief, focal heating of damp hair fibers. Br J Dermatol 131:9801–9903

Itin P, Schiller P, Mathys D, Guggenheim R (1997) Cosmetically induced hair beads. J Am Acad Dermatol 36:260–261

Tosti A, Piraccini BM, van Neste DJ (2001) Telogen effluvium after allergic contact dermatitis of the scalp. Arch Dermatol 137:187–190
Copyright information

© 2014 Springer International Publishing Switzerland
About this chapter
Cite this chapter
Trüeb, R.M., Lee, WS. (2014). Hair Care and Cosmetics. In: Male Alopecia. Springer, Cham. https://doi.org/10.1007/978-3-319-03233-7_6
DOI: https://doi.org/10.1007/978-3-319-03233-7_6

Published:

Publisher Name: Springer, Cham

Print ISBN: 978-3-319-03232-0

Online ISBN: 978-3-319-03233-7

eBook Packages: MedicineMedicine (R0)