Abstract

This chapter explores the potential role of Integrated Reporting in supporting the relationships between a company's strategy and the development (i.e. design and implementation) of its business model. To this aim, we draw on the relevant literature on strategy and on business models, as well as on the recent guidelines provided by the International Integrated Reporting Council framework, to suggest a three step process for linking the company's strategy to the development of the related business model. An example of such process is presented in the context of low-cost airline companies.
Keywords
Business Model

Business Activity

Integrate Report

Airline Company

Brand Strength
These keywords were added by machine and not by the authors. This process is experimental and the keywords may be updated as the learning algorithm improves.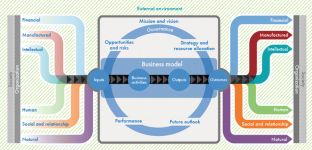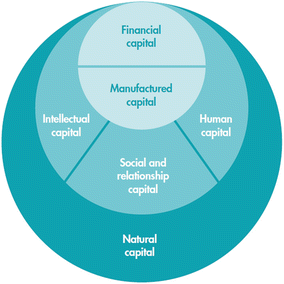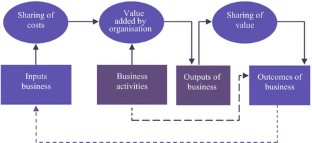 Notes
1.

For instance, Osterwalder and Pigneur (2010) have proposed a scheme based on a set of nine components (i.e. customer segments, value propositions, distribution channels, customer relationships, revenue streams, key resources, key activities, key partners, and cost structure), arguing the necessity of "re-interpreting strategy through the lens of the Business Model Canvas". According to this other perspective, strategy is so not included in the business model, rather the former supports the assessment and management of the latter.

2.
References
Alamdari F, Fagan S (2005) Impact of the adherence to the original low-cost model on the profitability of low-cost airlines. Transp Rev 25(3):377–392

Amit R, Zott C (2001) Value creation in e-business. Strateg Manag J 22(6–7):493–520

Anderson JC, Narus J (1999) Business market management. Understanding, creating, and delivering value. Prentice-Hall, Englewood Cliffs, NJ

Andrews KR (1971) The concept of corporate strategy. Dow Jones Irwin, Homewood, IL

Ansoff HI (1965) Corporate strategy. McGraw-Hill, New York, NY

Barney J (1991) Firm resources and sustained competitive advantage. J Manag 17(1):99–120

Brand F (2009) Critical natural capital revisited: ecological resilience and sustainable development. Ecol Econ 68(3):605–612

Chesbrough HW (2006) Open business models how to thrive in the new innovation landscape. Harvard Business School Press, Boston, MA

Chesbrough HW, Rosenbloom RS (2002) The role of the business model in capturing value from innovation: evidence from xerox corporation's technology spin-off companies. Ind Corp Chang 11(3):529–555

Coff RW (2002) Human capital, shared expertise, and the likelihood of impasse on corporate acquisitions. J Manag 28:107–128

Crook TR, Todd SY, Combs JG, Woehr DJ, Ketchen DJ (2011) Does human capital matter? A meta-analysis of the relationship between human capital and firm performance. J Appl Psychol 96(3):443–456

Diaconu L (2012) The evolution of the European low-cost airlines' business model. Ryanair case study. Procedia Soc Behav Sci 62:342–346

Doganova L, Eyquem-Renault M (2009) What do business models do? Innovation devices in technology entrepreneurship. Res Policy 38(10):1559–1570

Granovetter MS (1985) Economic action and social structure: the problem of social embeddedness. Am J Sociol 31:481–510

Hedman J, Kalling T (2002) IT and business models: concepts and theories. Copenhagen Business School Press, Copenhagen

Hunter L (2006) Low cost airlines: business model and employment relations. Eur Manag J 24(5):315–321

International Integrated Reporting Council (2013a) Business model. Background paper for. IIRC, New York. http://www.theiirc.org/wp-content/uploads/2013/03/Business_Model.pdf. Accessed 20 May 2013

International Integrated Reporting Council (2013b) Capitals. Background paper for < IR>. IIRC, New York. http://www.theiirc.org/wp-content/uploads/2013/03/IR-Background-Paper-Capitals.pdf. Accessed 20 May 2013

Lohman G, Koo TTR (2013) The airline business model spectrum. J Air Transp Manag 31:7–9

Magretta J (2002) Why business models matter. Harv Bus Rev 80(5):86–92

Morecroft JDW (2007) Strategic modelling and business dynamics. Wiley, Chichester

Morris M, Schindehutte M, Allen J (2005) The entrepreneur's business model: toward a unified perspective. J Bus Res 58(6):726–735

Osterwalder A, Pigneur Y (2010) Business model generation: a handbook for visionaries, game changers, and challengers. Wiley, Hoboken, NJ

Pennings JM, Lee K, van Witteloostuijn A (1998) Human capital, social capital, and firm dissolution. Acad Manag J 41(4):425–440

Petty R, Guthrie J (2000) Intellectual capital literature review. Measurement, reporting and management. J Intellect Cap 1(2):155–176

Porter M (1985) Competitive advantage. Free, New York, NY

Porter ME (1996) What is strategy? Harv Bus Rev Nov–Dec:61–78

Seddon P, Lewis G (2003) Strategy and business models: what is the difference? In: Hanisch J et al (eds) Proceedings of 7th Pacific Asia Conference on Information Systems, Adelaide, South Australia, pp. 236–248

Teece DJ (2010) Business models, business strategy and innovation. Long Range Plann 43(2–3):172–194

Tikkanen H, Alajoutsijärvi K (2001) Competence strategies of growth firms. MET Publishing, Helsinki

Timmers P (1998) Business models for electronic markets. Electron Mark 8(2):3–8

Tucker R (2001) Strategy innovation takes imagination. J Bus Strateg 22(3):23–27

Vidović A, Stimac I, Vince D (2013) Development of business models of low-cost airlines. Int J Traffic Transport Eng 3(1):69–81

Warren K (2002) Competitive strategy dynamics. Wiley, Chichester

Warren K (2008) Strategic management dynamics. Wiley, Chichester

Wensveen JG, Leick R (2009) The long-haul low-cost carrier: a unique business model. J Air Transp Manag 15:127–133

Wernerfelt B (1984) A resource-based view of the firm. Strateg Manag J 5(2):171–180

Zott C, Amit R (2008) The fit between product market strategy and business model: implications for firm performance. Strateg Manag J 29(1):1–26

Zott C, Amit R (2010) Business model design: an activity system perspective. Long Range Plann 43:216–226

Zott C, Amit R, Massa L (2011) The business model: recent developments and future research. J Manag 37(4):1019–1042
Copyright information

© 2013 Springer International Publishing Switzerland
About this chapter
Cite this chapter
Barnabè, F., Giorgino, M.C. (2013). "Integrating" Business Model and Strategy. In: Busco, C., Frigo, M., Riccaboni, A., Quattrone, P. (eds) Integrated Reporting. Springer, Cham. https://doi.org/10.1007/978-3-319-02168-3_7