Abstract

Alzheimer's Disease is a problem of social and economic relevance as it involves both patients and their families/caregivers. Presently no cure is available. In the treatment of this disease, cognitive rehabilitation appears as an attractive choice for patients with a mild form. The aim of this work is the design and the development of a remote system, called "Virtual Personal Trainer", integrating advanced Natural User Interface technologies to support the patients during the rehabilitation process at home. The system allows both the autonomous execution of the required exercises and the data reporting and storing of the daily performance for every exercise. In this scenario, the patient avoids to physically move to a specialized center and the physician can use the platform in order to verify the response to the therapy and the compliance to the treatment.
Keywords
Gesture Recognition

Clinical Dementia Rate

Cognitive Rehabilitation

Natural User Interface

Rehabilitation Practice
These keywords were added by machine and not by the authors. This process is experimental and the keywords may be updated as the learning algorithm improves.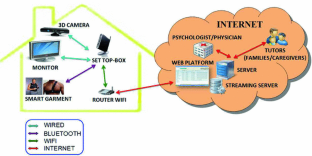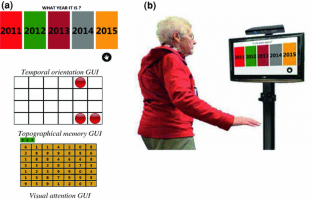 References
Clare, L., Woods, R.T.: Cognitive Rehabilitation in Dementia. Neuropsychological Rehabilitation (Special Issue). pp. 193–196. Psychology Press Ltd, Hove (2001)

Clare, L., Woods, R.T., Moniz Cook, E.D., Orrel, M., Spector, A.: Cognitive rehabilitation in Alzheimer's disease. Aging Clin. Exp. Res. 18, 141–143 (2006)

Neal, M., Briggs, M.: Validation therapy for dementia (Cochrane Review). The Cochrane Library, Issue 2. Chichester, UK (2004)

Spector, A., Orrell, M., Davies, S., Woods, B.: Reality orientation for Dementia. Cochrane Database Syst. Rev. 4:CD001119 (2000) Review

Woods, R.T., Bruce, E., Edwards, R.T., Hounsome, B., Keady, J., Moniz-Cook, E.D., Orrell, M., Russell, I.T.: Reminiscence groups for people with dementia and their family carers: pragmatic eight-center randomised trial of joint reminiscence and maintenance versus usual treatment: a protocol. Trials 10, 64 (2009)

Pilotto, A., D'Onofrio, G., Benelli, E., Zanesco, A., Cabello, A., Margelí, M.C., Wanche-Politis, S., Seferis, K., Sancarlo, D., Kilias, D. and on behalf of the HOPE Investigators: Information and Communication Technology systems to improve quality of life and safety of Alzheimer's disease patients: a multicenter international survey. J. Alzheimers Dis. 23, 131–141 (2011)

Hofmann, M., Rösler, A., Schwarz, W., Müller-Spahn, F., Kräuchi, K., Hock, C., Seifritz, E.: Interactive computer-training as a therapeutic tool in Alzheimer's disease. Compr. Psychiatry 44(3), 213–9 (2003)

Imbeault, F., Bouchard, B., Bouzouane, A.: Serious games in cognitive training for Alzheimer's patients. In: IEEE International Conference on Serious Games and Applications for Health (IEEE-SeGAH), Braga, Portugal, November 16–18, pp. 122–129 (2011)

Jiang, C.-F., Chen, D.-K., Li, Y.-S., Kuo, J.-L.: Development of a computer-aided tool for evaluation and training in 3d spatial cognitive function. In: 19th IEEE Symposium on Computer-Based Medical Systems, pp. 241–244 (2006)

Nacke, L.E., Nacke, A., Lindley, C.A.: Brain training for silver aged gamers: effects of age and game form on effectiveness, self-assessment, and gameplay. Cyberpsychol. Behav. 12(5), 493–499 (2009)

United Nations (UN): World Population Ageing 2009, Department of Economic and Social Affairs: Population Division, 129 p (2009)

Folstein, M., Folstein, S., McHugh, P.R.: MiniMentalState: a practical method for grading the cognitive state of patients for the clinician. J. Psychiatr. Res. 12, 189–98 (1975)

McKhann, G., Drachman, D., Folstein, M., Katzman, R., Price, D., Stadlan, E.M.: Clinical diagnosis of Alzheimer Disease: report of the NINCDS-ADRDA work group under the auspices of Department of Health and Human Service Task Force on Alzheimer's Disease. Neurology 34, 939–44 (1984)

American Psychiatric Association: Diagnostic and Statistical Manual of Mental Disorders, 4th edn. American Psychiatric Association, Washington (1994)

Hughes, C.P., Berg, L., Danziger, W.L., Coben, L.A., Martin, R.L.: A new clinical scale for the staging of dementia. Br. J. Psychiatry 140, 566–72 (1982).
Acknowledgments

The presented work has been carried out within AL.TR.U.I.S.M. project, driven by an aggregation of SME, and funded by Apulia Region under the health care call for the promotion of regional partnerships for innovation.
Copyright information

© 2014 Springer International Publishing Switzerland
About this paper
Cite this paper
Caroppo, A. et al. (2014). Cognitive Home Rehabilitation in Alzheimer's Disease Patients by a Virtual Personal Trainer. In: Longhi, S., Siciliano, P., Germani, M., Monteriù, A. (eds) Ambient Assisted Living. Springer, Cham. https://doi.org/10.1007/978-3-319-01119-6_15
DOI: https://doi.org/10.1007/978-3-319-01119-6_15

Published:

Publisher Name: Springer, Cham

Print ISBN: 978-3-319-01118-9

Online ISBN: 978-3-319-01119-6

eBook Packages: EngineeringEngineering (R0)