Abstract

Modeling of sheet metal forming operations requires mechanical properties data at very large tensile strains and various biaxial strain paths. Typically these data are developed along strain ratio paths that are linear and monotonic, but actual forming strain paths are nonlinear and not necessarily monotonically increasing. A unique planar-biaxial testing facility at the National Institute of Standards and Technology (NIST) has been designed to address non-linear strain paths and other long standing measurement needs. The system uses a combination of four independently controlled hydraulic actuators, with either displacement, force, or strain feedback control, to deform the material, while measurements of the material response is accomplished through a unique combination of digital image correlation and X-ray diffraction. Results of commissioning tests are presented for displacement and force control along different axes. The system was able to deform the sample in the elastic and plastic regimes. The results show the difference between the displacement and strain paths followed, as well as some unexpected behavior (e.g. buckling). Other expanded system capabilities for future use are briefly described.
Keywords
Biaxial deformation

Cruciform

Digital image correlation

X-ray diffraction

Infrared imaging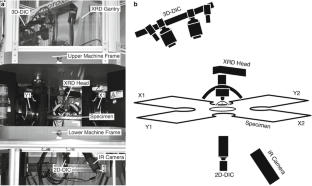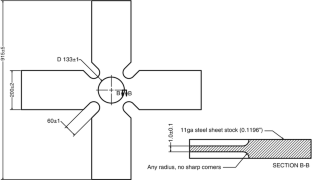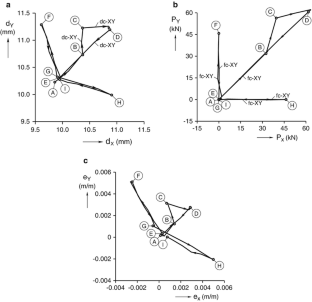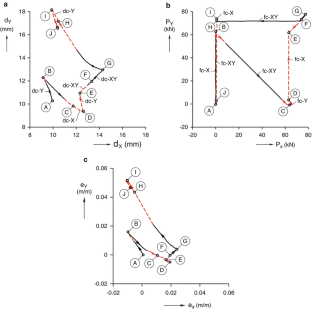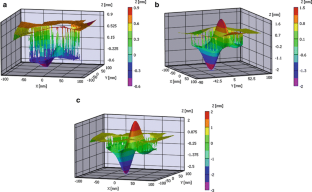 References
Abu-Farha F, Hector LG Jr, Khraisheh M (2009) Cruciform-shaped specimens for elevated temperature biaxial testing of lightweight materials. JOM 61(8):48–56

Banabic D (2004) Anisotropy and formability of AA5182-0 aluminium alloy sheets. CIRP Ann Manuf Technol 53:219–222

Boehler JP, Demmerle S, Koss S (1994) A new direct biaxial testing machine for anisotropic materials. Exp Mech 34:1–9

Ferron G, Makinde A (1988) Design and development of a biaxial strength testing device. J Test Eval 16:253–256

Foecke T, Iadicola MA, Lin A, Banovic SW (2007) A method for direct measurement of multiaxial stress–strain curves in sheet metal. Metall Mater Trans A Phys Metall Mater Sci 38A:306–313

Geiger M, Hussnätter W, Merklein M (2005) Specimen for a novel concept of the biaxial tension test. J Mater Process Technol 167:177–183

Green DE, Neale KW, MacEwen SR, Makinde A, Perrin R (2004) Experimental investigation of the biaxial behaviour of an aluminum sheet. Int J Plast 20:1677–1706

Hoferlin E, Van Bael A, Van Houtte P, Steyaert G, De Mare C (2000) The design of a biaxial tensile test and its use for the validation of crystallographic yield loci. Model Simul Mater Sci Eng 8:423–433

Iadicola MA, Foecke T, Banovic SW (2008) Experimental observations of evolving yield loci in biaxially strained AA 5754-O. Int J Plast 24(11):2084–2101

Ikeda S, Kuwabara T (2004) Work hardening behavior of IF and low carbon steel sheets under biaxial tension. Tetsu-to-Hagane J Iron Steel Inst Jpn 90:34–40

Kuwabara T, Ikeda S, Kuroda K (1998) Measurement and analysis of differential work hardening in cold-rolled steel sheet under biaxial tension. J Mater Process Technol 80–81:517–523

Kuwabara T, van Bael A, Iizuka E (2002) Measurement and analysis of yield locus and work hardening characteristics of steel sheets with different r-values. Acta Mater 50:3717–3729

Müller W, Pöhlandt K (1996) New experiments for determining yield loci of sheet metal. J Mater Process Technol 60:643–648

Noyan IC, Cohen JB (1987) Residual stress: measurement by diffraction and interpretation. Springer-Verlag, New York

Shiratori E, Ikegami K (1968) Experimental study of the subsequent yield surface by using cross-shaped specimens. J Mech Phys Solids 16:373–394

Sutton MA, Orteu J-J, Schreier H (2009) Image correlation for shape, motion and deformation measurements: basic concepts, theory and applications. Springer, New York

Yu Y, Wan M, Wu XD, Zhou X-B (2002) Design of a cruciform biaxial tensile specimen for limit strain analysis by FEM. J Mater Process Technol 123:67–70
Copyright information

© 2014 The Society for Experimental Mechanics, Inc.
About this paper
Cite this paper
Iadicola, M.A., Creuziger, A.A., Foecke, T. (2014). Advanced Biaxial Cruciform Testing at the NIST Center for Automotive Lightweighting. In: , et al. Residual Stress, Thermomechanics & Infrared Imaging, Hybrid Techniques and Inverse Problems, Volume 8. Conference Proceedings of the Society for Experimental Mechanics Series. Springer, Cham. https://doi.org/10.1007/978-3-319-00876-9_34
DOI: https://doi.org/10.1007/978-3-319-00876-9_34

Published:

Publisher Name: Springer, Cham

Print ISBN: 978-3-319-00875-2

Online ISBN: 978-3-319-00876-9

eBook Packages: EngineeringEngineering (R0)