Abstract

Capsaicin is a selective transient receptor potential vanilloid 1 (TRPV1) ion channel agonist and has been demonstrated to reduce nerve conduction of nociceptive C fibers in the trigeminal nerve without affecting conduction in Aδ fibers. This chapter reviews the classification of chronic rhinitis subtypes, the prevalence and epidemiology of nonallergic rhinitis (NAR), postulated pathophysiology and mechanisms of NAR including the role of transient receptor potential (TRP) ion channels and discusses the potential therapeutic benefits of capsaicin in the treatment of chronic rhinitis subtypes, specifically NAR. Evidence supports that hypersensitivity of TRP ion channels on sensory afferent neurons innervating nasal mucosa is responsible for inducing NAR symptoms. These symptoms, characterized as excessive nasal glandular secretion, nasal congestion, and headache, are mediated through neuropeptide release during axonal and parasympathetic reflexes which are initiated by a spectrum of nonspecific irritants that activate TRP channels. Rational approaches to treat the pathophysiology of NAR would be to develop therapies with selective TRPV1 agonist activity like capsaicin that target desensitization of TRP ion channels on sensory afferent nerves.
Keywords
Nasal Mucosa

Transient Receptor Potential

Transient Receptor Potential Channel

Glandular Secretion

Nonallergic Rhinitis
These keywords were added by machine and not by the authors. This process is experimental and the keywords may be updated as the learning algorithm improves.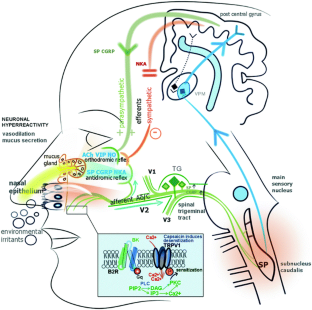 References
Akopian AN, Ruparel NB, Jeske NA, Hargreaves KM (2007) Transient receptor potential TRPA1 channel desensitization in sensory neurons is agonist dependent and regulated by TRPV1-directed internalization. J Physiol 583(Pt 1):175–193

Aneiros E, Cao L, Papakosta M, Stevens EB, Phillips S, Grimm C (2011) The biophysical and molecular basis of TRPV1 proton gating. EMBO J 30(6):994–1002

Avelino A, Cruz F (2000) Peptide immunoreactivity and ultrastructure of rat urinary bladder nerve fibers after topical desensitization by capsaicin or resiniferatoxin. Auton Neurosci 86(1–2):37–46

Baraniuk JN (1992) Sensory, parasympathetic, and sympathetic neural influences in the nasal mucosa. J Allergy Clin Immunol 90(6 Pt 2):1045–1050

Baraniuk JN (2001) Neurogenic mechanisms in rhinosinusitis. Curr Allergy Asthma Rep 1(3):252–261

Baraniuk JN, Kaliner M (1991) Neuropeptides and nasal secretion. Am J Physiol 261(4 Pt 1):L223–L235

Baudoin T, Kalogjera L, Hat J (2000) Capsaicin significantly reduces sinonasal polyps. Acta Otolaryngol 120(2):307–311

Bernstein JA (2007) Azelastine hydrochloride: a review of pharmacology, pharmacokinetics, clinical efficacy and tolerability. Curr Med Res Opin 23(10):2441–2452

Bernstein JA (2009) Characteristics of Nonallergic Vasomotor Rhinitis. 2009 World Allergy Organization; licensee BioMed Central Ltd, London

Bernstein JA (2010) Allergic and mixed rhinitis: epidemiology and natural history. Allergy Asthma Proc 31(5):365–369

Bernstein JA (2013a) Nonallergic rhinitis: therapeutic options. Curr Opin Allergy Clin Immunol 13(4):410–416

Bernstein JA (2013b) Nonallergic rhinitis: therapeutic options. Curr Opin Allergy Clin Immunol 13(4):399–409

Bernstein JA, Davis BP, Picard JK, Cooper JP, Zheng S, Levin LS (2011a) A randomized, double-blind, parallel trial comparing capsaicin nasal spray with placebo in subjects with a significant component of nonallergic rhinitis. Ann Allergy Asthma Immunol 107(2):171–178

Bernstein JA, Hastings L, Boespflug EL, Allendorfer JB, Lamy M, Eliassen JC (2011b) Alteration of brain activation patterns in nonallergic rhinitis patients using functional magnetic resonance imaging before and after treatment with intranasal azelastine. Ann Allergy Asthma Immunol 106(6):527–532

Bernstein JA, Salapatek AM, Lee JS, Nelson V, Wilson D, D'Angelo P, Tsitoura D, Murdoch R, Patel D (2012) Provocation of nonallergic rhinitis subjects in response to simulated weather conditions using an environmental exposure chamber model. Allergy Asthma Proc 33(4):333–340

Blanchard MG, Kellenberger S (2011) Effect of a temperature increase in the non-noxious range on proton-evoked ASIC and TRPV1 activity. Pflugers Arch 461(1):123–139

Blom HM, Van Rijswijk JB, Garrelds IM, Mulder PG, Timmermans T, Van Wijk RG (1997) Intranasal capsaicin is efficacious in nonallergic, noninfectious perennial rhinitis. A placebo-controlled study. Clin Exp Allergy 27(7):796–801

Blom HM, Severijnen LA, Van Rijswijk JB, Mulder PG, Van Wijk RG, Fokkens WJ (1998) The long-term effects of capsaicin aqueous spray on the nasal mucosa. Clin Exp Allergy 28(11):1351–1358

Bousquet J, Demoly P, Michel FB (2001) Specific immunotherapy in rhinitis and asthma. Ann Allergy Asthma Immunol 87(1 Suppl 1):38–42

Brauchi S, Orta G, Salazar M, Rosenmann E, Latorre R (2006) A hot-sensing cold receptor: C-terminal domain determines thermosensation in transient receptor potential channels. J Neurosci 26(18):4835–4840

Cao E, Cordero-Morales JF, Liu B, Qin F, Julius D (2013) TRPV1 channels are intrinsically heat sensitive and negatively regulated by phosphoinositide lipids. Neuron 77(4):667–679

Cassano M, Russo L, Del Giudice AM, Gelardi M (2012) Cytologic alterations in nasal mucosa after sphenopalatine artery ligation in patients with vasomotor rhinitis. Am J Rhinol Allergy 26(1):49–54

Changani K, Hotee S, Campbell S, Pindoria K, Dinnewell L, Saklatvala P, Thompson SA, Coe D, Biggadike K, Vitulli G, Lines M, Busza A, Denyer J (2013) Effect of the TRPV1 antagonist SB-705498 on the nasal parasympathetic reflex response in the ovalbumin sensitized guinea pig. Br J Pharmacol 169(3):580–589

Chung MK, Guler AD, Caterina MJ (2008) TRPV1 shows dynamic ionic selectivity during agonist stimulation. Nat Neurosci 11(5):555–564

Ciabatti PG, D'Ascanio L (2009) Intranasal Capsicum spray in idiopathic rhinitis: a randomized prospective application regimen trial. Acta Otolaryngol 129(4):367–371

Devillier P, Dessanges JF, Rakotosihanaka F, Ghaem A, Boushey HA, Lockhart A, Marsac J (1988) Nasal response to substance P and methacholine in subjects with and without allergic rhinitis. Eur Respir J 1(4):356–361

Docherty RJ, Ginsberg L, Jadoon S, Orrell RW, Bhattacharjee A (2013) TRPA1 insensitivity of human sural nerve axons after exposure to lidocaine. Pain 154: 1569–1577

Di Lorenzo G, Minciullo PL, Leto-Barone MS, La Piana S, La Porta G, Saija A, Gangemi S (2013) Differences in the behavior of advanced glycation end products and advanced oxidation protein products in patients with allergic rhinitis. J Investig Allergol Clin Immunol 23(2):101–106

Filiaci F, Zambetti G, Ciofalo A, Luce M, Masieri S, Lovecchio A (1994) Local treatment of aspecific nasal hyper-reactivity with capsaicin. Allergol Immunopathol (Madr) 22(6):264–268

Filiaci F, Zambetti G, Luce M, Ciofalo A (1996) Local treatment of nasal polyposis with capsaicin: preliminary findings. Allergol Immunopathol (Madr) 24(1):13–18

Fusco BM, Barzoi G, Agro F (2003) Repeated intranasal capsaicin applications to treat chronic migraine. Br J Anaesth 90(6):812

Fusco BM, Marabini S, Maggi CA, Fiore G, Geppetti P (1994) Preventative effect of repeated nasal applications of capsaicin in cluster headache. Pain 59(3):321–325

Garcia-Sanz N, Valente P, Gomis A, Fernandez-Carvajal A, Fernandez-Ballester G, Viana F, Belmonte C, Ferrer-Montiel A (2007) A role of the transient receptor potential domain of vanilloid receptor I in channel gating. J Neurosci 27(43):11641–11650

Gerth Van Wijk R, Terreehorst IT, Mulder PG, Garrelds IM, Blom HM, Popering S (2000) Intranasal capsaicin is lacking therapeutic effect in perennial allergic rhinitis to house dust mite. A placebo-controlled study. Clin Exp Allergy 30(12):1792–1798

Georgalas C, Jovancevic L (2012) Gustatory rhinitis. Curr Opin Otolaryngol Head Neck Surg 20(1):9–14

Geppetti P, Patacchini R, Nassini R, Materazzi S (2010) Cough: the emerging role of the TRPA1 channel. Lung 188(Suppl 1):S63–S68

Gijbels MJ, Elliott GR, HogenEsch H, Zurcher C, van den Hoven A, Bruijnzeel PL (2000) Therapeutic interventions in mice with chronic proliferative dermatitis (cpdm/cpdm). Exp Dermatol 9(5):351–358

Harlor EJ, Greene JS, Considine C (2012) Traumatic unilateral vasomotor rhinitis. Ear Nose Throat J 91(11):E4–E6

Horak F, Zieglmayer UP (2009) Azelastine nasal spray for the treatment of allergic and nonallergic rhinitis. Expert Rev Clin Immunol 5(6):659–669

Huang A, Govindaraj S (2013) Topical therapy in the management of chronic rhinosinusitis. Curr Opin Otolaryngol Head Neck Surg 21(1):31–38

Ito K (1993) Diagnosis of NARES by methacholine nasal provocative test. Nihon Jibiinkoka Gakkai Kaiho 96(5):818–826

Jeon S, Kim N, Hwang E, Hong S, Min YG(1995) Horseradish peroxidase permeability across rat nasal mucosa in selective stimulation of substance P innervation with capsaicin. Ann Otol Rhinol Laryngol 104(11):895–898

Kavut AB, Kalpaklioglu F, Atasoy P (2013) Contribution of neurogenic and allergic ways to the pathophysiology of nonallergic rhinitis. Int Arch Allergy Immunol 160(2):184–191

Keh SM, Facer P, Yehia A, Sandhu G, Saleh HA, Anand P (2011) The menthol and cold sensation receptor TRPM8 in normal human nasal mucosa and rhinitis. Rhinology 49(4):453–457

Kim YH, Jang TY (2012) Nasal obstruction and rhinorrhea reflect nonspecific nasal hyper-reactivity as evaluated by cold dry air provocation. Acta Otolaryngol 132(10):1095–1101

Kim BM, Lee SH, Shim WS, Oh U (2004) Histamine-induced Ca(2+) influx via the PLA(2)/lipoxygenase/TRPV1 pathway in rat sensory neurons. Neurosci Lett 361(1–3):159–162

Kuhn FA, Gonzalez S, Rodriguez M, Siller CC, Zachariou V, Goldstein BD (1997) Capsaicin's effect on rat nasal mucosa substance P release: experimental basis for vasomotor rhinitis treatment. Am J Rhinol 11(4):313–316

Lacroix JS, Buvelot JM, Polla BS, Lundberg JM (1991) Improvement of symptoms of nonallergic chronic rhinitis by local treatment with capsaicin. Clin Exp Allergy 21(5):595–600

Lainez S, Valente P, Ontoria-Oviedo I, Estevez-Herrera J, Camprubi-Robles M, Ferrer-Montiel A, Planells-Cases A (2010) GABAA receptor associated protein (GABARAP) modulates TRPV1 expression and channel function and desensitization. FASEB J 24(6):1958–1970

Lambert EM, Patel CB, Fakhri S, Citardi MJ, Luong A (2013) Optical rhinometry in nonallergic irritant rhinitis: a capsaicin challenge study. Int Forum Allergy Rhinol 3(10):795–800

Latimer BW, Poston P (1976) Multi-state, multi-service corporate model. Top Health Care Financ 2(4):25–37

Ledford D (2003) Inadequate diagnosis of nonallergic rhinitis: assessing the damage. Allergy Asthma Proc 24(3):155–162

Lee LN, Bhattacharyya N (2011) Regional and specialty variations in the treatment of chronic rhinosinusitis. Laryngoscope 121(5):1092–1097

Leung AY, Foster S (1996) Encyclopedia of common natural ingredients used in food, drugs, and cosmetics. 2nd ed. New York, Wiley

Lindh B, Hokfelt T (1990) Structural and functional aspects of acetylcholine peptide coexistence in the autonomic nervous system. Prog Brain Res 84:175–191

Lishko PV, Procko E, Jin X, Phelps CB, Gaudet R (2007) The ankyrin repeats of TRPV1 bind multiple ligands and modulate channel sensitivity. Neuron 54(6):905–918

Liu B, Zhang C, Qin F (2005) Functional recovery from desensitization of vanilloid receptor TRPV1 requires resynthesis of phosphatidylinositol 4, 5-bisphosphate. J Neurosci 25(19):4835–4843

Marabini S, Ciabatti PG, Polli G, Fusco BM, Geppetti P (1991) Beneficial effects of intranasal applications of capsaicin in patients with vasomotor rhinitis. Eur Arch Otorhinolaryngol 248(4):191–194

Marks DR, Rapoport A, Padla D, Weeks R, Rosum R, Sheftell F, Arrowsmith F (1993) A double-blind placebo-controlled trial of intranasal capsaicin for cluster headache. Cephalalgia 13(2):114–116

May A, Kaube H, Buchel C, Eichten C, Rijntjes M, Juptner M, Weiller C, Diener HC (1998) Experimental cranial pain elicited by capsaicin: a PET study. Pain 74(1):61–66

Meltzer EO, Blaiss MS, Derebery MJ, Mahr TA, Gordon BR, Sheth KK, Simmons AL, Wingertzahn MA, Boyle JM (2009) Burden of allergic rhinitis: results from the pediatric allergies in America survey. J Allergy Clin Immunol 124(3 Suppl):S43–S70

Mirza N, Kroger H, Doty RL (1997) Influence of age on the 'nasal cycle'. Laryngoscope 107(1):62–66

Mizumura K, Sugiur T, Koda H, Katanosaka K, Kumar BR, Giron R, Tominaga M (2005) Pain and bradykinin Receptors–sensory transduction mechanism in the nociceptor terminals and expression change of bradykinin receptors in inflamed condition. Nihon Shinkei Seishin Yakurigaku Zasshi 25(1):33–38

Myers BR, Bohlen CJ, Julius D (2008) A yeast genetic screen reveals a critical role for the pore helix domain in TRP channel gating. Neuron 58(3):362–373

Norlander T, Bolger WE, Stierna P, Uddman R, Carlsoo B (1996) A comparison of morphological effects on the rabbit nasal and sinus mucosa after surgical denervation and topical capsaicin application. Eur Arch Otorhinolaryngol 253(4–5):205–213

Pfaar O, Raap U, Holz M, Hormann K, Kilmek L (2009) Pathophysiology of itching and sneezing in allergic rhinitis. Swiss Med Wkly 139(3–4):35–40

Raisinghani M, Zhong L, Jeffry JA, Bishnoi M, Pabbidi RM, Pimentel F, Cao DS, Evans MS, Premkumar LS (2011) Activation characteristics of transient receptor potential ankyrin 1 and its role in nociception. Am J Physiol Cell Physiol 301(3):C587–C600

Rajakulasingam K, Polosa R, Lau LC, Church MK, Holgate ST, Howarth PH (1992) Nasal effects of bradykinin and capsaicin: influence on plasma protein leakage and role of sensory neurons. J Appl Physiol 72(4):1418–1424

Riechelmann H, Davris S, Bader D (1993) Treatment of perennial nonallergic rhinopathy with capsaicin. HNO 41(10):475–479

Rinder J (1996) Sensory neuropeptides and nitric oxide in nasal vascular regulation. Acta Physiol Scand Suppl 632:1–45

Roche N, Lurie A, Authier S, Dusser DJ (1995) Nasal response to capsaicin in patients with allergic rhinitis and in healthy volunteers: effect of colchicine. Am J Respir Crit Care Med 151(4):1151–1158

Samways DS, Egan TM (2011) Calcium-dependent decrease in the single-channel conductance of TRPV1. Pflugers Arch 462(5):681–691

Sanico AM, Atsuta S, Proud D, Togias A (1997) Dose-dependent effects of capsaicin nasal challenge: in vivo evidence of human airway neurogenic inflammation. J Allergy Clin Immunol 100(5):632–641

Sanico AM, Philip G, Proud D, Naclerio RM, Togias A (1998a) Comparison of nasal mucosal responsiveness to neuronal stimulation in nonallergic and allergic rhinitis: effects of capsaicin nasal challenge. Clin Exp Allergy 28(1):92–100

Sanico AM, Atsuta S, Proud D, Togias A (1998b) Plasma extravasation through neuronal stimulation in human nasal mucosa in the setting of allergic rhinitis. J Appl Physiol 84(2):537–543

Scarupa MD, Kaliner MA (2009) Nonallergic rhinitis, with a focus on vasomotor rhinitis: clinical importance, differential diagnosis, and effective treatment recommendations. World Allergy Organ J 2(3):20–25

Schroer B, Pien LC (2012) Nonallergic rhinitis: common problem, chronic symptoms. Cleve Clin J Med 79(4):285–293

Sedaghat AR, Gray ST, Wilke CO, Caradonna DS (2012) Risk factors for development of chronic rhinosinusitis in patients with allergic rhinitis. Int Forum Allergy Rhinol 2(5):370–375

Settipane RA (2008) Special focus: allergy and asthma–introduction. Med Health R I 91(6):160

Settipane RA, Kaliner MA (2013) Chapter 14: Nonallergic rhinitis. Am J Rhinol Allergy 27 Suppl 1:48–51

Settipane RA, Lieberman P (2001) Update on nonallergic rhinitis. Ann Allergy Asthma Immunol 86(5):494–507; quiz 507–508

Shah R, McGrath KG (2012) Chapter 6: Nonallergic rhinitis. Allergy Asthma Proc 33 Suppl 1:S19–21

Singh U, Bernstein JA, Kristin L, Haar LH, Jones KW (2014) Azelastine Desensitization If TRPV1: A Potential Mechanism Explaining Its Therapeutic Effect In Non-Allergic Rhinitis. Am J Rhinol Allergy

Studer M, McNaughton PA (2010) Modulation of single-channel properties of TRPV1 by phosphorylation. J Physiol 588(Pt 19):3743–3756

Szolcsányi J (2008) Hot target on nociceptors: perspectives, caveats and unique features. Br J Pharmacol 155(8):1142–1144

Szolcsányi J, Pintér E (2013) Transient receptor potential vanilloid 1 as a therapeutic target in analgesia. Expert Opin Ther Targets 17(6):641–657

Szolcsányi J, Sándor Z (2012) Multisteric TRPV1 nocisensor: a target for analgesics. Trends Pharmacol Sci 33(12):646–655

Taber, Tabers Dictionary 20 E Pda CD-ROM. 2005: F a Davis Company

Tai CF, Baraniuk JN (2002) Upper airway neurogenic mechanisms. Curr Opin Allergy Clin Immunol 2(1):11–19

Tran NP, Vickery J, Blaiss MS (2011) Management of rhinitis: allergic and nonallergic. Allergy Asthma Immunol Res 3(3):148–156

Van Gerven L, Alpizar YA, Wouters MM, Hox V, Hauben E, Jorissen M, Boeckxstaens G, Talavera K, Hellings PW (2013) Capsaicin treatment reduces nasal hyperreactivity and transient receptor potential cation channel subfamily V, receptor 1 (TRPV1) overexpression in patients with idiopathic rhinitis. J Allergy Clin Immunol

Van Rijswijk JB, Boeke EL, Keizer JM, Mulder PG, Blom HM, Fokkens WJ (2003) Intranasal capsaicin reduces nasal hyper-reactivity in idiopathic rhinitis: a double-blind randomized application regimen study. Allergy 58(8):754–761

van Rijswijk JB, Gerth van Wijk R (2006) Capsaicin treatment of idiopathic rhinitis: the new panacea? Curr Allergy Asthma Rep 6(2):132-137

Vanneste S, De Ridder D (2013) Brain areas controlling heart rate variability in tinnitus and tinnitus-related distress. PLoS ONE 8(3):e59728

Veldhuis NA, Lew MJ, Abogadie FC, Poole DP, Jennings EA, Ivanusic JJ, Eilers H, Bunnett NW, Mclntyre P (2012) N-glycosylation determines ionic permeability and desensitization of the TRPV1 capsaicin receptor. J Biol Chem 287(26):21765–21772

Vyklicky L, Novakova-Tousova K, Benedikt J, Samad A, Touska F, Vlachova V (2008) Calcium-dependent desensitization of vanilloid receptor TRPV1: a mechanism possibly involved in analgesia induced by topical application of capsaicin. Physiol Res 57(Suppl 3):S59–S68

White JP, Urban L, Nagy I (2011) TRPV1 function in health and disease. Curr Pharm Biotechnol 12(1):130–144

Wirkner K, Hognestad H, Jahnel R, Hucho F, Illes P (2005) Characterization of rat transient receptor potential vanilloid 1 receptors lacking the N-glycosylation site N604. Neuro Rep 16(9):997–1001

Zheng C, Wang Z, Lacroix JS (2000) Effect of intranasal treatment with capsaicin on the recurrence of polyps after polypectomy and ethmoidectomy. Acta Otolaryngol 120(1):62–66
About this chapter
Cite this chapter
Singh, U., Bernstein, J.A. (2014). Intranasal Capsaicin in Management of Nonallergic (Vasomotor) Rhinitis. In: Abdel-Salam, O. (eds) Capsaicin as a Therapeutic Molecule. Progress in Drug Research, vol 68. Springer, Basel. https://doi.org/10.1007/978-3-0348-0828-6_6