Abstract

Recently, QR code has been applied in anti-counterfeiting scenarios, where a unique QR code is attached for a specific item. However, such a QR code-based anti-counterfeiting solution cannot resolve the physical illegal copying issue. The genuine QR code can be physically replicated by scanning and printing. In this work, we propose a physical anti-copying semi-robust randomly watermarking system for QR code. Specifically, the authentic and counterfeit channels a QR code experiences are investigated first. By exploiting the distortion characteristics between two channels, we devise a randomly watermark embedding system, where the watermark bit is embedded via modulating the relationship between two carefully selected transformed coefficients. Finally, to obtain a valid and recognizable binary QR code image, a random binarization procedure is applied, and the regions originally belonging to the white module are erased. The final resultant watermark appears as white-dot pattern resides the black module of QR code, which is robust to the authentic print-scan but fragile to the physically illegal copying. Experimental results demonstrate the effectiveness of the proposed watermarking system. This work makes the first step towards exploring semi-robust watermarking for combating physically illegal copying.
Keywords
QR code

Semi-robust watermark

Physical anti-copying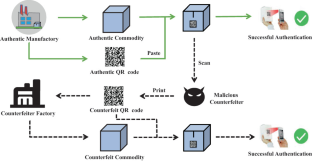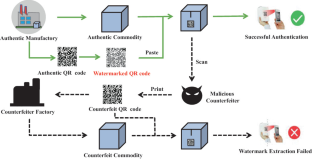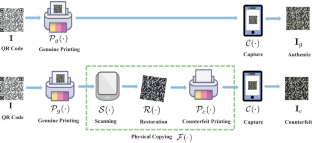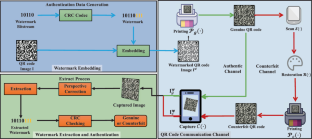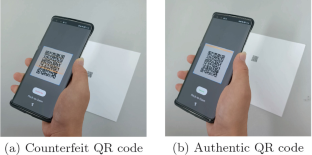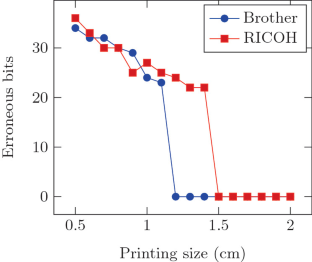 Notes
1.

The restoration aims at restoring the captured QR code, including denoising, histogram equalization, and binarization etc.. This operation is often optional.
References
Alzahrani, N., Bulusu, N.: Securing pharmaceutical and high-value products against tag reapplication attacks using NFC tags. In: 2016 IEEE International Conference on Smart Computing (SMARTCOMP), pp. 1–6. IEEE (2016)

Baldini, G., Fovino, I.N., Satta, R.: Survey of techniques for fight against counterfeit goods and intellectual property rights (IPR) infringing (2015)

Bao, P., Ma, X.: Image adaptive watermarking using wavelet domain singular value decomposition. IEEE Trans. Circuits Syst. Video Technol. 15(1), 96–102 (2005)

Chen, C., Li, M., Ferreira, A., Huang, J., Cai, R.: A copy-proof scheme based on the spectral and spatial barcoding channel models. IEEE Trans. Inf. Forensics Secur. 15, 1056–1071 (2020)

Fang, H., Zhang, W., Zhou, H., Cui, H., Yu, N.: Screen-shooting resilient watermarking. IEEE Trans. Inf. Forensics Secur. 14(6), 1403–1418 (2019)

Kang, X., Huang, J., Zeng, W.: Efficient general print-scanning resilient data hiding based on uniform log-polar mapping. IEEE Trans. Inf. Forensics Secur. 5(1), 1–12 (2010)

Keni, H., Earle, M., Min, M.: Product authentication using hash chains and printed QR codes (2017)

Lehtonen, M.O., Michahelles, F., Fleisch, E.: Trust and security in RFID-based product authentication systems. IEEE Syst. J. 1(2), 129–144 (2007)

Malvido, A., Pérez-González, F., Cousiño, A.: A novel model for the print-and-capture channel in 2D bar codes. In: Gunsel, B., Jain, A.K., Tekalp, A.M., Sankur, B. (eds.) MRCS 2006. LNCS, vol. 4105, pp. 627–634. Springer, Heidelberg (2006). https://doi.org/10.1007/11848035_83

Nakamura, T., Katayama, A., Kitahara, R., Nakazawa, K.: A fast and robust digital watermark detection scheme for cellular phones. NTT Tech. Rev. 4, 57–63 (2006)

Nguyen, H.P., Retraint, F., Morain-Nicolier, F., Delahaies, A.: A watermarking technique to secure printed matrix barcode-application for anti-counterfeit packaging. IEEE Access 7, 131839–131850 (2019)

Picard, J.: Digital authentication with copy-detection patterns. Electron Imaging 5310, 176–783 (2004)

Picard, J., Landry, P., Bolay, M.: Counterfeit detection with QR codes. In: Proceedings of the 21st ACM Symposium on Document Engineering. Association for Computing Machinery, New York, NY, USA (2021). https://doi.org/10.1145/3469096.3474924

Pramila, A., Keskinarkaus, A., Seppänen, T.: Toward an interactive poster using digital watermarking and a mobile phone camera. SIViP 6, 211–222 (2012)

Song, B., Mitchell, C.J.: RFID authentication protocol for low-cost tags. In: Proceedings of the first ACM conference on Wireless network security, pp. 140–147 (2008)

Tkachenko, I., Puech, W., Destruel, C., Strauss, O., Gaudin, J.M., Guichard, C.: Two-level QR code for private message sharing and document authentication. IEEE Trans. Inf. Forensics Secur. 11(3), 571–583 (2016)

Turcu, C.E., Turcu, C.O., Cerlinca, M., Cerlinca, T., Prodan, R., Popa, V.: An RFID-based system for product authentication. In: Eurocon 2013, pp. 32–39. IEEE (2013)

Xie, N., Zhang, Q., Chen, Y., Hu, J., Luo, G., Chen, C.: Low-cost anti-copying 2D barcode by exploiting channel noise characteristics. IEEE Trans. Multimedia 23, 3752–3767 (2021). https://doi.org/10.1109/TMM.2020.3031083

Xie, R., Hong, C., Zhu, S., Tao, D.: Anti-counterfeiting digital watermarking algorithm for printed QR barcode. Neurocomputing 167, 625–635 (2015)

Zhang, L., Chen, C., Mow, W.H.: Accurate modeling and efficient estimation of the print-capture channel with application in barcoding. IEEE Trans. Image Process. 28(1), 464–478 (2019)
Acknowledgements

This work was supported by the National Natural Science Foundation of China (61901237, 62171244), Alibaba Innovative Research Program. Ningbo Natural Science Foundation- Young Doctoral Innovation Research Project (Grant No. 2022J080).
Copyright information

© 2023 The Author(s), under exclusive license to Springer Nature Switzerland AG
About this paper
Cite this paper
Chen, J., Dong, L., Wang, R., Yan, D., Sun, W., Fan, HY. (2023). Physical Anti-copying Semi-robust Random Watermarking for QR Code. In: Zhao, X., Tang, Z., Comesaña-Alfaro, P., Piva, A. (eds) Digital Forensics and Watermarking. IWDW 2022. Lecture Notes in Computer Science, vol 13825. Springer, Cham. https://doi.org/10.1007/978-3-031-25115-3_9
DOI: https://doi.org/10.1007/978-3-031-25115-3_9

Published:

Publisher Name: Springer, Cham

Print ISBN: 978-3-031-25114-6

Online ISBN: 978-3-031-25115-3

eBook Packages: Computer ScienceComputer Science (R0)