Abstract

With the digitalization of the physical markets, the number of users engaging in e-commerce and shopping online is rapidly increasing. An important application area for digital watermarking is the product tracking scenario. For product tracking scenario, watermarking can be used to provide both product links and copyright protection, so the robustness and extraction efficiency of watermarking are the most important metrics. The auto-convolution function (ACNF) based watermarking scheme is the latest image watermarking that achieves the most comprehensive robustness. However, ACNF watermarking is not resilient in the case of Gauss noise and average filtering. Besides, ACNF watermarking focuses only on robustness and ignores extraction efficiency, and the low efficiency of watermark extraction leads to unpleasant user experience. In this paper, we propose an adaptive despread spectrum-based image watermarking for fast product tracking. For watermark embedding, we construct a low-frequency watermark signal in the spatial domain to enhance the robustness to signal processing attacks. In watermark extraction, our scheme uses discrete wavelet transform (DWT) for image dimensionality reduction and adaptively watermark despread spectrum according to the wavelet decomposition level, which can achieve accurate and fast extraction of watermark. The experimental results demonstrate that our proposed watermarking scheme has superior robustness and extraction efficiency than the existing methods under the same imperceptibility.
Keywords
Image watermarking

Robustness

E-commerce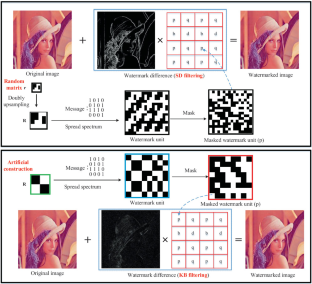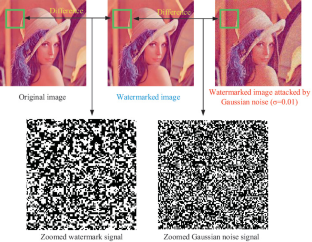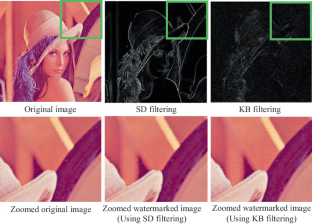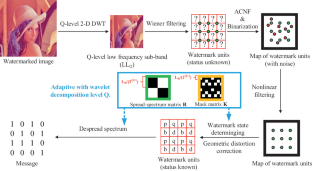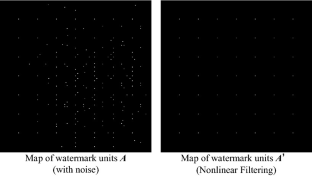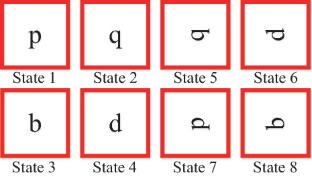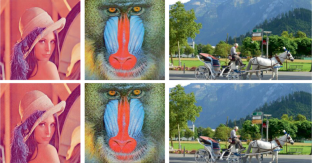 References
Fang, H., et al.: Deep template-based watermarking. IEEE Trans. Circuits Syst. Video Technol. 31(4), 1436–1451 (2020)

Su, P., Kuo, T., Li, M.: A practical design of digital watermarking for video streaming services. J. Vis. Commun. Image Represent. 42, 161–172 (2017)

Ma, Z., Zhang, W., Fang, H., Dong, X., Geng, L., Yu, N.: Local geometric distortions resilient watermarking scheme based on symmetry. IEEE Trans. Circuits Syst. Video Technol. 31(12), 4826–4839 (2021)

Fang, H., Zhang, W., Zhou, H., Cui, H., Yu, N.: Screen-shooting resilient watermarking. IEEE Trans. Inf. Forensics Secur. 14(6), 1403–1418 (2018)

Kang, X., Huang, J., Zeng, W.: Efficient general print-scanning resilient data hiding based on uniform log-polar mapping. IEEE Trans. Inf. Forensics Secur. 5(1), 1–12 (2010)

Van Schyndel, R., Tirkel, A., Osborne, C.: A digital watermark. In: Proceedings of 1st International Conference on Image Processing, vol. 2, pp. 86–90. IEEE (1994)

Bender, W., Gruhl, D., Morimoto, N., Lu, A.: Techniques for data hiding. IBM Syst. J. 35(3–4), 313–336 (1996)

Huang, Y., Niu, B., Guan, H., Zhang, S.: Enhancing image watermarking with adaptive embedding parameter and PSNR guarantee. IEEE Trans. Multimedia 21(10), 2447–2460 (2019)

Liu, J., Tu, Q., Xu, X.: Quantization-based image watermarking by using a normalization scheme in the wavelet domain. Information 9(8), 194 (2018)

Huan, W., Li, S., Qian, Z., Zhang, X.: Exploring stable coefficients on joint sub-bands for robust video watermarking in DT CWT domain. IEEE Trans. Circuits Syst. Video Technol. 32(4), 1955–1965 (2021)

Xin, Y., Liao, S., Pawlak, M.: Circularly orthogonal moments for geometrically robust image watermarking. Pattern Recogn. 40(12), 3740–3752 (2007)

Chun, W., Xing, W., Zhi, X.: Geometrically invariant image watermarking based on fast radial harmonic Fourier moments. Signal Process. Image Commun. 45, 10–23 (2016)

Li, B., Wang, M., Huang, J., Li, X.: A new cost function for spatial image steganography. In: 2014 IEEE International Conference on Image Processing (ICIP), pp. 4206–4210. IEEE (2014)

Holub, V., Fridrich, J., Denemark, T.: Universal distortion function for steganography in an arbitrary domain. EURASIP J. Inf. Secur. 2014(1), 1–13 (2014). https://doi.org/10.1186/1687-417X-2014-1

Liu, Q., Yang, S., Liu, J., Xiong, P., Zhou, M.: A discrete wavelet transform and singular value decomposition-based digital video watermark method. Appl. Math. Model. 85, 273–293 (2020)

Source code of Ref. 3. https://github.com/CirnoGiovanna/LGDR_watermark/

The USC-SIPI image database. http://sipi.usc.edu/database/

Yahoo's image sharing website. https://www.flickr.com/
Acknowledegment

This work was supported in part by the National Natural Science Foundation of China (NSFC) under Grants 62272331 and 61972269, and Sichuan Science and Technology Program under Grant 2022YFG0320.
Copyright information

© 2023 The Author(s), under exclusive license to Springer Nature Switzerland AG
About this paper
Cite this paper
Zhang, F., Wang, H., He, M., Li, J. (2023). Adaptive Despread Spectrum-Based Image Watermarking for Fast Product Tracking. In: Zhao, X., Tang, Z., Comesaña-Alfaro, P., Piva, A. (eds) Digital Forensics and Watermarking. IWDW 2022. Lecture Notes in Computer Science, vol 13825. Springer, Cham. https://doi.org/10.1007/978-3-031-25115-3_12
DOI: https://doi.org/10.1007/978-3-031-25115-3_12

Published:

Publisher Name: Springer, Cham

Print ISBN: 978-3-031-25114-6

Online ISBN: 978-3-031-25115-3

eBook Packages: Computer ScienceComputer Science (R0)