Abstract

The management models for assigning courses to professors in higher education have shown the need to involve technologies for the construction of homogeneous virtual classrooms. This work presents a proposal for the creation of pilot virtual classrooms that allow a quick start of the teaching-learning process in first year students, measuring its impact. The objective is to determine the levels of acceptance of pre-existing significant learning resources in large groups of the same subject. The results, collected through a survey of 64 participants who passed the Programming and Linear Algebra course of the Engineering Careers at Universidad Politécnica Salesiana of Guayaquil, in Ecuador, reflect satisfaction values that reach 91%. In addition, the content of the classrooms influences a 94% positivity in learning and a 94% usefulness from the students' perspective. The limitations found suggest a continuous improvement in the early year's teacher assignment management model. It is expected to carry out a following study based on the experience of the teachers responsible for the courses in a longitudinal work for the next courses to be offered. This work contributes to the development of good practices in the educational management of higher education institutions.
Keywords
Virtual classroom

Teaching

LMS platform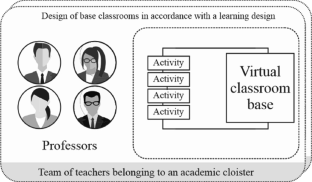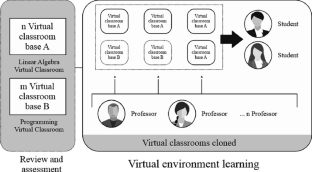 References
Wang, M.-J., Yang, L.-Z., Yang, W.-H.: The perceived effectiveness of the blended team-based learning (BTBL) model on promoting intercultural awareness in hospitality education. J. Hosp. Tour. Educ. 1–11 (2022). https://doi.org/10.1080/10963758.2022.2056472

Castro, C.N., Carvalho, L.C., Moreira, S.B.: Distance education in higher education: modern applications and management courses. In: Carvalho, L.C., Teixeira, N., and Pardal, P. (eds.) Interdisciplinary and Practical Approaches to Managerial Education and Training, pp. 25–45. IGI Global, Hershey, PA, USA (2022). https://doi.org/10.4018/978-1-7998-8239-8.ch002

Areșan, D., Gabriel Țîru, L.: Students satisfaction with the online teaching process. Acad. Int. Sci. J. 25, 184–193 (2022). https://doi.org/10.7336/academicus.2022.25.11

Chaveesuk, S., Chaiyasoonthorn, W.: COVID-19 in emerging countries and students' intention to use cloud classroom: evidence from Thailand. Educ. Res. Int. 2022, 1–13 (2022). https://doi.org/10.1155/2022/6909120

Ferri, F., Grifoni, P., Guzzo, T.: Online learning and emergency remote teaching: opportunities and challenges in emergency situations. In: Societies, p. 86 (2020). https://doi.org/10.3390/soc10040086

Meristo, M., Ljalikova, A., Heero, A.: Foreign language teacher perceptions of the virtual classroom. Int. J. Comput. Lang. Learn. Teach. 12, 1–19 (2022). https://doi.org/10.4018/IJCALLT.291112

Songkram, N., Songkram, N., Chootongchai, S., Samanakupt, T.: Developing students' learning and innovation skills using the virtual smart classroom. Int. J. Emerg. Technol. Learn. 16(4), 34–51 (2021). https://doi.org/10.3991/ijet.v16i04.15221

Wannapiroon, N., Pimdee, P.: Thai undergraduate science, technology, engineering, arts, and math (STEAM) creative thinking and innovation skill development: a conceptual model using a digital virtual classroom learning environment. Educ. Inf. Technol. 1–28 (2022). https://doi.org/10.1007/S10639-021-10849-W/FIGURES/5

Ansari, F., Muzyyab Ajmal, M., Basit, A., Ali Khattak, H., Nawaz, A., Ahmed, S.: Evaluating readiness for technology integration in the classroom post-pandemic. In: 2022 Advances in Science and Engineering Technology International Conferences (ASET), pp. 1–7. IEEE (2022). https://doi.org/10.1109/ASET53988.2022.9735101

Jiang, S.: The new trend of EFL E-learning in the post-pandemic period from the perspective of ubiquitous learning. In: the International Conference on Educational Innovation and Teaching Methodology (2020)

Rehatschek, H.: Outline of possible synchronous solutions and experiences in order to supply large groups of students with learning content in classroom and mixed classroom/distance scenarios. In: International Conference on Interactive Collaborative Learning, pp. 523–534 (2022). https://doi.org/10.1007/978-3-030-93904-5_52

Alfoudari, A.M., Durugbo, C.M., Aldhmour, F.M.: Understanding socio-technological challenges of smart classrooms using a systematic review. Comput. Educ. 173, 104282 (2021). https://doi.org/10.1016/J.COMPEDU.2021.104282

Yang, Y., Zhang, H., Chai, H., Xu, W.: Design and application of intelligent teaching space for blended teaching. Interact. Learn. Environ. 1–18 (2022). https://doi.org/10.1080/10494820.2022.2028857

Sumba Nacipucha, N., Cueva Estrada, J.M., Conde Lorenzo, E., Mármol Castillo, M.: Enseñanza superior en el Ecuador en tiempos de COVID 19 en el marco del modelo TPACK. Rev. San Gregor. 171–186 (2020).https://doi.org/10.36097/rsan.v1i43.1524

Llerena Izquierdo, J.: Uso de AVAC en la Universidad Politécnica Salesiana. In: Congreso Nacional Pedagogía de Don Bosco: Reflexiones, experiencias y desafíos "Memoria académica", pp. 335–345. Quito (2014)

Llerena-Izquierdo, J.: Virtual classroom design model and its relation to student motivation and performance in a moodle learning environment during the emergency of COVID-19. In: Springer (ed.) Berrezueta, S., Abad, K. (eds) Doctoral Symposium on Information and Communication Technologies - DSICT. Lecture Notes in Electrical Engineering, pp. 21–32. Springer, Cham (2022). https://doi.org/10.1007/978-3-030-93718-8_3

Wood-Harper, T.: Emerging EdTechs amidst the COVID-19 pandemic: cases in higher education institutions. In: Fostering Communication and Learning With Underutilized Technologies in Higher Education, pp. 93–107. IGI Global (2021)

Llerena-Izquierdo, J., Ayala-Carabajo, R.: University teacher training during the COVID-19 emergency: the role of online teaching-learning tools. In: Rocha, Á., Ferrás, C., López-López, P.C., Guarda, T. (eds.) ICITS 2021. AISC, vol. 1331, pp. 90–99. Springer, Cham (2021). https://doi.org/10.1007/978-3-030-68418-1_10

Idrissi, W.E.L.M.E.L., Chemsi, G., Kababi, K.E.L., Radid, M.: The impact of serious game on the nursing students' learning, behavioral engagement, and motivation. Int. J. Emerg. Technol. Learn. 17, 18–35 (2022)

Tärning, B., Ternblad, E.-M., Haake, M., Gulz, A., Nirme, J.: Lessons learned from a study on distractions in virtual learning environments: reliability, ecological validity, and an elusive social component. Presence Teleoperators Virtual Environ. 28, 65–85 (2019). https://doi.org/10.1162/pres_a_00342

Mahmood, S.: Instructional strategies for online teaching in COVID-19 pandemic. Hum. Behav. Emerg. Technol. 3, 199–203 (2021). https://doi.org/10.1002/HBE2.218
Acknowledgements

We would like to thank the staff of the Master in ICT for Education of the Universidad Politécnica Salesiana for the development of this work and the research groups for the research and methodological process, as well as for the accompanying process, the Research Group on Education and Scientific Information, GIEDIC (https://www.investigacion.ups.edu.ec/grupo/giedic/) and the Educational Innovation Group GIETICEA - GIEACI (https://gieaci.blog.ups.edu.ec/).
Copyright information

© 2023 The Author(s), under exclusive license to Springer Nature Switzerland AG
About this paper
Cite this paper
Cedeño-Tello, A., Llerena-Izquierdo, J. (2023). Homogeneity of Engineering Courses from an Assignment Management Model in Virtual Learning Environments. In: Robles-Bykbaev, V., Mula, J., Reynoso-Meza, G. (eds) Intelligent Technologies: Design and Applications for Society. CITIS 2022. Lecture Notes in Networks and Systems, vol 607. Springer, Cham. https://doi.org/10.1007/978-3-031-24327-1_38
DOI: https://doi.org/10.1007/978-3-031-24327-1_38

Published:

Publisher Name: Springer, Cham

Print ISBN: 978-3-031-24326-4

Online ISBN: 978-3-031-24327-1