Abstract

Telepresence robots can support people with special needs (e.g., who cannot move) to remotely interact with people and the environment at a distance. In this application, people can communicate with the robot via alternative channels of communication, such as brain-machine interfaces, that are less accurate than the traditional mediums and allow the user to send limited classes of commands to the robot. To overcome these limitations, shared intelligence approaches are born to fuse the user's inputs with a sort of intelligence on the robot, that interprets the user's commands with respect to the environment and provides the robot deliberative ability in choosing the next action to implement. In this paper, we investigate how a shared intelligence system could be affected by the kind of inaccurate user's input interfaces. For this purpose, we compare a brain-machine interface vs. a more reactive keyboard endowed with the same percentage of noise. Overall, the results revealed comparable navigation performance in the two conditions except for the accuracy (e.g., number of target positions reached), indicating similar assistance derived by the system. However, differences between the two modalities are found by correlating the performance of the system to the navigation situation, suggesting a different user's inclination (more in control vs. robot's autonomy) with respect to the interface's responsiveness and the target to reach, and encouraging to adapt the shared intelligence system according to the real-time user's ability and the surrounding environment.
Keywords
Robot teleoperation

Brain-machine interfaces

Neurorobotics

Behavior based architecture
Authors Emanuele Menegatti and José del R. Millán equally contribute to this paper.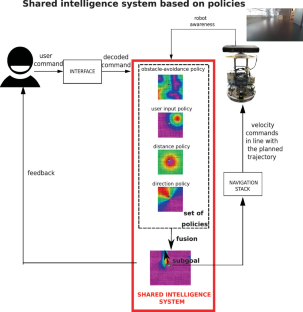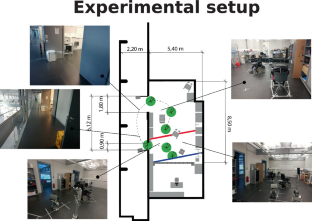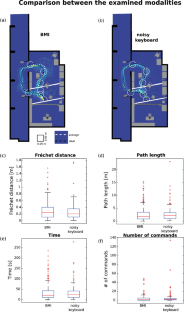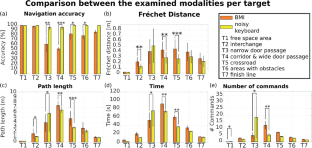 Notes
1.

2.

For statistical analyses, we applied non-parametric tests because data were not normal distributed (Kolmogorov-Smirnov test p \(\ge \) 0.05).
References
Zhang, G., Hansen, J.P.: Telepresence robots for people with special needs: a systematic review. Int. J. Hum. Comput. Interact. 1–17 (2022)

Arbib, M.A., Metta, G., van der Smagt, P.: Neurorobotics: from vision to action. In: Springer Handbook of Robotics, pp. 1453–1480 (2008)

Tonin, L., Millán, J.D.R.: Noninvasive brain–machine interfaces for robotic devices. Annu. Rev. Control Robot. Auton. Syst. 4 (2020)

Tonin, L., Leeb, R., Tavella, M., Perdikis, S., Millán, J.D.R.: The role of shared-control in BCI-based telepresence. In: 2010 IEEE International Conference on Systems, Man and Cybernetics, pp. 1462–1466. IEEE (2010)

Abbink, D.A., et al.: A topology of shared control systems-finding common ground in diversity. IEEE Trans. Hum. Mach. Syst. 48(5), 509–525 (2018)

Schilling, M., et al.: Towards a multidimensional perspective on shared autonomy. In: Proceedings of the 2016 AAAI Fall Symposium Series (2016)

Beraldo, G., Tonin, L., Millán, J.D.R., Menegatti, E.: Shared intelligence for robot teleoperation via BMI. IEEE Trans. Hum. Mach. Syst. (2022)

Leeb, R., et al.: Transferring brain–computer interfaces beyond the laboratory: successful application control for motor-disabled users. Artif. Intell. Med. 59(2), 121–132 (2013)

Gardner, E.S., Jr.: Exponential smoothing: the state of the art—part II. Int. J. Forecast. 22(4), 637–666 (2006)

Eiter, T., Mannila, H.: Computing discrete Fréchet distance (1994)

Carmena, J.M.: Advances in neuroprosthetic learning and control. PLoS Biol. 11(5) (2013)

Perdikis, S., Tonin, L., Saeedi, S., Schneider, C., Millán, J.D.R.: The Cybathlon BCI race: successful longitudinal mutual learning with two tetraplegic users. PLoS Biol. 16(5), e2003787 (2018)
Acknowledgements

This research was partially supported by M.I.U.R. under the initiative "Departments of Excellence" (Law 232/2016) and by Fondazione Ing. Aldo Gini. G.B. and A.C. are supported by "SI-Robotics: SocIal ROBOTICS for active and healthy ageing" project (Italian M.I.U.R., PON - Ricerca e Innovazione 2014–2020 - G.A. ARS01 01120).
Copyright information

© 2023 The Author(s), under exclusive license to Springer Nature Switzerland AG
About this paper
Cite this paper
Beraldo, G., Tonin, L., Cesta, A., Menegatti, E., Millán, J.d.R. (2023). Validation of Shared Intelligence Approach for Teleoperating Telepresence Robots Through Inaccurate Interfaces. In: Petrovic, I., Menegatti, E., Marković, I. (eds) Intelligent Autonomous Systems 17. IAS 2022. Lecture Notes in Networks and Systems, vol 577. Springer, Cham. https://doi.org/10.1007/978-3-031-22216-0_6
DOI: https://doi.org/10.1007/978-3-031-22216-0_6

Published:

Publisher Name: Springer, Cham

Print ISBN: 978-3-031-22215-3

Online ISBN: 978-3-031-22216-0